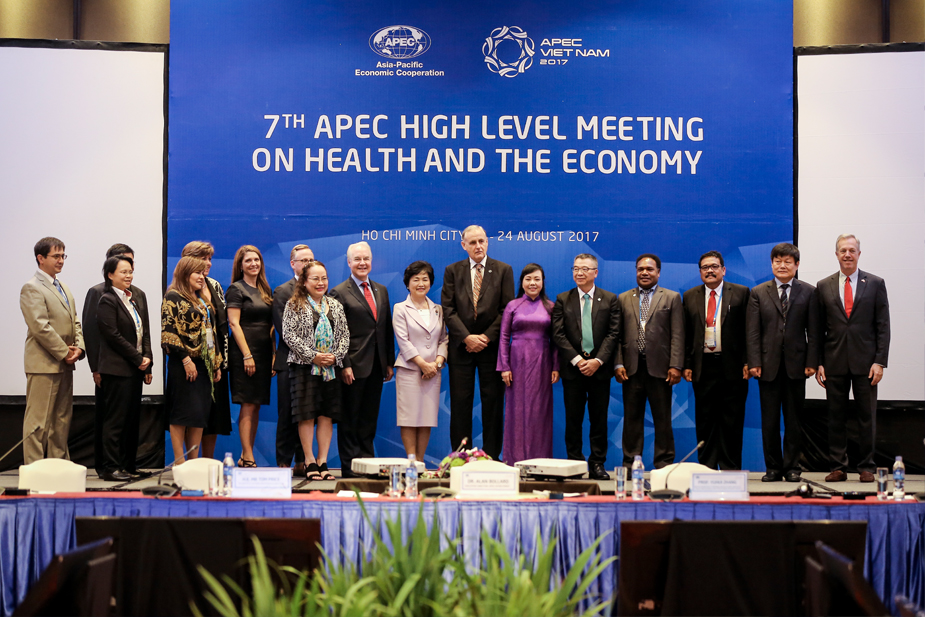 Health Ministers of Papua New Guinea, Philippines, Thailand, United States, and Viet Nam; the State Minister of Health, Labour, and Welfare of Japan; Deputy Health Ministers of Malaysia and Chinese Taipei; senior officials from other member economies; academic and industry leaders; and representatives of non-governmental and international organizations met in Ho Chi Minh City, Viet Nam on 23-24 August 2017 for the 7th APEC High-Level Meeting on Health and the Economy (HLM7). The meeting was chaired by the Minister of Health of Viet Nam and organized jointly by the Health Working Group (HWG) and the Life Sciences Innovation Forum (LSIF). The overall objective of the meeting was to share and discuss the health care financing reforms for community health towards sustainable development.
Universal health coverage (UHC)[1] has become a major policy priority in many APEC economies in recognition of the role of healthy populations in supporting economic growth and prosperity. UHC is a key tenet of APEC's Healthy Asia Pacific 2020 (HAP2020) initiative agreed in 2014. HAP2020 specifically called on APEC economies to strengthen health systems to support UHC, providing the whole population with access to safe, effective, quality, affordable and sustainable primary health care. Many economies have committed to UHC and are as a result reviewing, analyzing, and modifying health financing arrangements in their economies. Achieving UHC requires political commitment to building a strong public financing system which ensures that essential services are available and accessible to all, and are provided and used in an equitable and efficient manner. Economies also can harness supplementary and complementary public and private innovative solutions with recognition that every economy and population has a unique health profile and health system.
Rare diseases were mentioned in the Joint Statement of the 7th APEC High-Level Meeting on Health & the Economy, signaling that political will is mounting for action.
---
24. Rare Diseases: HLM7 welcomed the launch of a new APEC initiative to address barriers to the diagnosis and treatment of rare diseases in the region. HLM7 noted that such efforts will improve the economic and social inclusion of those affected by rare diseases, including caregivers, and ensure a more inclusive Healthy Asia Pacific 2020. HLM7 welcomed the development of an action plan to facilitate greater alignment of domestic policies and best practices and to provide a framework for regional collaboration.
---
Read the Joint Statement of the 7th APEC High-Level meeting on Health & the Economy.