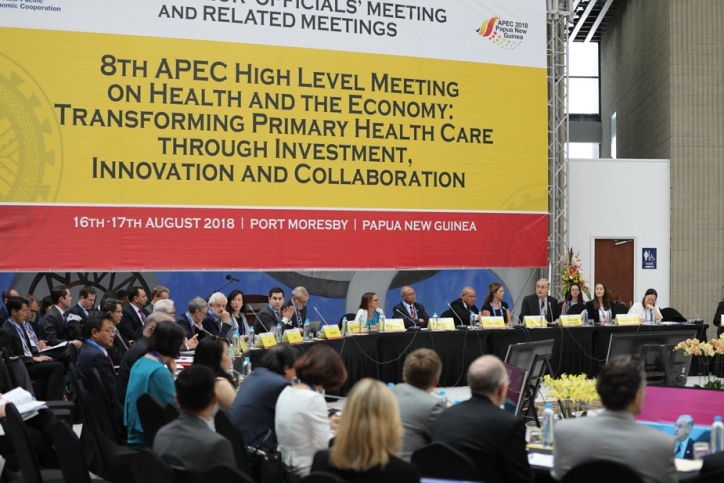 The 8th High-level meeting on Health and the Economy has concluded on a high note today, especially for addressing barriers to diagnosing and treating rare diseases.
The APEC Health Working Group (HWG) and APEC Life Sciences Innovation Forum (LSIF) has initiated and achieved several key initiatives during its third meeting on ''transforming primary health care through investments innovations and collaboration''.
Health Minister Dr Puka Temu while closing the meeting highlighted investments, innovation and collaboration as a long-term agenda in transforming Papua New Guinea's health issues.
"I am setting targets for all health services in this model to ensure primary health care activities are carried out as close as possible to where the client live," said Dr Temu.
The Minister said PNG has a long experience of accepting the critical importance of primary health care and has shaped its workforce to provide primary care through extensive network of aid posts and community health centers.
"This is why I have set a target of completing the implementation of provincial health authorities in all provinces in the country."
"It is clear that health care in this country needs to be integrated from the village level to the district and provincial hospital," said Dr Temu.
The Minister added that while innovation and technology play an important role in achieving its goals, committing resources to ensure significant expenditure on pharmaceuticals and medical supplies is efficient and effectively delivered to health services in a timely fashion.
"This will have a significant impact on primary health care ensuring timely treatment at a local level and continuity in the delivery of necessary medical regimes," said Dr Temu.
Meantime the high-level meeting is a joint outcome statement encompassing all the priorities of 2018 and the way forward for the APEC Health Working Group (HWG) and APEC Life Sciences Innovation Forum (LSIF).
The meeting is part of the third APEC Senior Officials' Meeting (SOM3) currently underway in Port Moresby.
Papua New Guinea will receive its final outcomes on the 31st of August once it is endorsed by member economies.