APEC is a place for economies to explore creative solutions to shared challenges while learning from each other through economic and technical cooperation (ECOTECH).
The APEC Senior Officials' Meeting (SOM) Steering Committee on Economic and Technical Cooperation (SCE) coordinates and manages the APEC members' ECOTECH agenda, which is outlined in the Osaka Action Agenda. In 1996, a Framework for Strengthening Economic Cooperation and Development was adopted to guide members in implementing the Osaka Action Agenda.
The Senior Officials' Meeting (SOM) Steering Committee on Economic and Technical Cooperation, or SCE, coordinates APEC's ECOTECH agenda through a diverse set of portfolios:
The SCE was first established as the SOM Sub-Committee for Economic and Technical Cooperation in 1998. In 2002, the sub-committee was elevated to the SOM Committee on Economic and Technical Cooperation. In 2005, the ESC was strengthened and transformed into the SOM Steering Committee on ECOTECH (SCE).
Historically, the 1996 Manila Declaration on an Asia-Pacific Economic Cooperation Framework for Strengthening Economic Cooperation and Development outlined the key areas of APEC economic and technical cooperation. In 2006, Ministers reaffirmed their commitment to the Manila Declaration, with a revised set of priorities established in 2010, further refined in 2014 and updated in 2022.
In 2020, APEC Economic Leaders charted APEC's course for the next 20 years with the APEC Putrajaya Vision 2040 (APV2040). Further, in 2021, APEC Economic Leaders agreed to implement the APV2040 including through the Aotearoa Plan of Action (APA). The APA added medium-term priorities or collective actions as the mechanism to facilitate the achievement of the longer-term goals of the APV2040. In 2022 members aligned APEC's ECOTECH Medium-Term Priorities with its new set of overarching objectives. The refresh to the ECOTECH Medium-Term Priorities integrated relevant APA collective actions into the ECOTECH Medium-Term Priorities Framework.
Objectives
To strengthen implementation of APEC's ECOTECH activities by prioritising in accordance with Leaders' and Ministers' commitments, coordinating and providing oversight of the work of APEC sub-fora.
To provide policy guidance on ways to contribute to APEC's ECOTECH goals.
To coordinate ECOTECH objectives and priorities set by APEC's Economic Leaders and Ministers.
Last page update: March 2023
---
Contacts
Renato REYES Tagle (Mr)
SCE Chair
Director for APEC and Specialized Forums of the General Directorate of Asia and Oceania
Ministry of Foreign Affairs
Tel: (51-1) 204 3022
Fax: (51-1) 204 3009
Email:
[email protected]
Lindsey MacKinnon (Ms)
Program Director
---
Current Activities
The SCE remains actively involved in coordinating issues across its sub-fora and between SCE sub-fora and other committees. In addition, the SCE is examining various crosscutting issues such as advancing inclusive and sustainable economic growth.
Activities in 2023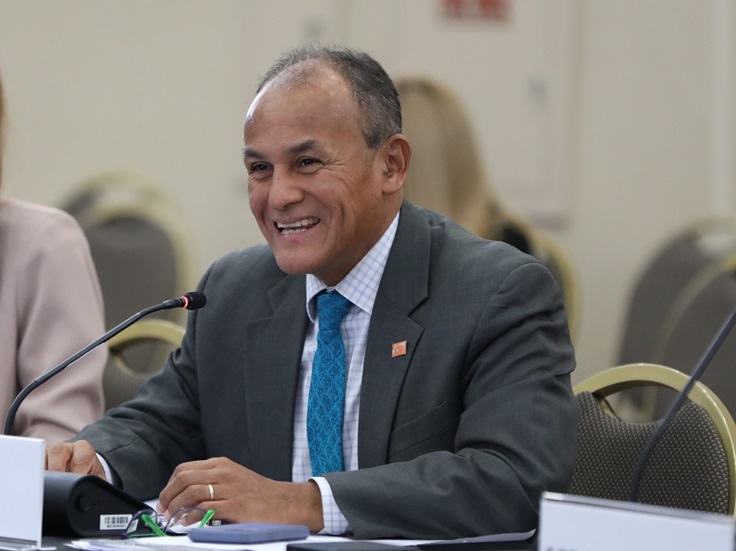 At the First SCE meeting of 2023, APEC Peru Senior Official and SCE Chair Mr. Renato Reyes facilitated a discussion on the SCE's work to report on progress in the implementation of the Putrajaya Vision within the SCE in 2023.
Activities in 2022
In 2022 the SCE and its sub-fora worked to support Thailand's priorities of "Open. Connect. Balance." focusing on the third pillar: rebalancing the region's economy after the pandemic through inclusive and sustainable policy.

The SCE supported the introduction of a post-pandemic growth strategy called the Bio-Circular-Green (BCG) economy model. The BCG economy model promotes the efficient use of resources to maintain and restore ecosystems and to reduce waste in a bid to build a system where economies and businesses can thrive.

The SCE and SCE sub-fora supported policy dialogues, roundtables and ministerial meetings in areas such as forestry, health, food security, tourism, women economic empowerment and SMEs that explored, among other topics, how the BCG economy model can further sustainable economic growth objectives.
Promotion of crosscutting agenda
The SCE and the APEC Secretariat support collaboration through the SCE Committee of the Whole (COW) - a Lead-Shepherd and Chairs' level meeting focused on identifying areas for cross fora cooperation. In 2022, SCE sub-fora identified over 100 areas of potential cross-fora collaboration, involving a diverse range of partners.