Last page update:
Director

Carlos Kuriyama holds a Master of International Affairs from the School of International and Public Affairs at Columbia University, USA and a Bachelor's Degree in Economics from Universidad del Pacífico, Peru.
Formerly Mr Kuriyama was an official of Peru's Ministry of Foreign Trade and Tourism where he served as Lead Negotiator of the Peru-China FTA negotiations, General Coordinator of the Peru-Singapore FTA negotiations and Advisor to the Deputy Minister of Foreign Trade. He also led the design of Peru's trade negotiations agenda and implemented Peru's trade strategy with APEC economies.
As an Associate Researcher and Lecturer in Economics at Universidad del Pacifico, Mr Kuriyama wrote extensively and participated in several research projects on trade, investment and integration issues for several domestic and international institutions.
Policy Advisor

Aveline Low holds a Master of Science in International Relations from the S. Rajaratnam School of International Studies (RSIS), Singapore and a Bachelor of Business from the Nanyang Technological University, Singapore.
Before joining APEC, Ms Low was Senior Officer at the Strategic Planning and Coordination Division, Office of Secretary-General at the ASEAN Secretariat in Jakarta. She was involved in managing ASEAN cooperation programs and projects with organizations such as the AusAID, the European Union, and the German Technical Cooperation. She also handled media relations, publications, outreach activities, and events management when she was Senior Officer at the Public Affairs Office in the same organization. Prior to this, Ms Low was IT Standards Manager with the Infocomm Development Authority of Singapore.
Senior Analysts
Akhmad Bayhaqi holds a PhD in Southeast Asian Studies from the National University of Singapore.
Prior to APEC, Mr Bayhaqi was a Researcher with the Centre for Strategic and Policy Studies, Brunei Darussalam working on Education and Social Policy issues.
Previously, Mr Bayhaqi was a Consultant (Economist) for the World Bank Office in Jakarta dealing with programs on public finance within the eastern Indonesia provinces under the Public Expenditure and Capacity enHancement/Harmonization (PEACH) program.
Mr Bayhaqi has also worked at the University of Indonesia as a Researcher/Lecturer focusing mostly on issues related to economics and public policy.


Emmanuel A. San Andres holds a Master of Arts in Economics and a Bachelor's degree in Economics from the University of the Philippines School of Economics, where he is also a candidate for a PhD in Economics.
Prior to joining APEC, Mr San Andres was an Economics Officer at the Economics and Research Department of the Asian Development Bank (ADB) in Manila mainly working on poverty, inequality, food security, and social sector issues such as health, education, and employment. He also worked as a consultant for organisations such as the ADB, World Bank, and various non-government organisations where he conducted research on migration and remittances, economic development, taxation, and public policy.
Analysts
Andre Wirjo obtained his Master of Science in Economics degree from the London School of Economics and Political Science (LSE) in 2011, where he was also a graduate teaching assistant. His Bachelor of Science in Biological Sciences degree was earned at the Nanyang Technological University, Singapore.
Mr. Wirjo had previously held research position at the Lee Kuan Yew School of Public Policy, National University of Singapore where he worked on trade and investment issues in the ASEAN region. He had also interned for the UN Economic and Social Commission for Asia and the Pacific in Bangkok, Thailand as well as the International Crops Research Institute for the Semi-Arid Tropics in Hyderabad, India.

Rhea C. Hernando holds a Master of Arts in Economics and a Bachelor's degree in Business Economics at the University of the Philippines School of Economics.
Prior to joining APEC, Ms. Hernando was a Bank Officer at the Department of Economic Research of the Bangko Sentral ng Pilipinas (BSP), working on financial markets and monetary policy. She also worked as a policy evaluation officer and researcher at various academic, international, and government institutions.
Researchers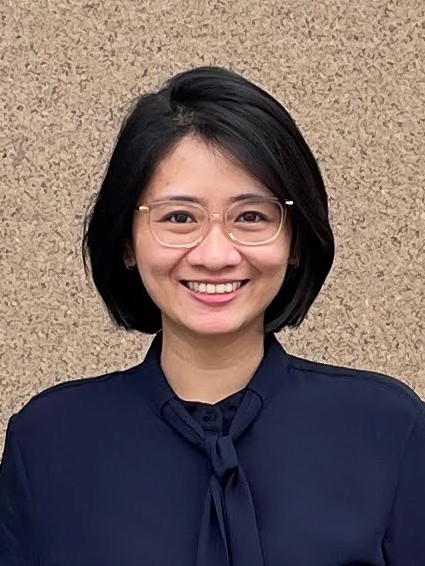 Nguyen Thu Quynh holds a Master of Arts in International Trade from the Sogang Graduate School of International Studies, Korea and a Bachelor's degree in Banking and Finance from Hanoi University, Viet Nam. Ms Nguyen has experience in economic and social research as well as monitoring and evaluation from both private and non-governmental sectors.
Prior to joining APEC, she has worked on a number of development projects in Viet Nam and the Southeast Asia region. She was also a Research Analyst at the Mekong Development Research Institute in Viet Nam.

Sylwyn C. Calizo Jr. holds a Bachelor of Arts degree in Economics from the University of Santo Tomas, Philippines.
Before joining APEC, Mr. Calizo was a Research Specialist at the Philippine Institute for Development Studies (PIDS), the Philippine government's primary socioeconomic policy think tank, where he worked on several policy-oriented research investigating the Philippines' trade policy concerns, such as the incidence of non-tariff measures, the determinants of e-commerce adoption, and the impact of foreign linkages on innovation activity. While at PIDS, Mr. Calizo also worked together with the Asian Development Bank (ADB), the Consumer Unity & Trust Society (CUTS) International, and the United Nations Economic and Social Commission for Asia and the Pacific (ESCAP) to prepare the Philippines' assessments for international studies exploring the digital economy.

Glacer Niño A. Vasquez holds a PhD in Economics, a Master of Arts in Economics, and a Bachelor's degree in Economics magna cum laude from the University of the Philippines School of Economics.
Prior to joining APEC, Mr Vasquez was a fellow at the Philippine Center for Economic Development, a programme officer at the Centre International de Formation des Autorités et Leaders Philippines, and a United Nations online volunteer at the Internal Displacement Monitoring Centre. His research on development, labour, climate, and applied econometrics has been published in several peer-reviewed journals.

Eldo Malba Simanjuntak holds a Master of Science degree in Economics from Tilburg University, the Netherlands.

Prior to joining APEC, he was a Consultant (Research Analyst) for the World Bank Office in Indonesia where he worked on local infrastructure financing under the Regional Infrastructure Development Fund (RIDF) program, as well as on the distributional impacts of fiscal programs within the Bank's Poverty and Equity Practice. He was also a teaching assistant at Universitas Indonesia, assisting in teaching mathematics and microeconomics modules in addition to delivering practical trainings on utilizing socioeconomic microdata.


Administrative Executive

Chang Hui Ling holds a Bachelor of Science Degree in Accounting from The Queen's University of Belfast, Northern Ireland, United Kingdom.
Ms Chang has served as an Administrative Executive, a Human Resource Supervisor, and a Personal Assistant to the Chief Executive Officer in a local organisation for a combined 7 years; and subsequently also worked as a Sales Manager (Asia Pacific region) in a Norwegian publishing organisation for 4 years, pioneering the news/report circulation department in Singapore that focuses on the seafood/fisheries industry, before joining APEC.
Administrative Assistant

Esther Neela Maga has more than 15 years of secretarial and administrative working experience in both the private and public sectors. Her experience ranges from organisations such as the Ministry of Defence, National Science and Technology Board (now known as A*Star), a legal firm that deals with patents and trademarks, a private trading company, Nanyang Technological University (NTU) to a holistic company. In NTU, she handled secretarial duties for the senior management (Provost/President, Vice-President for Research, Chief of Staff and EU-Liaison Officer). She also provided secretarial and administrative support to the appointed consultant who was in charge of developing a proposal for a new medical school and then overseeing the establishment and development of the Lee Kong Chian School of Medicine.