Over 96 percent of the world's manufacturing supply chains—from automotive to aircraft, from electronics to agriculture, from apparel to medical supplies—depend on access to innovative and effective chemical input. Chemistry is vital to the creation of groundbreaking products that make our lives and planet healthier, safer and more sustainable. Trade acts as the conduit that enables the innovative products of chemistry to reach the economies and businesses that need them most.
In the 2000 APEC Ministerial Meeting in Brunei, ministers welcomed an initiative to establish the Chemical Dialogue, comprising of government and industry representatives to foster cooperation and take actions to help member economies achieve high standards of protection for human health and safety and the environment, foster greater innovation, and prevent barriers to trade.
The Chemical Dialogue (CD) serves as a forum for regulatory and trade officials and industry representatives to find solutions to challenges facing the chemical industry in the Asia-Pacific region. It reflects APEC members' recognition of the importance of both engaging with the private sector and building public-private dialogue and sustained cooperation for the benefit of both sectors.
The CD focuses on chemical-sector trade liberalization and facilitation by improving trade and regulatory policies and practices. It seeks workable programs which ensure that regulatory, safety and environmental goals can be implemented by both governments and businesses.
The CD's primary goals are articulated in its strategic framework, which was initially endorsed by APEC Ministers in 2011.
The CD's current strategic framework for 2020-2023 is organized around the following three revised shared goals:
To facilitate trade and raise the standard of sound management of chemicals by expanding and supporting regulatory cooperation and regulatory alignment in the region.
To promote understanding of the chemical industry's role as a provider of innovative solutions for sustainable economic, environmental and social development.
To enable effective cooperation between industry and governments to improve chemical product stewardship and safe use.
The CD has maintained a focus on regulatory cooperation and the application of good regulatory practices throughout its tenure, developing in 2008 a set of Principles for Best Practice in Chemical Regulation and subsequently in 2016 a Best Practice Principles Checklist for Chemicals Regulation to help economies apply those principles during the regulatory review and rule-making process. In 2020, the CD endorsed the APEC CD Regulatory Cooperation Report to identify, share, and capture best practices and actionable approaches for APEC chemical regulators seeking to engage in regulatory cooperation with trade partners. The CD continues to advance the following topics in 2021:
Preventing barriers to trade in chemicals through regulatory cooperation
Facilitating the flow of critical inputs for essential goods to combat COVID-19 such as personal protective equipment, medical equipment, cleaning, and disinfecting supplies
Aligning implementation of the UN Globally Harmonized System of Classification and Labelling of Chemicals (GHS)
Addressing emerging issues such as marine debris and waste management of plastic
Building capacity on risk assessment for chemical substances
Last page update: February 2022
---
Contacts
Kent C. SHIGETOMI (Mr)
Government Co-Chair of Chemical Dialogue
Director for Multilateral Non-Tariff Barriers, Office of the United States Trade Representative
Sergio BARRIENTOS H. (Mr)
Industrial Co-Chair of Chemical Dialogue
General Manager
Chilean Association of Chemical Industries
Asiquim A.G.
PHAM Tu Uyen (Ms)
Program Director
---
Current Activities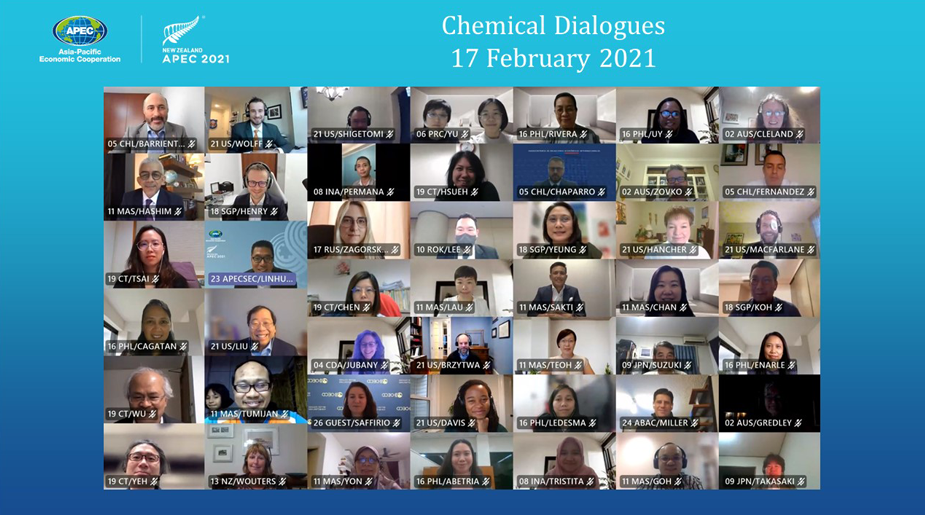 The Chemical Dialogue (CD) continues to discuss ways to contribute to APEC's overarching goals of trade liberalization and business facilitation.
The CD program focuses on the challenges imposed by different approaches to regulation, including the difficulty in balancing the protection of trade secrets and confidential information with the need for transparency, facilitating data exchange and the varying regulatory approaches to the treatment of chemicals.
The CD also continues to emphasize the integration of its work with the international chemicals agenda.
Due to the global impact of the COVID-19 pandemic, the CD Plenary Meeting convened online twice, on 17-18 February 2021 (CD26) and 11-12 August 2021 (CD27). Discussions focused on the CD's contribution to the Putrajaya Vision 2040, regulatory cooperation, Globally Harmonized System of Classification and Labeling of Chemicals (GHS) implementation, and marine debris and sustainability; as well as updates on ongoing activities and successes from CD virtual working groups and member economies.

Marine Debris
The CD continues its partnership with the Oceans and Fisheries Working Group (OFWG) to promote innovative solutions to marine debris. During CD26, the Virtual Working Group on Marine Debris provided an overview of the project Promoting Investment and Innovation to Combat Marine Litter and Build a Circular Economy in APEC developed in collaboration with the Ocean and Fisheries Working Group, which focused on innovative funding models and technologies for land-based waste management in the APEC region. The CD also noted the Working Group's website as a good resource to find all marine debris related activity in APEC.
Risk Assessment Workshop
On February 23-24, 2021, the APEC Chemical Dialogue organized a two-day workshop as a part of the APEC project "CD 01 2020T Facilitating Trade by Improving Risk Assessment Capacity." The APEC CD Risk Challenge Virtual Workshop consisted of two sessions:
A day one overview/onboarding session to familiarize participants with the substance of the workshop, the expectations for participation, and the training platform/tools; and

A day two virtual training session, supported by expert facilitators, on performing a risk assessment of a specific chemical substances with limited time, information, and resources.
Due to high demand, on June 15-16, 2021, the APEC Chemical Dialogue organized a 2nd two-day workshop as a part of the APEC project "CD 01 2020T Facilitating Trade by Improving Risk Assessment Capacity." In total, the workshop series hosted 37 participants from 12 APEC economies, plus two non-APEC economies. Half the participants were female, and the majority of individuals who participated in the workshop survey said they would recommend the workshop to a colleague.
Several recommendations arose from the 2021 workshops, including to:
Provide in-person workshops when it is safe to do so;

Provide the workshop in Spanish; and

Include environmental toxicity as part of the workshop in the future.
Globally Harmonized System of Classification and Labelling of Chemicals
The Globally Harmonized System of Classification and Labelling of Chemicals (or GHS) is an internationally agreed-upon system created by the United Nations. It is designed to replace the various classification and labelling standards used in different economies by using consistent criteria for classification and labelling on a global level.

During CD26, it was noted that the Virtual Working Group (VWG) on GHS was focused on the completion of the GHS Implementation Report, revising the comparison of GHS implementation among APEC economies, and revising the GHS Convergence proposal. The 2021 survey for the Annual GHS Implementation Report was circulated for review after CD26.
Clearinghouse Website for GHS Labelling
Responding to the needs of the chemical industry, the CD created a website in 2010 that collects and provides GHS-standardized labelling elements in local languages: the website is called the GHS Reference Exchange and Tool, or G.R.E.A.T., and it is managed by Chinese Taipei.
Authorities and stakeholders in the chemical industry can find translations of labelling terms for hazard communication and international trade purposes. Industry stakeholders and interested users will also be able to search for elements on the website and prepare their own labelling in different local languages.
As of November 2020, the GHS labelling elements on the website were provided in 37 languages, including languages from 11 APEC member economies—including Australia, Chile, China, Indonesia, Japan, the Republic of Korea, Malaysia, the Philippines, Russia, Thailand and Chinese Taipei—and in 24 languages from EU members. Additionally, in 2020 G.R.E.A.T. launched a new feature in accordance with the consensus at the 24th CD meeting for a visual tool depicting GHS implementation status across the APEC member economies.
Virtual Working Group on Regulatory Convergence and Cooperation
In May 2012, at the Chemical Dialogue meeting in Kazan, Russia, members agreed to establish a Virtual Working Group (VWG) on Regulatory Convergence and Cooperation. The main aim of the VWG is to examine how the work of the CD could contribute to the broader APEC agenda for regulatory cooperation.
During CD26, the VWG provided an update on activities, including the 2021 goals of delivering the expected outcomes of the APEC CD project on "Facilitating Trade by Improving Risk Assessment Capacity" and developing a:
A Risk Assessment "Checklist" and
A Compendium of Risk Assessment/Management Resources, Tools, and Best Practices
Chemical Dialogue Regulator's Forum
Due to COVID-19, APEC member economies provided brief regulatory updates during CD26 AND 27. The CD encouraged economies to consider nominating a Regulator's Forum Chair to push work forward, including developing an action plan and building up participation in the Forum.