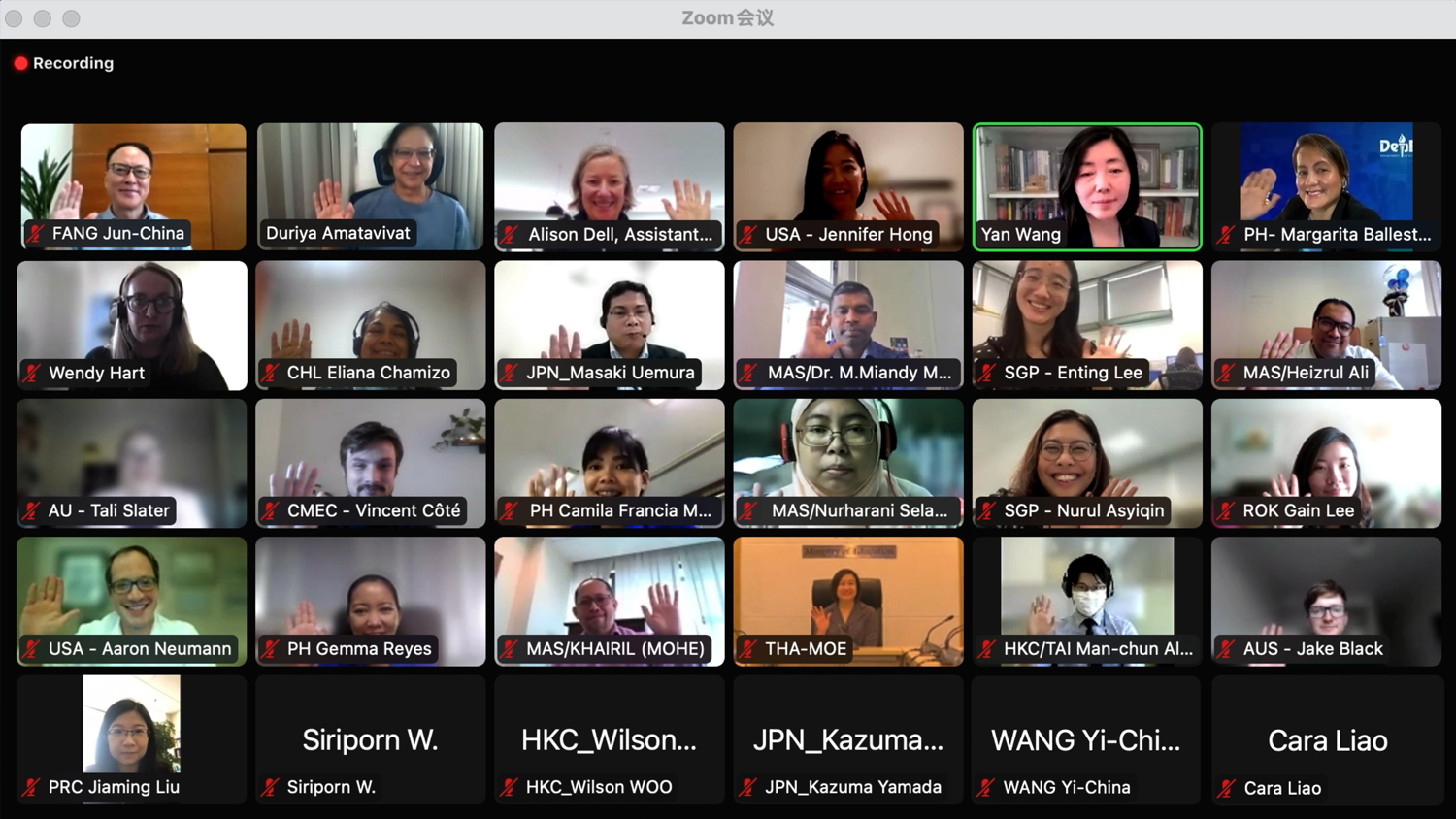 Delegates from 15 APEC EDNET member economies — Australia, Canada; Chile; China; Hong Kong China; Japan; Korea; Malaysia; New Zealand; Papua New Guinea; Peru; the Philippines; Singapore; Thailand and the United States — gathered online on 27 September 2022 to review the achievements in the past nine months and plan for the remaining tasks in 2022 and for 2023.
The meeting provides a great opportunity for EDNET members to gather the harvests and to prepare the seeds to be sown for next year's education cooperation.
Ms. Duriya Amatavivat, Thailand Co-Chair of the EDNET, briefed on the achievements of APEC education cooperation in 2022. Under the priorities of "Open. Connect. Balance" of the Thailand Year of APEC, and the theme of "Quality Education for Sustainable Growth" of the EDNET, Thailand has successfully organized a series of events and implemented several projects, notably the Visions of APEC Education Ministers, the APEC Youth Forum on Green and Eco-Friendly Awareness, and the APEC Conference the Collaborative Direction for Education, Employment, and Decent Work in the VUCA World.
In addition to their contribution to these events, EDNET members have accomplished updates of the Action Plan of APEC Education Strategy, as well as the contents related to education in the HRDWG TOR and the HRDWG Strategic Plan, where the newly established EDNET Ad Hoc Advisory Team has played a leading role. 17 education projects have been proposed and implemented by nine member economies, including Australia, Chile, China, Japan, Korea, Russia, Chinese Taipei, Thailand and the United States.
According to the EDNET Coordinator Dr. Wang Yan, although the purpose of the meeting was for reviewing achievements and planning for next steps, it did not mean that this year's work would conclude here. The work of the EDNET in 2022, as well as the EDNET Coordinator's job responsibilities, will carry on till the end of the year when publication of the videos of the educational ministers and updates of the Baseline Report are completed. Dr. Wang called for continued support of all EDNET members for these tasks to be accomplished.