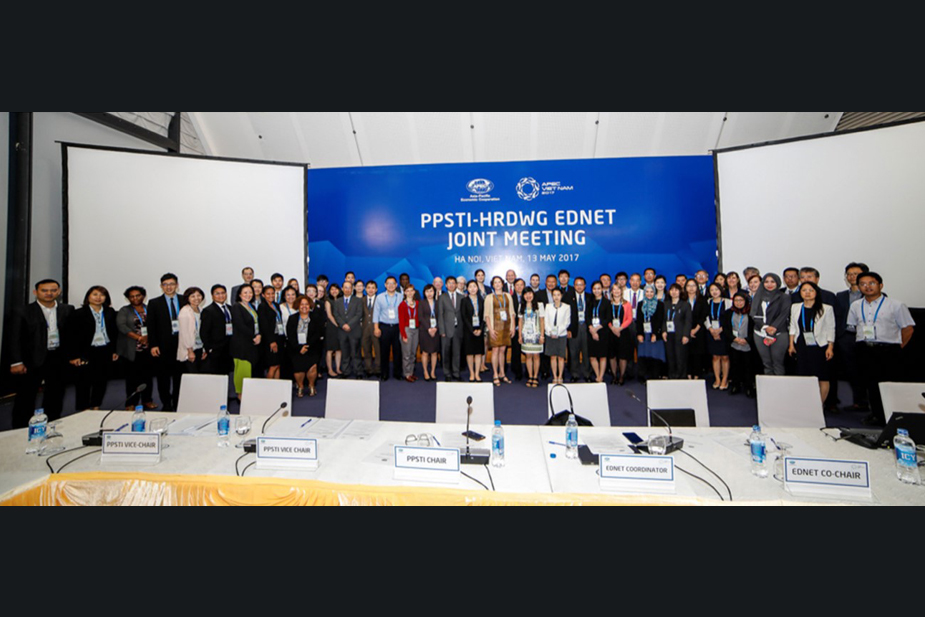 Delegates from 19 member economies as well as the PPSTI Chair and Vice Chairs, the EDNET Coordinator, the ABAC Principal Advisor, representatives from APEC Secretariat, the UNESCO and the APRU attended this meeting, to discuss issues about cross-fora actions including the nomination of Cross-fora Coordinator for PPSTI-EDNET and project proposals for co-endorsement.
In November 2016, APEC Ministers met in Lima, Peru and encouraged PPSTI and HRDWG to continue working together to further develop human capital in the region, to contribute to the structural reform agenda, and to deepen participation in labor markets. Hence, PPSTI and HRDWG-EDNET have worked on seeking cross-fora cooperation together since SOM1 in Nha Trang, February this year earlier.
Ms. Wang Yan, EDNET Coordinator, said mutual knowledge of ongoing activities and sharing information of collaborative projects among different working groups were needed urgently, emphasizing the importance of science and research in achieving innovation in the fields of education and science.
Ms. Lisa Brodey, PPSTI Chair, appealed to establish a common space to share experience and encouraged members and working groups to join. Meanwhile, both China and the United States expressed the interest to set up a common cross-fora platform or a mechanism to share experience and resources.
Through the Joint session, delegates reached consensus on the importance of sharing mutual knowledge of ongoing projects among different working groups, and agreed on joint actions: building a common virtual platform to share resources, making joint work plan, setting up PPSTI-EDNET Coordinator, holding joint meeting/session, carrying out collaborative projects.
Member economies including China, Japan, Malaysia, Australia and United States also shared the progress of ongoing projects and proposed new projects relating to STEM and STI Education respectively.
This meeting lays a firm foundation for the cross-fora cooperation in the future within APEC.