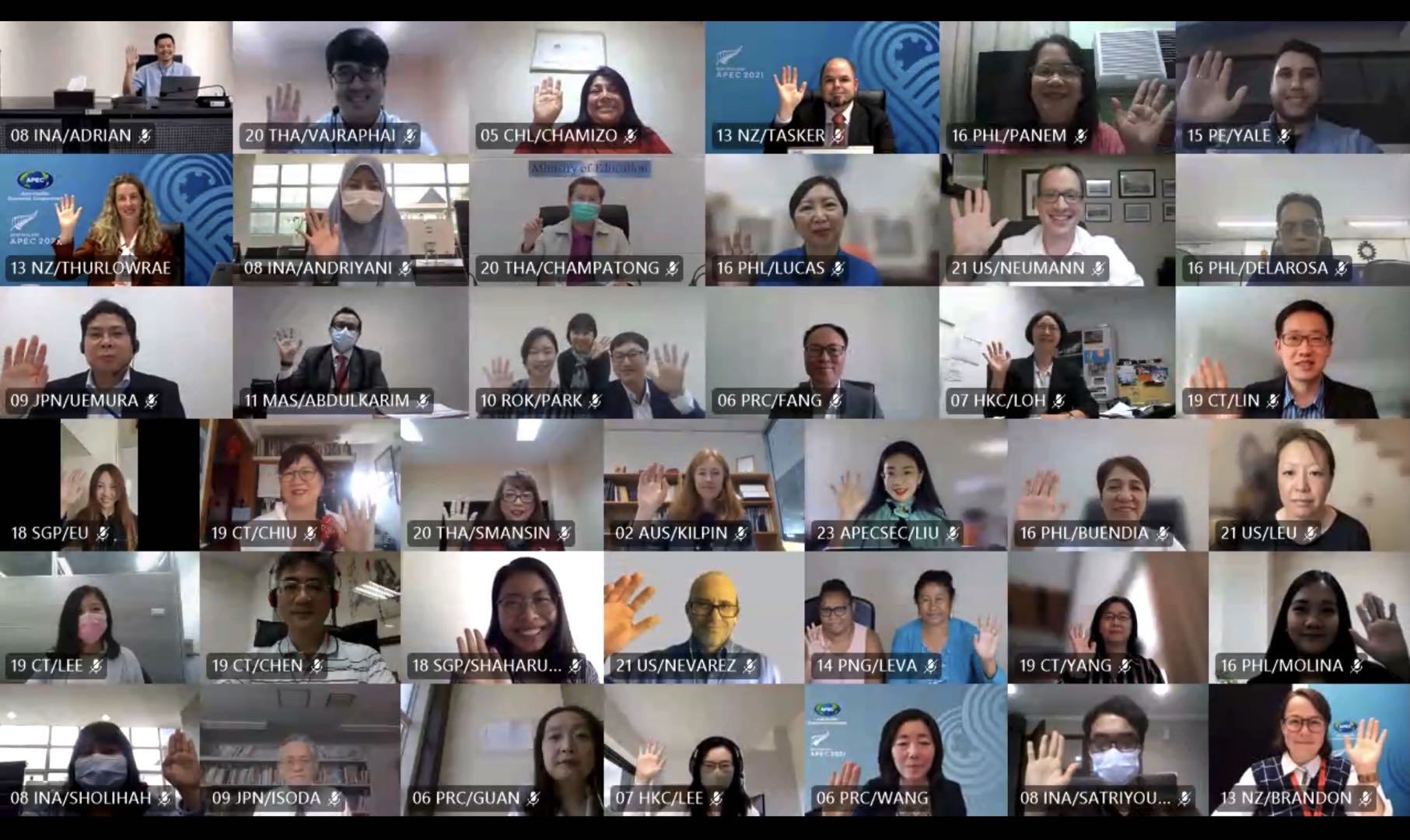 Delegates from 18 member economies, including Australia; Chile; China; Hong Kong, China; Indonesia; Japan; Korea; Malaysia; New Zealand; Papua New Guinea; Peru; the Philippines; Russia; Singapore; Chinese Taipei; Thailand; the United States; and Viet Nam gathered online on 25‐26 May 2021 for the 38th APEC HRDWG Education Network Meeting. The meeting was chaired by Dr. Wang Yan, the EDNET Coordinator and Ms. Tara Thurlow-Rae, New Zealand EDNET Co-Chair for 2021.
In spite of travel restriction, APEC member economies get connected for education cooperation, through technology, partnership, more importantly, through dedication to education and commitment to our shared goal of common prosperity, Dr. Wang Yan said in her opening remarks. New Zealand EDNET Co-Chair then affirmed that despite the virtual circumstances, New Zealand's aim for APEC 2021 and principles remained the same. New Zealand hoped to stimulate ambition to pursue innovation, embrace change and promote dialogue among member economies so that everyone could join, work and grow together.
While the EDNET meeting was only three hours each day it was no less productive than some longer physical meetings, thanks to the enthusiastic and flexible way in which member economies have embraced innovation.
As last year's host, Malaysia presented on the overall outcomes of APEC 2020 Malaysia including APEC Putrajaya Vision 2040, highlights of 37th EDNET Meeting held in 2020 in Putrajaya and the way forward for APEC education cooperation. This was followed by a video of the education system of New Zealand and welcome remarks by Deputy-Secretary of Education, Andy Jackson. He commented that as we plan for recovery from COVID-19, it is APEC, the most dynamic region in the world's economy, that will help us all to rebuild and recover. Mr. Jackson's message that there has never been a more important time for us as a region to join, work and grow together resonated strongly with EDNET Members.
Guest speakers from OECD and UNESCO shared lessons learned during the COVID-19 crisis and discussed with the delegates the changes in education and new modalities of multilateral education cooperation in the post-pandemic era. A policy discussion was also held, with a distinguished panel of guests leading an engaging conversation on how COVID-19 has accelerated the need for better quality assurance and increased recognition of online qualifications.
The delegates discussed the corporate documents of HRDWG. Key outcomes of a range of EDNET projects were presented. Among other things, Australia gave a brief update on the APEC Guiding Principles for Research Integrity which included seven principles highlighting honesty, responsibility, rigor, transparency, respect, fairness and diversity, which contributes to implementation of the APEC Education Strategy Actions by promoting cross-border research and academic mobility.
As next year's host, Thailand introduced their preparatory work for APEC 2022 and three priority areas including trade and investment facilitation, reviving of connectivity within the APEC region and promotion of inclusive and sustainable growth driven by digital technology innovation.
Looking forward into the rest of 2021, in a transition towards more outcome-oriented cooperation, New Zealand will produce a booklet focusing on the quality assurance of online learning discussion. This will capture key themes as well as potential areas for future focus and cooperation.