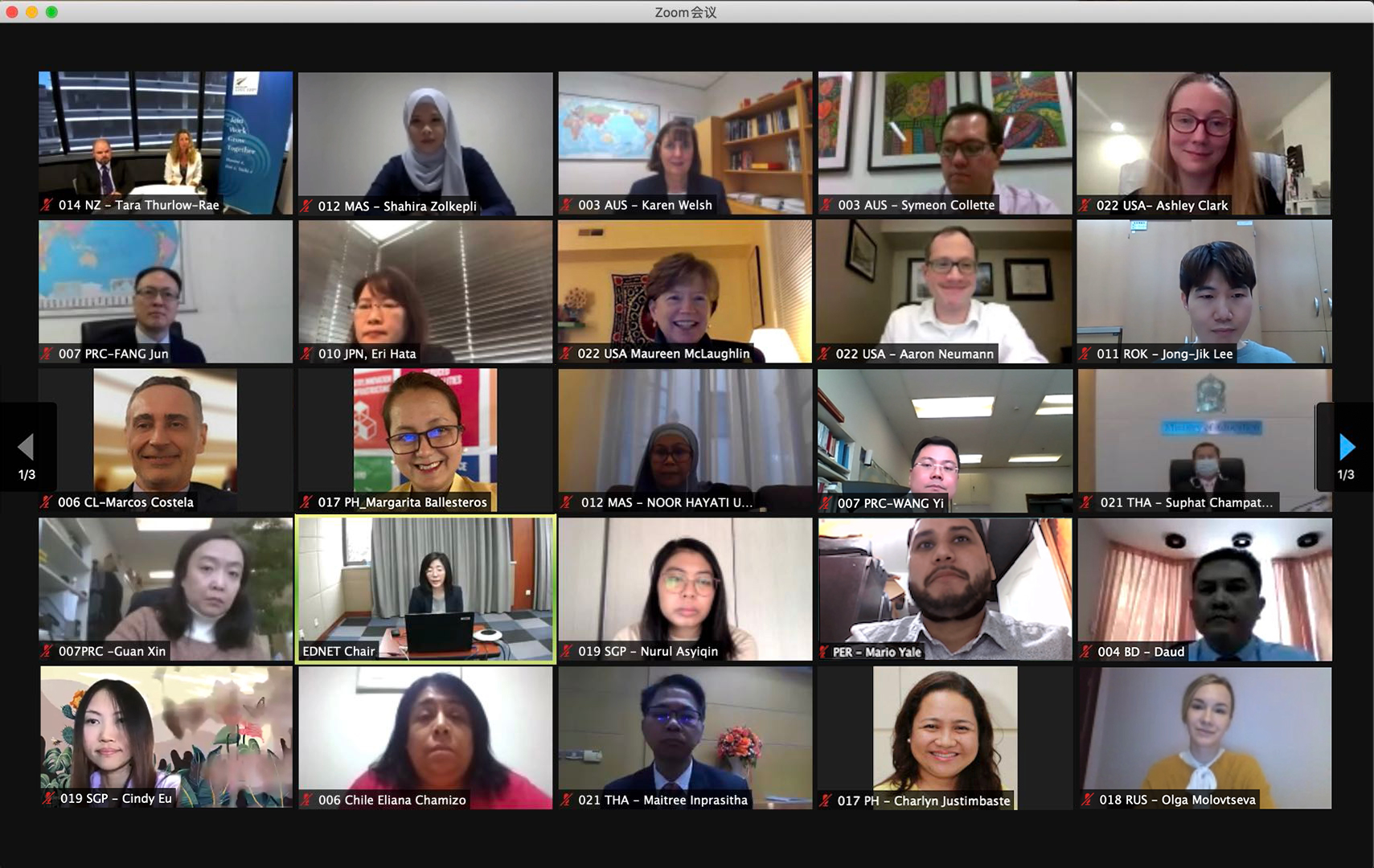 January 2021 saw the first ever virtual meeting of APEC EDNET. The meeting was co-chaired by Education Network Coordinator Dr Wang Yan and Ms Tara Thurlow-Rae, with participation from 46 officials from 15 member economies, and has set the scene for a productive and interesting APEC 2021.
The 'Special Session' outlined host economy New Zealand's aspirations to use the virtual forum to enhance cooperation and policy dialogue between education systems in the Asia Pacific region. The last time New Zealand hosted APEC was in 1999 and this year is the first time the forum will be held entirely virtually.
The EDNET Coordinator opened the meeting with a brief review of EDNET's achievements in 2020, despite the challenges posed by the pandemic, and encouraged member economies to continue to work closely to usher in a productive and innovative APEC year.
This was followed by a presentation by the EDNET Coordinator and Malaysia on the Synthesis Report on Impact of COVID-19 on Education in Asia Pacific Region. Many economies expressed thanks to the report leads, noting that it was a useful resource, and its recommendations can hopefully help to frame EDNET discussions as the region pivots to focus on COVID-19 recovery.
New Zealand then outlined its intent to focus on three areas in 2021:
Wellbeing of students in the digital environment, including equity and inclusion

Student mobility and recognition of online learning and qualifications

Skills development and training for the future
These resonated with economies, many of whom expressed support for a focus on inclusivity and equity, mental health and cyber-wellness, digital skills, online learning and distance learning, and re-skilling and opportunities for life-long learning and training.
It was agreed that a further 'Special Project Session', with a focus on allowing economies to present projects and seek co-sponsors, would be arranged and this took place on 4 March.
32 delegates from 13 economies – Australia, Chile, China, Indonesia, Japan, Korea, Malaysia, New Zealand, the Philippines, Russia, Singapore, Thailand and the USA participated in the meeting held on March 4th. The meeting was again chaired by Dr Wang Yan, EDNET Coordinator, and Tara Thurlow-Rae.
Chile, China, Russia and USA presented Concept Notes for APEC-funded Projects and Korea presented on the progress and outcomes of two self-funded projects: the 16th APEC Future Education Forum (AFEF) and the 18th International APEC Learning Community Builders Conference in 2020, and briefed on the plan for events in 2021.
The EDNET Coordinator also encouraged economies to join a discussion on the idea of building a repository/clearing house/knowledge platform for sharing policies and practices as education response for COVID-19.
Both virtual meetings highlighted the value of bringing EDNET together outside of SOM meetings to discuss and progress our work plan and we look forward to more of these virtual interactions throughout 2021.