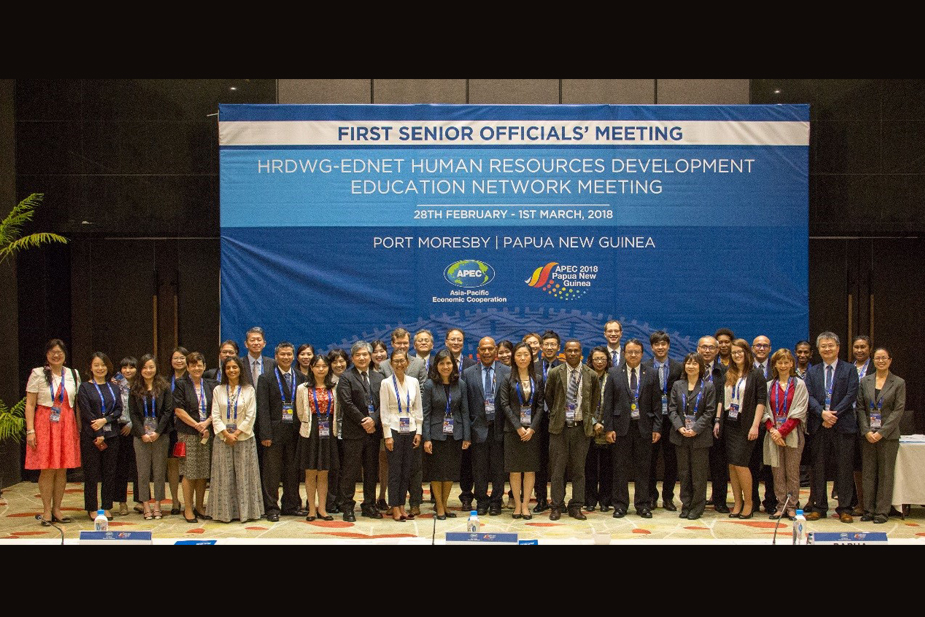 Delegates from 14 APEC member economies including Australia; Canada; Chile; Hong Kong, China; China; Republic of Indonesia; Japan; Republic of Korea; Papua New Guinea; the Philippines; Russia; Chinese Taipei; Thailand; the United States as well as representatives from multilateral organizations such as UNESCO and APRU attended the First Annual EDNET Meeting to conclude previous work and to look into the future education cooperation in the background of digital economy.
Mr. Francis Hualupmomi, the EDNET Co-Chair from the Department of Higher Education, Research, Science and Technology in Papua New Guinea highlighted the importance of improving digital connectivity and deepening regional economic integration as one of the policy priorities under the APEC host theme of "Harnessing Inclusive Opportunities, Embracing the Digital Future". "We encouraged the alignment of EDNET work plan to APEC 2018 priorities," said Mr. Francis Hualupmomi.
To resonating with APEC 2018 priorities, the delegates discussed on how to share education-related information and best practices in APEC economies to make the work of EDNET more efficient, and reached consensus on developing a website of EDNET as a cyberspace for sharing and exchanging useful and timely information among and beyond APEC member economies. "The website aims to achieve six aspects of goals including sharing research findings, forecasting upcoming events, releasing news, informing educational policy-making process, collecting data and uploading publications," said Dr. Wang Yan, the EDNET Coordinator. "These will be realized through six sections, i.e. About Us, News, Projects, Insights, Resources and Contact Us," she added.
Education innovation in the digital age was also a key topic in this meeting. The information and results of relevant projects, including the project entitled Quality Assurance of Online Learning Toolkit led by Australia, APEC e-Learning Training (AeLT) Program led by Korea, the project entitled Digital Workforce Development led by the United States, and etc. were shared and exchanged. Two new projects focusing on the fields of online education and innovative curriculum in the digital age were also proposed by Australia and Thailand respectively.
This meeting marks that APEC member economies is shifting its way of working to embracing the digital economy and that they are paying close attention to the utilization of ICT in teaching and learning. This meeting also lays a firm foundation for the Asia-Pacific to meet all the challenges in the digital age.