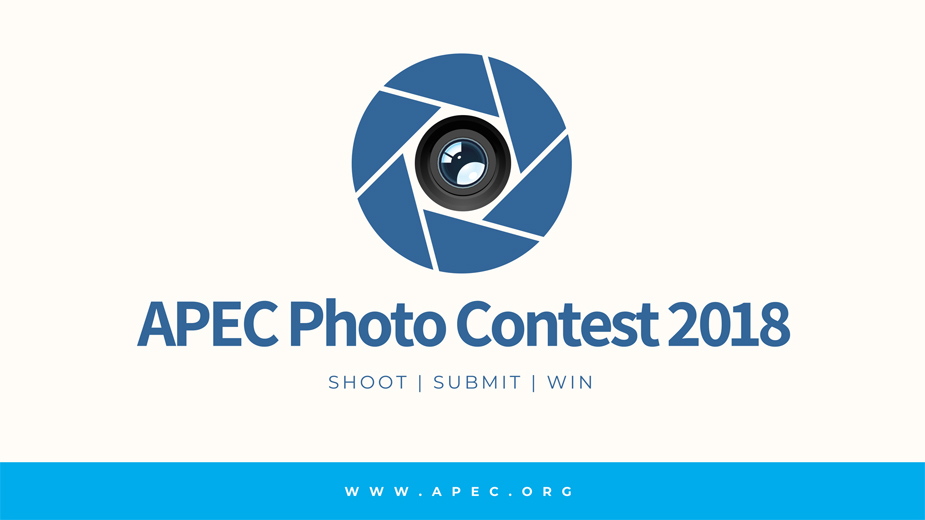 In today's digital age, APEC continues to pursue its effort to build prosperity for people in the Asia-Pacific region. APEC's theme this year is to focus on harnessing inclusive opportunities, and embracing the digital future.
This year, we seek creative interpretation for the theme through the APEC Photo Contest 2018 by amateurs and professionals alike. We encourage you to share your views through your snaps that capture the theme and priorities, and send them to APEC!
You may choose to interpret any one of the following APEC 2018 priorities:
Promoting sustainable and inclusive growth
Deepening regional integration and improving connectivity
Strengthening inclusive growth through structural reform
The aim of these priorities is to empower people, businesses and communities, in all parts of the Asia-Pacific, to thrive in an age of digital disruption. Your photos can help to tell this story.
HOW TO ENTER THE CONTEST?
APEC Photo Contest 2018 must be entered by submitting entry(s) using the online form provided here or by tagging APEC on Instagram (@apec). The entry must fulfill all the requirements, as specified, to be eligible to win a prize. Entries that are incomplete or do not adhere to the rules or specifications may be disqualified at the sole discretion of APEC Secretariat.
INSTAGRAM CHECKLIST FOR SUBMISSION:
Photo submission is open through our Instagram account (@apec), encouraging both amateur and professional photo enthusiasts to take part in the contest. Here are the entry requirements for Instagram submission:
Follow APEC Instagram account:

@apec

Must include title and location of photo in caption

Make sure photo follows the general guideline of APEC Photo Contest 2018 (see below)

Maximum submission is 3 photos per account. More than 3 entries submitted will not be accepted.

Must include hashtag #APECPhotoContest2018 in caption

Must include a hashtag indicating the APEC priority that the photo represents (see below options)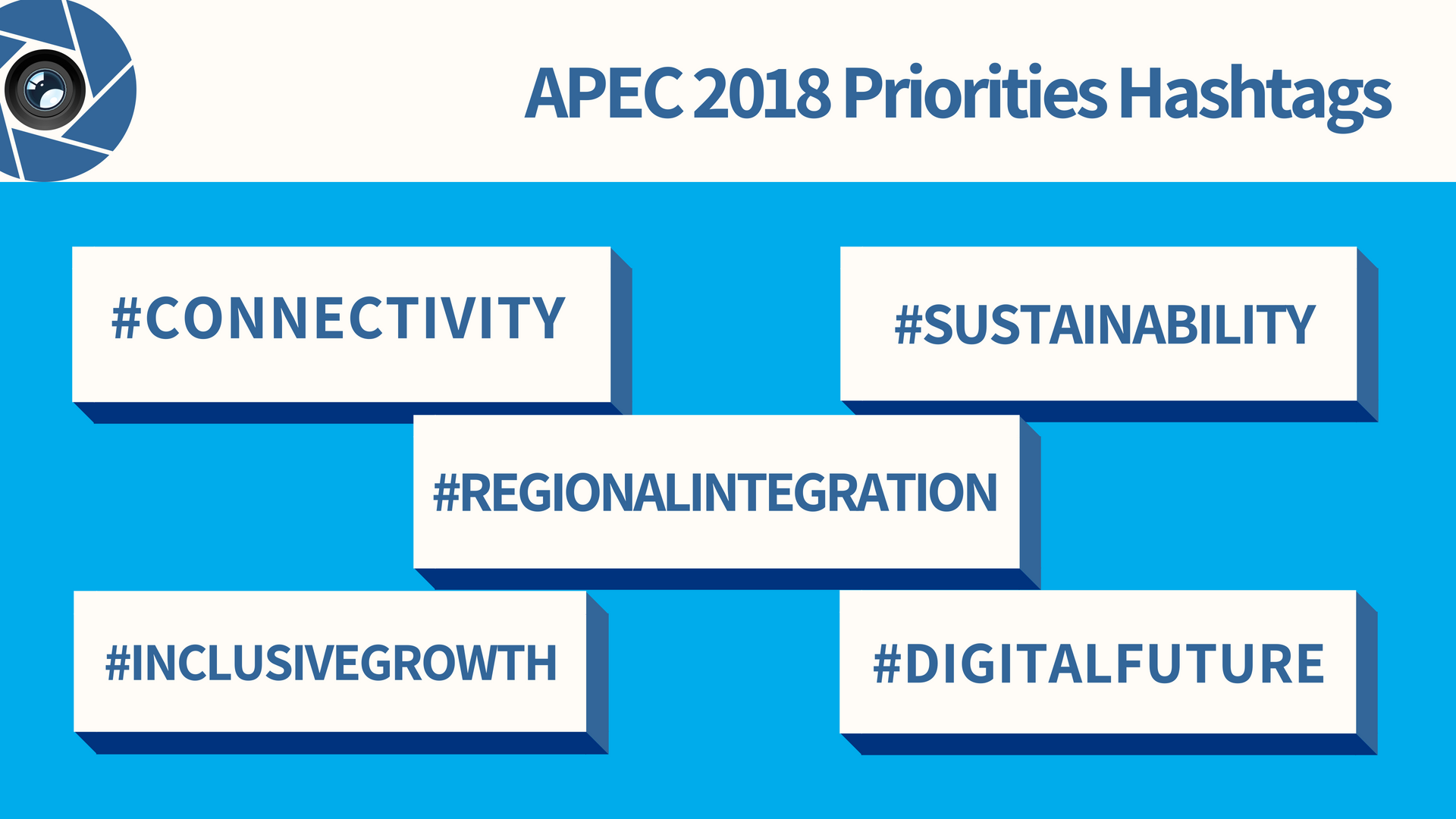 Those who participate in the contest through Instagram stand a chance to win the APEC Influencer Award, on top of the chance to win the main prize.
ONLINE FORM SUBMISSION:
For those who do not have access to Instagram and wish to participate in the contest, you can submit your photos through APEC Photo Contest 2018 online form. You can access the form here.
Fill in all the details required in the form accurately

Include title and location of the photo

Submit maximum 3 photos

Make sure photo follows the general guideline of APEC Photo Contest 2018 (below)
GENERAL GUIDELINES:
The APEC Photo Contest 2018 is open to all amateur and professional photographers

Participants must be citizens or permanent residents of the APEC member economies: Australia; Brunei Darussalam; Canada; Chile; People's Republic of China; Hong Kong, China; Indonesia; Japan; Republic of Korea; Malaysia; Mexico; New Zealand; Papua New Guinea; Peru; the Philippines; Russia; Singapore; Chinese Taipei; Thailand; United States; and Viet Nam

The photo can be taken using any kind of camera, including mobile phone

The photo must be taken in one or more APEC member economy(s). Participants need to include location of the photo in the online form and Instagram caption

Photo format can be square, portrait, or landscape

All photos submitted through online form must be a high-resolution digital image file in JPEG format with minimum compression. Each image should not exceed 10 MB in file size

Minor digital manipulation (i.e. color enhancement, cropping) is allowed. Excessively manipulated photos are grounds for disqualification

Collage or photomontage will not be accepted

The photo must be an original work by the participant, and must not contain material that violates or infringes on another's rights, including publicity and intellectual property rights

Each participant is allowed to submit a maximum of three photos

Staff and their immediate family members of the APEC Secretariat, host economy organizing committee and its affiliates are not eligible to participate in the contest

The decisions of APEC's Judging Panel are final.

All prizes shall be paid in Singapore dollars.

All deadline submissions and timelines are based in Singapore time GMT +08:00

The Secretariat reserves the right to disqualify any photo submission that does not conform to the rules and guidelines
CONTEST TIMELINE & WINNER SELECTION: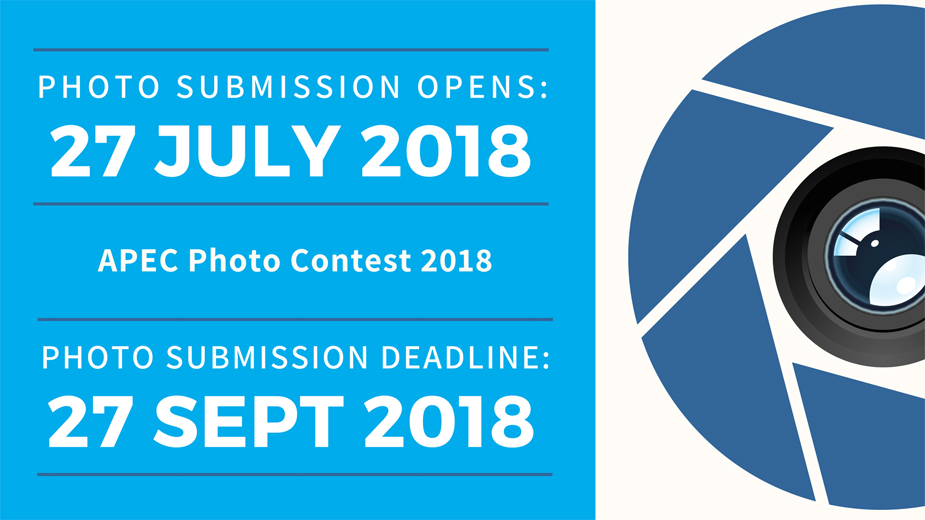 Photo submission opens: 27 July 2018
Photo submission deadline: 27 September 2018, 23:59 (SG - GMT +08:00)
Participants agree that the APEC Secretariat will feature the 10 selected finalist photos on APEC social media channels. The main winners will be selected by a panel of judges consisting of the APEC Secretariat's Executive Director, Chair of APEC 2018 Senior Officials' Meeting, award-winning photojournalists and photographers from the region.
The 10 selected finalists will have the chance to win APEC Popular Choice Award on top of the opportunity to win the main prize. Members of the public will choose their favorite photo to win the APEC Popular Choice Award via a link posted on the APEC website and social media channels, starting from 8 October 2018 at 10:00 (SG) and closing at 26 October 2018, 17:00 (SG - GMT +08:00).
All the winners will be announced during APEC Economic Leaders' Week in Port Moresby, Papua New Guinea on 15-16 November 2018. Results will be published on the APEC website and on APEC's social media channels.
PRIZES AND JUDGING CRITERIA:
First Prize – SGD 2,000
Second Prize – SGD 1,500
Third Prize – SGD 1,000
Popular Choice – SGD 750
Instagram Influencer – SGD 750
Each photo will evaluated based on the following criteria: (i) interpretation and message of the photo based on APEC 2018 priorities, (ii) composition and quality, (iii) creativity

IMPORTANT REMINDERS:
TERMS AND CONDITIONS:
I. Copyright
The participant must be the author and sole owner of the copyright of each photograph submitted.

All images submitted must be original work of the individual submitting them.

The participant shall retain the copyright of the photos submitted in the competition.

The winners shall also grant the right to the APEC Secretariat to publish, display and exhibit their submitted photographs in its publications, brochures, and other materials as well as on its website and other online platforms. The photos will be used for non-commercial purposes without payment or fee to the participant. The APEC Secretariat will make every effort to credit photographers but we cannot guarantee that every use of the photographs will contain the photographers' names.
II. Lost entries
The Secretariat will not be held responsible for any photos lost or not received.

III. Privacy
By submitting photos, participants agree that if they win, the APEC Secretariat may use the personal information on their entry forms for publicity purposes, with the exception of street address, email address and telephone number. The finalists and winners consent to the use of their personal information and photos by the APEC Secretariat in publicity in all media, such as online, newspaper, television and radio.

IV. Liabilities
By submitting photos, participants agree that no claim relating to any damage, loss, injury or inconvenience shall be asserted against the APEC Secretariat, and the directors, officers, employees and assignees from any and all losses, damages, rights, claims and actions of any kind resulting from the project.

The participants hereby indemnify and hold the APEC Secretariat harmless from any claims, actions, proceedings costs and expenses arising as a result of any allegation that the relevant participants did not own or are not wholly entitled and authorized to allow publication and reproduction of the work by the APEC Secretariat.

The APEC Secretariat reserves the right to disqualify any entries if the contents are deemed inappropriate or against public interest.

The Terms and Conditions above are subject to change and/or supplement by the APEC Secretariat at any time during the submission period as and when it deems fit. The APEC Secretariat assumes no liability whatsoever for any outcome as a result of such action.
We look forward to receiving your creative work!