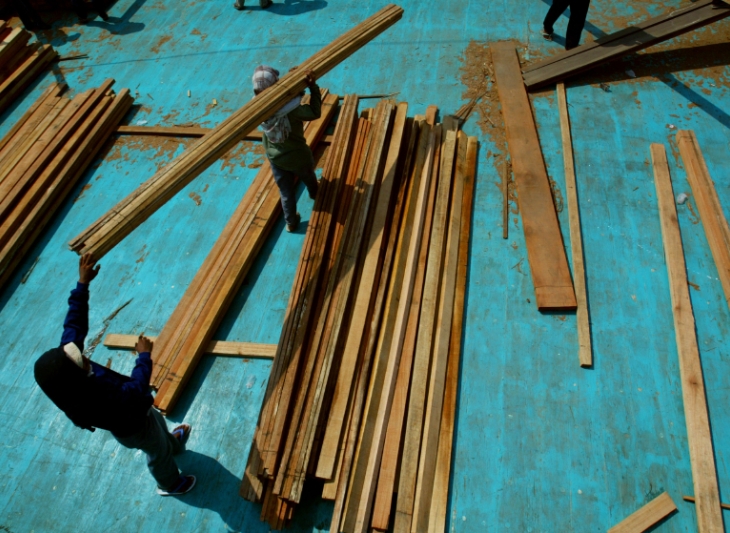 APEC sets vision for achieving forest product trade sustainability
Jakarta, Indonesia, 01 February 2013
Officials from the world's most forested region and commercial epicenter for the forest product sector have agreed on a five-year roadmap for ensuring greater sustainable development in the Asia-Pacific through improved enforcement in illegal logging and associated trade, and legally harvested timber trade promotion.
The roadmap was developed by APEC member economies in Jakarta during the plenary session of a three-day gathering of the APEC Experts Group on Illegal Logging and Associated Trade (EGILAT) which concluded on Thursday. It was convened as part of APEC's first group of planning and technical meetings underway here to advance members' 2013 agenda for enhancing resilient growth.
"Timber is a vital traded commodity and income source in many Asia-Pacific economies, particularly developing ones, which are rich in forest resources and driving production as global demand increases," said Dr. Hadi Daryanto, Secretary General of Indonesia's Forestry Ministry, who helped to open the EGILAT meeting. "For trade in the sector to be sustainable, fair market access for legal products and the socio-economic factors tied to illegal logging must be practically addressed."
Collectively, APEC economies account for about 53 percent of the world's forests, 60 percent of global production of forest products, and 80 percent of global trade in forest products, according to the United Nations Food and Agriculture Organization. The region's forest products trade was valued at over US$150 billion in 2010.
"APEC economies' strategic plan for the next five years provides direction for advancing our efforts to improve economic viability, environmental soundness and social acceptability within the sector," said Prof. Dr. Abdul Rahman, EGILAT Chair. "This can move the region towards more sustainable growth and development."
The group was formed in 2011 and met for the first time last year to promote trade in legally harvested forest products, combat illegal logging and associated trade, and build capacity among forest product trading APEC economies.
"When APEC economies address issues related to timber trade legality, we need to be talking about the same thing and engaging with one another to establish some commonalities to implement them," said Prof. Dr. Abdul Rahman. But, he noted, legal clarification of illegal logging is not an end unto its own, prompting member economies to expand their cooperation into other areas.
Work this year will emphasize collaboration and information-sharing between the public sector, industry and civil society groups to support the group's strategic goals.
The next gathering of the APEC Experts Group on Illegal Logging and Associated Trade will be held alongside the Third APEC Senior Officials' Meeting and related meetings to take place in Medan, Indonesia from 22 June-6 July 2013. It will be followed by the APEC Ministers Responsible for Forestry Meeting in Cusco, Peru on 14-16 August 2013.
# # #
For more information or to arrange possible interview opportunities, please contact David Hendrickson +65 9137 3886 at [email protected] or Michael Chapnick +65 9647 4847 at [email protected].
Additional details about APEC meetings, events, projects and publications can be found at www.apec.org. You can also follow APEC on Twitter and join us on Facebook.