Scientist with Groundbreaking 2D Materials Innovation Wins APEC Science Prize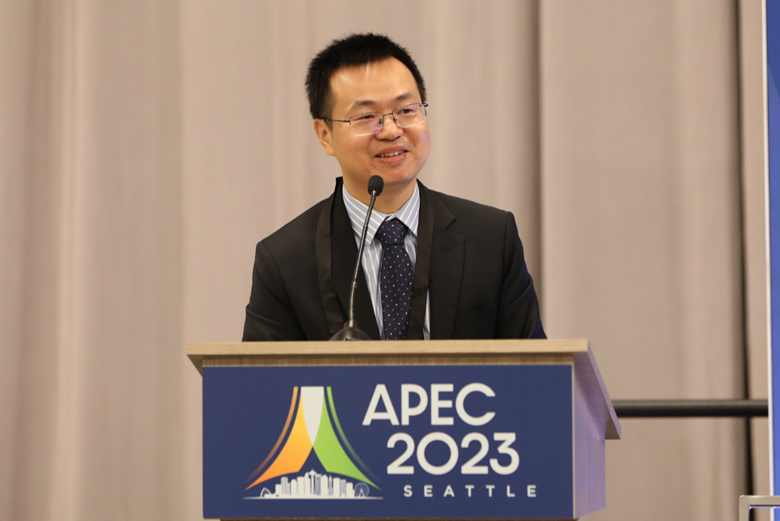 A materials scientist developing new, sustainable two-dimensional (2D) films won this year's APEC Science Prize for Innovation, Research and Education, known as ASPIRE. The announcement was made in Seattle on the margins of the Third APEC Senior Officials' Meeting.
Dr Zheng Liu from Singapore focuses his research on creating new materials for high-performance electronics, optics and artificial intelligence with significantly less energy consumption.
Referring to himself as a gardener, Dr Liu and his team develop 2D materials, specifically an extremely thin, flexible and strong film that conducts heat and electricity, in a campus laboratory of the National Technology University of Singapore. This lab was featured in a New York Times article focusing on the superpowers of 2D materials.
"All of the technological advances that we have today rely on microchips, including cars, electronic appliances, smartphones, data centers," Dr Liu said. "The more advanced a technology gets, the more powerful the microchips need to be and the more energy it consumes—which is not sustainable for our planet."
"To respond to this threat, we've developed a sustainable innovation from 2D materials that can be used to make microchips that saves 90 percent of energy consumption and increases computing performance," Dr Liu explained. "In Singapore, we have many 2D materials, we grow it in our lab, and with these materials come many applications that can save energy."

For this innovation and the potential impact to help address climate risk, Dr Zheng was awarded a USD 25,000 prize supported by Wiley and Elsevier in a ceremony held in Seattle earlier this month.
"The theme of this year's ASPIRE—Inclusive Science, Technology, and Innovation for a Resilient and Sustainable Environment—showcases impactful research, developed to transform our society to become more balanced and sustainable," said Xuemei Yang, Chair of the APEC Policy Partnership for Science, Technology, and Innovation.
"The collaboration between the next generations' researchers in the APEC region has become more revolutionary and this sparks hope that we can continue to inspire young scientists and researchers to work together and help address most pressing issues our society may face in the future," Yang said.
Addressing delegates during the award ceremony, Jennifer Littlejohn, the United States Acting Assistant Secretary for Oceans and International Environmental and Scientific Affairs, emphasized that to solve the world's most pressing challenges, economies must push the frontiers of science and innovation through collaboration with policymakers, businesses, and academia, and by providing a platform for the brightest minds in the region to collaborate and exchange ideas.
"ASPIRE aims not only to inspire young scientists conducting groundbreaking research, but also to expand the collaborative networks that will allow them to tackle society's biggest challenges," said Youngsuk "YS" Chi, Chairman of Elsevier.
"In addition to reducing the risk of energy over-consumption, Dr Zheng's research and its applications have the potential to revolutionize the semiconductor industry."
"So many of the challenges that our global society faces can only be addressed through science, research and innovation," said Brian Napack, President and Chief Executive Officer of Wiley. "It's an honor and a pleasure to recognize these young scientists who are lighting the way to making the world a better place for future generations."
For further details, please contact:
Masyitha Baziad +65 9751 2146 at [email protected]
Michael Chapnick +65 9647 4847 at [email protected]