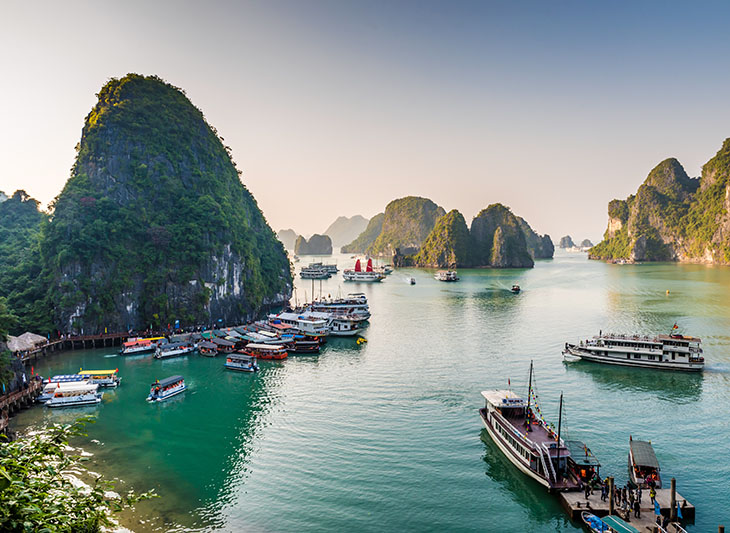 APEC Solidifies Tourism Growth Amid Digital Disruptions
Ha Long Bay, Viet Nam, 20 June 2017
Senior tourism officials from the APEC member economies have agreed to step up cooperation with the private sector to better manage the disruptive effects of digital innovation on Asia-Pacific travel and tourism, intent on ensuring newly reported industry growth in the region.
APEC economies received a total of 415 million international tourists in 2016, up 24 million or 6.1 per cent year-on-year compared to 3.9 per cent globally, according to World Tourism Organization data presented to officials during a key policy meeting in Ha Long Bay—Viet Nam's famed world heritage site.
Boosted by this rise in tourist traffic, the industry accounted for 6.1 per cent of APEC economies' exports and directly contributed USD 1.3 trillion to their GDP last year. It also directly supported 67 million jobs in the region. Digital technologies are enabling industry growth and higher living standards for more people but also raising new sustainability concerns, underscored delegates.
"The fourth industrial revolution is forecasted to create major changes for the world as a whole, and for the tourism sector, in particular," said Viet Nam Minister of Culture, Sports and Tourism Nguyen Ngoc Thien, who chaired the meeting. "We will need to work together to ensure the industry's socioeconomic benefits for all."
Officials committed to work with the travel and tourism industry to help governments and businesses adapt to new technologies – from advanced passenger information systems and biometric profiling, to digital marketing and accounting solutions – and realize the goal of 800 million international tourist arrivals in APEC economies by 2025. Tackling human resource development and management challenges will be a particular focus.
"Improvements in online booking, passenger screening and infrastructure, including the rise of accommodation and transport sharing platforms, are making tourism easier and more affordable than ever in the Asia-Pacific," explained Dr Alan Bollard, Executive Director of the APEC Secretariat. "It is imperative that workforces across the region be properly trained and deployed to fully capitalize on these gains."
"Tourists flows in APEC present enormous opportunities for businesses, especially small local operators that support tens of millions of jobs," Dr Bollard concluded. "We are opening up public-private information sharing to ensure policies and licensing schemes are in place to prepare them to accommodate larger crowds and protect the region's amazing urban and natural environments that are such a draw."
Priority actions to be implemented by APEC economies to promote sustainable tourism in these and related areas are outlined in a High Level Statement endorsed by officials at the conclusion of their meeting.
# # #
For further details, or to arrange possible media interviews, please contact:
David Hendrickson +65 9137 3886 at [email protected]
Michael Chapnick +65 9647 4847 at [email protected]
More on APEC meetings, events, projects and publications can be found on
www.apec.org
. You can also follow APEC on
Twitter
and join us on
Facebook
and
LinkedIn
.