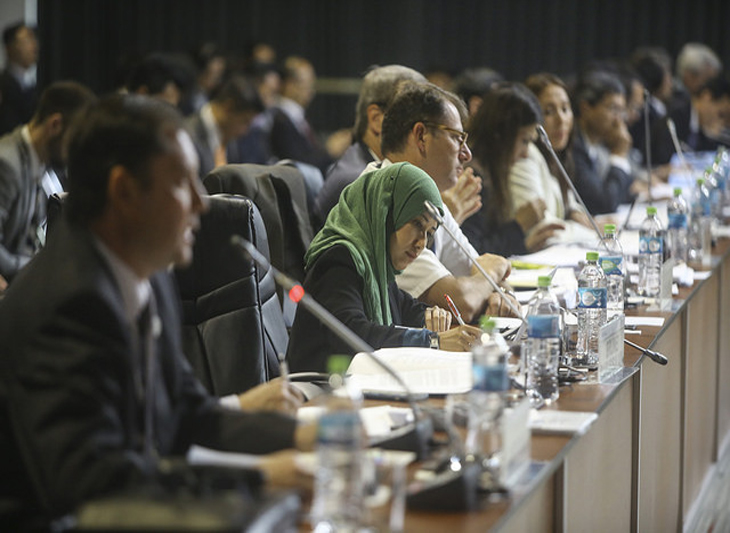 Senior officials from the 21 APEC economies are convening in Lima, Peru to take action on APEC initiatives that help integrate regional economy, develop human resources and their capabilities, strengthen the food markets, and support the growth of small businesses.
The two-day Senior Officials' Meeting comes on the heels of intensive discussions about APEC's broad sectoral agenda including health, security, services, connectivity, transparency, intellectual property, anti-corruption, disaster preparedness, business mobility and electronic commerce.
This dialogue is also set against the backdrop of the looming deadline to achieve APEC's goal for the region to achieve free and open trade by 2020. APEC 2016 Senior Officials Meeting Chair Luis Quesada cited the advancement of an inclusive and sustainable agenda in the recent years as clear example of APEC's adaptability to the expanding priorities of member economies in the context of economic integration.
"The progress we've made toward a free and open trade region has been immense but we still have a lot of work to do," says Ambassador Quesada. "We will need to achieve these goals bearing in mind that the environment of trade and investment has changed since 1994 and we continue to experience changes. Through all these, APEC has always been able to adjust."
"In recent years, we have incorporated social and inclusive issues into our priorities," he continued. "This direction has enriched the APEC agenda."
Specifically, APEC Senior Officials tracked the movement of its trade and investment facilitation portfolio, including progress on global value chain cooperation, internationalization of small businesses, expansion of regulatory cooperation, implementation of the environmental goods list, and support for the services agenda.
"This is a crucial juncture for APEC," reports APEC Secretariat Executive Director Alan Bollard. "As we take stock of our impact and relevance to the people of the Asia-Pacific region in the past 26 years, we also need to keep an eye on the shifting paradigms of doing business and trade with the advent of technology and digital trade."
One of the notable outcomes presented are the results of the final assessment of APEC's Ease of Doing Business initiative, which saw an average of 14.6 per cent improvement across the region. While this is short of the 25 per cent overall average improvement sought, significant improvements in specific areas were reported.
Officials also discussed the implementation of the APEC capacity building policy, which operates on the principles of innovation, inclusiveness, transparency, and sustainability. The policy seeks to support the optimal implementation of APEC initiatives in the region by strengthening member economies' capacity.
The meeting, which concludes on Sunday, sets the tone for the APEC Ministers' Meeting which will take place during APEC Leaders' Week in November 2016.
# # #
For additional information, please contact:
Ma. Lizbeth Baroña-Edra (in Lima) +65 9452 8344 at mlbe@apec.org
Michael Chapnick +65 9647 4847 at mc@apec.org
More on APEC meetings, events, projects, and publications can be found on www.apec.org. You can also follow APEC on Twitter and join us on Facebook and LinkedIn.