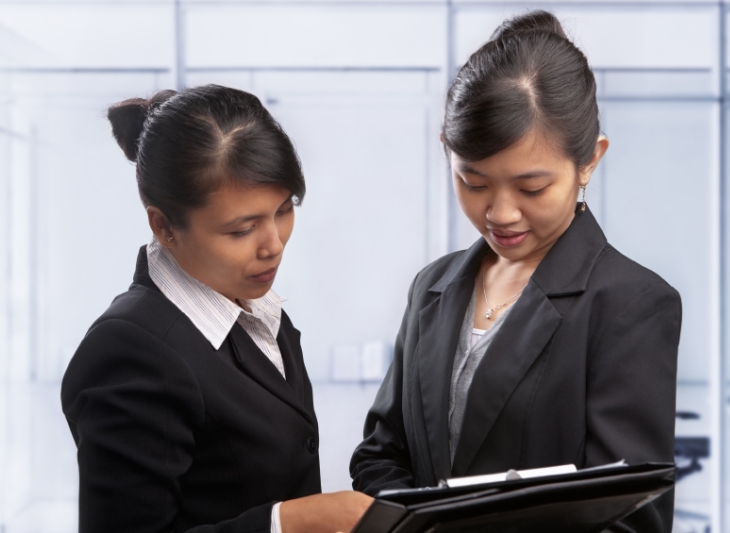 We formed a group called '360° SME Ladies' to keep our network growing and to bring common issues facing women-owned businesses to the attention of related organizations for support.
If a married woman applies for a bank loan in some APEC economies, she must get the co-signature of her husband. For many woman entrepreneurs, separated from their husbands, this poses a significant challenge to starting or growing their business.
"This is an 'underground' concern in some APEC economies as according to the law, women do not need to have their husbands' signatures to get a bank loan," explains Nina Merchant, Associate Director of Economic Development at The Asia Foundation. "Thus, although the legal rights exist, the problem remains for some women as many financial institutions still demand that a male partner co-sign financial contracts."
Ms Merchant is the co-project overseer of the recently published research report, Access to Trade and Growth of Women's SMEs in APEC Developing Economies – a joint project by APEC, the US State Department and the Asia Foundation.
The goal of the project was to identify economic, regulatory and cultural factors that hinder or encourage women-owned or run small and medium enterprises (SMEs) and provide policy recommendations for APEC member economies. As part of APEC's Policy Partnership on Women and the Economy, the project focused on enhancing greater participation of women in the Asia-Pacific economy.
Women SMEs Offer Potential for Growth in the Region
If women were fully integrated into the economy, the United Nations estimates the Asia-Pacific region would grow by an additional $89 billion annually. The World Bank predicts that output per worker would increase by 7-18% if female entrepreneurs and employees in the East Asia Pacific region worked in the same sectors, types of jobs and activities as men. Moreover, in Malaysia, Thailand and the Philippines—the APEC economies examined in the project—SMEs account for a significant portion of the economy.
In the Philippines for example, SMEs account for 99 percent of all businesses and contribute 32 percent of the economy's GDP, according to the Journal of the Confederation of Asia-Pacific Chambers of Commerce and Industry (CACCI). In addition, women own roughly 45 percent of SME businesses in the Philippines, according to the Global Economic Monitor. These statistics speak to the significant untapped potential contributions of women-run businesses to APEC economies.
"We were particularly interested in seeing how women fared as business owners in the SME sector, since there is potential for growth in the sector that would translate into broader growth in the region," says Kate Bollinger, Program Officer with The Asia Foundation's Women's Empowerment Program and co-project overseer.
Lack of Formal Women's Networking Groups Identified as Key Barrier on APEC Project
Business associations play a key role nurturing SMEs by providing access to customers, suppliers, mentors, government and financing. For example, business associations often apply for loans on behalf of SMEs or add credibility to an SME loan application and could help circumvent banks' requirement for spousal co-signatures.
However, one of the key barriers identified by the project was low rates of participation in formal networking associations for women entrepreneurs. The project's survey of all three economies showed that a higher percentage of women business owners—34 percent compared to 26 percent of men owners—reported never interacting with business associations. Interactions with informal networks such as peer groups were also correlated with business success in the project analysis. For example, in Thailand, women business owners who engaged in informal networks were 54 percent more likely to report that they had a profit in the last year than those that did not.
Project Legacy: Formal Women's Networking Group Established in Thailand
Building on the findings of the APEC project, the Asia Foundation organized a one-day Women's Access to Trade Networking Forum at the Thai Chamber of Commerce in October, 2012. By the end of the day, the women entrepreneurs in Thailand decided to formalize the networking forum.
"We formed a group called '360° SME Ladies' to keep our network growing and to bring common issues facing women-owned businesses to the attention of related organizations for support," says Ms Rattanakamol Poomsano, Assistant Managing Director of C.I. Group Public Company Limited based in Pathum Thani, Thailand, north of Bangkok.
"The group is still active and holds regular meetings every two months," adds Ms Poomsano. "There are 36 members to date."
Her company, C.I. Group, produces heat exchangers for air-conditioners and air handling units which are currently exported worldwide to air-conditioning companies and their OEM suppliers. C.I. Group was started in 1983 and currently employs around 850 people.
Women-owned SMEs in Thailand are already reaping the benefits of this new SME women's business association—a legacy outcome of the project. One such company is Spun Silk World, based in Samut Prakarn, Thailand, a coastal province south of central Bangkok.
"I have benefited from news shared across the network about government policy or useful seminars that might help my company," says Dr Pajaree Kewcharoenwong, Marketing Executive of Spun Silk World. "I have also met a potential partner via the networking group whom I am still in contact with today."
Spun Silk World exports quality spun silk yarns to industrial weaving and knitting companies in Japan and Europe. Dr Kewcharoenwong's company opened its doors in 2009 and employs up to 200 people.
As a result of the APEC project, the Asia Foundation organized similar networking meetings in the Philippines and Malaysia. On April 26, women-owned SMEs from Thailand, the Philippines, Malaysia and Indonesia met at a regional networking forum in Kuala Lumpur. At the meeting, challenges outlined in the APEC project report were shared and participants discussed the opportunity to address these challenges with counterparts in the region.
According to Ms Bollinger and Ms Merchant, "We would love to see these women business owners take collective action and start working with APEC and their own governments to address these issues. This would be a really exciting outcome of the project."