Guidelines for Paperless Trade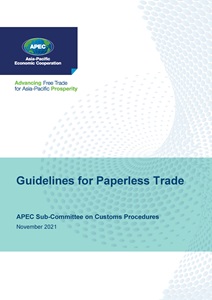 | | |
| --- | --- |
| Published Date | November 2021 |
| Type of Publication | Manuals |
| Publication Under | Committee on Trade and Investment (CTI), Sub-Committee on Customs Procedures (SCCP) |
| Accessed | 476 |
| Pages | 8 |
| Download publication | Download |
Description
The Guidelines for Paperless Trade (the Guidelines) build on the direction given by the MRT in June 2021 and set out a non-exhaustive set of guidelines to assist APEC economies in implementing electronic/paperless customs procedures.

The Guidelines support the Putrajaya Vision 2040 as implementation of this project will "strengthen digital infrastructure, accelerate digital transformation, narrow the digital divide, as well as cooperate on facilitating the flow of data and strengthening consumer and business trust in digital transactions".

Adoption of the best practice guidelines can assist all traders, especially Micro, Small, and Medium Enterprises, to engage with the APEC customs authorities electronically. The Guidelines will be a living document published on the APEC website, which economies and industry can consider when dealing with paperless trade. They will be updated regularly by New Zealand to reflect the evolving nature of this work.