APEC Regional Trends Analysis, August 2021 Update: Vaccine Access Drives Recovery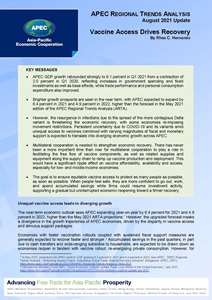 | | |
| --- | --- |
| Published Date | August 2021 |
| Type of Publication | Reports |
| Publication Under | APEC Secretariat, APEC Policy Support Unit |
| Accessed | 7210 |
| Pages | 7 |
| Download publication | Download |
Description
Key messages are:
APEC GDP growth rebounded strongly to 6.1 percent in Q1 2021 from a contraction of 2.0 percent in Q1 2020, reflecting increases in government spending and fixed investments as well as base effects, while trade performance and personal consumption expenditure also improved.
Brighter growth prospects are seen in the near term, with APEC expected to expand by 6.4 percent in 2021 and 4.9 percent in 2022, higher than the forecast in the May 2021 edition of the APEC Regional Trends Analysis (ARTA).
However, the resurgence in infections due to the spread of the more contagious Delta variant is threatening the economic recovery, with some economies re-imposing movement restrictions. Persistent uncertainty due to COVID-19 and its variants amid unequal access to vaccines combined with varying magnitudes of fiscal and monetary support is expected to translate into diverging economic growth across APEC.
Multilateral cooperation is needed to strengthen economic recovery.

There has never been a more important time than now for multilateral cooperation to play a role in facilitating the free flow of vaccine components, as well as related supplies and equipment along the supply chain to ramp up vaccine production and deployment. This would have a significant ripple effect on vaccine affordability, availability and access, especially for low- and middle-income economies.
The goal is to ensure equitable vaccine access to protect as many people as possible, as soon as possible.

When people feel safe, they are more confident to go out, work, and spend accumulated savings while firms could resume investment activity, supporting a gradual but uninterrupted economic reopening toward a firmer recovery.