APEC Regional Trends Analysis, February 2021 Update: Uneven Recovery, Unequal Impact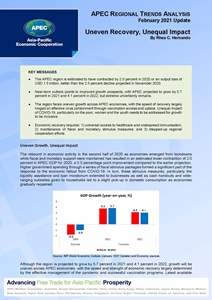 | | |
| --- | --- |
| Published Date | February 2021 |
| Type of Publication | Reports |
| Publication Under | APEC Secretariat, APEC Policy Support Unit |
| Accessed | 5954 |
| Pages | 5 |
| Download publication | Download |
Description
Key messages are:
The APEC region is estimated to have contracted by 2.0 percent in 2020 or an output loss of USD 1.5 trillion, better than the 2.5 percent decline projected in November 2020.
Near-term outlook points to improved growth prospects, with APEC projected to grow by 5.7 percent in 2021 and 4.1 percent in 2022, but extreme uncertainty remains.
The region faces uneven growth across APEC economies, with the speed of recovery largely hinged on effective virus containment through vaccination access and uptake. Unequal impact of COVID-19, particularly on the poor, women and the youth needs to be addressed for growth to be inclusive.
Economic recovery requires: 1) universal access to healthcare and widespread immunisation; 2) maintenance of fiscal and monetary stimulus measures; and 3) stepped-up regional cooperation efforts.