Under Secretary Lago's Statement on the 29th APEC Small and Medium Enterprises Ministerial Meeting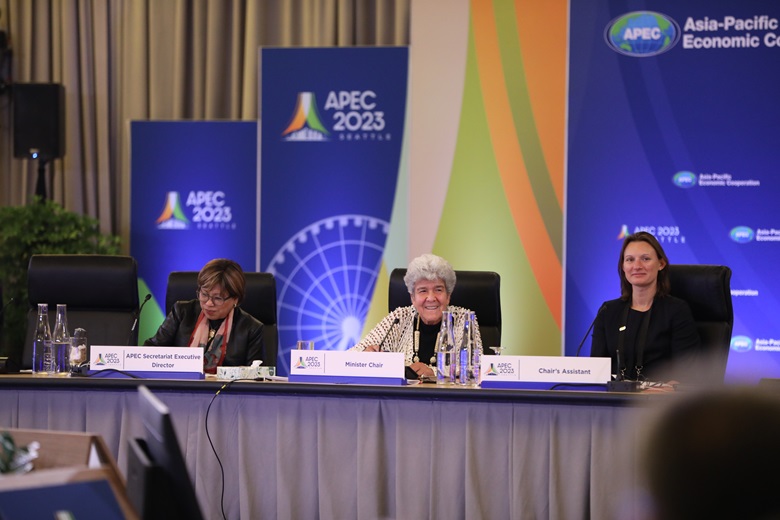 The United States Under Secretary of Commerce for International Trade Marisa Lago shared with the APEC region's ministers responsible for industry, trade and small businesses a statement that reflects the outcomes of the 29thAPEC Small and Medium Enterprises Ministerial Meeting.
In her statement, Under Secretary Lago encapsulated the deliberations among APEC ministers to fostering quality growth that brings palpable benefits and greater health and well-being to all—emphasizing how vital this is for micro, small and medium enterprises (MSMEs) in the APEC region, which account for 97 percent of businesses.
Read the 29th APEC Small and Medium Enterprises Ministerial Meeting
Under Secretary Lago's statement reflected the consensus outcomes of the meeting held in Seattle on 21 August in several key areas including developing policies, technology solutions, and capacity building measures that address key barriers that MSMEs face when conducting digitally-enabled trade, including barriers related to gender equality.
One key area is to also ensure that governments provide an enabling environment for MSMEs and continue efforts to build their capacity to grow by integrating into global value chains.
Ministers also acknowledged that MSMEs face risks and challenges when operating in global markets. Consequently, they will continue efforts to prioritize transparency and responsible and ethical business conduct in government-to-business interactions.
For further details, please contact:
Masyitha Baziad +65 9751 2146 at [email protected]
Michael Chapnick +65 9647 4847 at [email protected]