Chair's Statement of the 29th APEC Small and Medium Enterprises Ministerial Meeting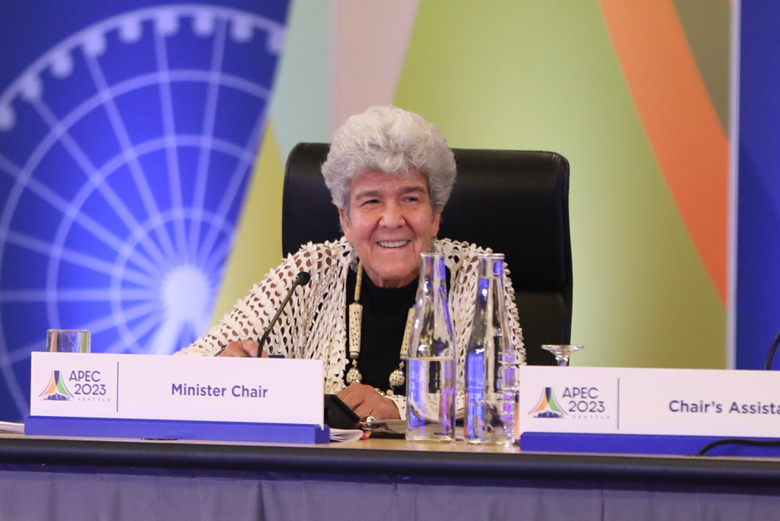 All APEC ministers responsible for small and medium enterprises agreed to all paragraphs except for paragraph 4
We, the Asia-Pacific Economic Cooperation (APEC) Ministers responsible for Small and Medium Enterprises (SMEs), met in Seattle, Washington, the United States of America on August 21, 2023, chaired by Under Secretary of Commerce for International Trade Marisa Lago. We welcomed the participation of the APEC Business Advisory Council. We express our collective appreciation to the City of Seattle for the warm welcome extended for this meeting.


We reiterate our strong commitment to the achievement of the APEC Putrajaya Vision 2040 including through implementation of the Aotearoa Plan of Action to realize an open, dynamic, resilient and peaceful Asia-Pacific community for the prosperity of all our people and future generations. We commit to fostering quality growth that brings palpable benefits and greater health and well-being to all, including MSMEs. We collectively emphasize how vital this is for micro, small and medium enterprises (MSMEs) in the APEC region, which account for 97% of businesses. We welcome APEC efforts in advancing these agendas to make business easier and more resilient, while fostering green, sustainable, and innovative MSMEs.


Taking inspiration from the APEC 2023 theme of "Creating a Resilient and Sustainable Future for All," and the policy priorities of building a more interconnected, innovative, and inclusive APEC region, we discussed the importance of creating pathways to growth for MSMEs, including empowering MSMEs in regional and global markets through access to global value chains and through digital tools and technologies, which expand opportunities for MSMEs owned or led by individuals with untapped economic potential, such as women, Indigenous Peoples as appropriate, persons with disabilities, and those from remote and rural communities.


As our Leaders highlighted last November, we have witnessed the war in Ukraine further adversely impact the global economy. There was a discussion on the issue. We reiterated our positions as expressed in other fora, including the UN Security Council and the UN General Assembly, which, in Resolution No. ES-11/1 dated 2 March 2022, as adopted by majority vote (141 votes for, 5 against, 35 abstentions, 12 absent) deplores in the strongest terms the aggression by the Russian Federation against Ukraine and demands its complete and unconditional withdrawal from the territory of Ukraine. Most members strongly condemned the war in Ukraine and stressed it is causing immense human suffering and exacerbating existing fragilities in the global economy – constraining growth, increasing inflation, disrupting supply chains, heightening energy and food insecurity, and elevating financial stability risks. There were other views and different assessments of the situation and sanctions. Recognizing that APEC is not the forum to resolve security issues, we acknowledge that security issues can have significant consequences for the global economy.[1]


We welcome economies' efforts to take practical steps to implement established APEC policy goals related to resilient and inclusive growth, including through the full and accelerated implementation of the La Serena Roadmap on Women and Inclusive Growth. The United States convened a joint meeting of the High-Level Policy Dialogue on Women and the Economy and SME Ministers to spotlight the intersection of women and MSMEs, drive greater sustainable and inclusive economic growth, and serve as an example for advancing the economic interests of those with untapped economic potential. We also recognize the ongoing activities to support Indigenous businesses as appropriate.


We welcome APEC Digital Month and will continue to work to empower MSMEs in the global marketplace through the uptake of digital tools, technologies, and skills and participation in global value chains, cross-border e-commerce, and digital trade. We acknowledge the importance of cooperation on facilitating the flow of data and strengthening consumer and business trust in digital transactions. We were honored to announce the winner of the 2023 APEC App Challenge, which showcases the role of digital technologies in opening opportunities for MSMEs to participate in global digitally-enabled trade and the international marketplace. We encourage APEC economies to collaborate with business support organizations and academic institutions to continue to develop policies, technology solutions, and capacity building measures that address key barriers that MSMEs face when conducting digitally-enabled trade, including barriers related to gender equality. We encourage the development of easy-to-use and cost-effective products and solutions that help MSMEs accelerate their digital transformation, including digital and business skills programs, considering the gap between MSMEs and larger firms in the adoption of digital technologies, build and advance an enabling environment to ensure that no one is left behind.


We recognize the need to integrate MSMEs into supply chains and global value chains. As global supply chains continue to be disrupted, we welcome APEC's ongoing work to strengthen supply chain connectivity by identifying and addressing chokepoints. We recognize MSMEs' participation in international markets and global value chains may offer a solution to supply chain bottlenecks, vulnerabilities, and shortages. This presents a significant opportunity for MSMEs, and we welcome efforts to build the capacity of MSMEs to grow by integrating into global value chains. We see this as an important avenue to promote resilient and inclusive global value chains and to create economic opportunities for MSMEs, including women-owned MSMEs. We reaffirm the particular importance of an enabling environment for MSMEs.


We seek to take meaningful steps towards implementing the Bangkok Goals on Bio-Circular-Green (BCG) Economy. We call on APEC economies and stakeholders, including the private sector, to strengthen MSMEs' green transitions as outlined in the APEC Strategy for Green, Sustainable, and Innovative MSMEs and to foster green jobs of the future. We recognize that MSMEs, including those owned or led by women, can make significant contributions to the green transitions and boost their competitiveness by adopting green practices and developing innovative new technologies for the global market.


We recall the commitment of APEC Leaders in 2022 to collaborate to improve opportunities for MSMEs to be competitive, specialized, innovative, and expand into international markets. We recognize that MSMEs can benefit from capacity building programs, access to finance, and collaboration with large enterprises to enhance their capacity to innovate and compete. We will share best practices in this regard.


We acknowledge that MSMEs face risks and challenges when operating in global markets, and we will continue efforts to prioritize transparency and responsible and ethical business conduct in government-to-business interactions. We encourage APEC economies to strengthen multi-stakeholder cooperation to promote responsible business conduct, as called for in APEC Putrajaya Vision 2040, and as exemplified byVision 2025 of the Business Ethics for APEC SMEs Initiative.


We thank the United States for hosting the APEC SME Ministerial Meeting and look forward to continuing to advance these conversations through the remainder of the 2023 APEC year. Recognizing the importance of the transition of economic actors, including MSMEs, from the informal to the formal economy, we look forward to further discussing their integration into the formal economy and global economy during Peru's host year in 2024.
_______________________________________________________________________________
[1] Paragraph 4 of this document, taken from the APEC Bangkok Leaders' Declaration from November 19, 2022, was agreed to by all member economies except the People's Republic of China and the Russian Federation.