2011 APEC Economic Policy Report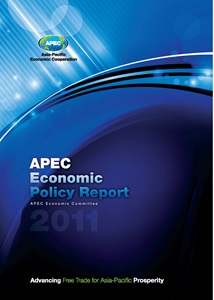 | | |
| --- | --- |
| Published Date | May 2011 |
| Type of Publication | Reports |
| Publication Under | Committees, Economic Committee (EC) |
| Accessed | 39394 |
| Pages | 224 |
| Download publication | Download |
Description

The 2011 APEC Economic Policy Report reviews progress under the LAISR initiative and structural policies in APEC economies based on various exercises that were conducted as part of the stocktaking exercise.
Part I is divided into several sections covering an overview of the LAISR initiative, progress in implementing the LAISR 2010 Forward Work Programme, economies' progress toward the pursuit of domestic structural reforms and the impacts of structural reforms, as well as implications for further strengthening APEC's structural reform agenda.
Part II consists of collated responses to questions for the Friends of the Chair Coordinators and the Competition Policy and Law Group Convenor, as well as survey responses from member economies.
PREFACE

EXECUTIVE SUMMARY

PART I: PROGRESS IN APEC AND MEMBER ECONOMIES

PART II: ECONOMY AND FOTC RESPONSES TO THE LAISR STOCK-TAKE SURVEY
Collated responses to questions for the FotC Coordinators and the CPLG Convenor
• Regulatory Reform
• Competition Policy
• Corporate Governance
• Public Sector Governance
• Strengthening Economic and Legal Infrastructure (SELI)
• Competition Policy and Law Group (CPLG)

Collated responses to questions for member economies
• Australia
• Brunei Darussalam
• Canada
• Chile
• People's Republic of China
• Hong Kong, China
• Indonesia
• Japan
• Republic of Korea
• Malaysia
• Mexico
• New Zealand
• Papua New Guinea
• Peru
• The Philippines
• The Russian Federation
• Singapore
• Chinese Taipei
• Thailand
• The United States
• Viet Nam

ATTACHMENTS
1. EC's Discussion on the Post-LAISR Structural Reform Agenda – Note by the EC Chair – (2010/ESOM/006)
2. Consolidated LAISR Forward Work Programme (as of 30 October 2010)
3. The Impacts and Benefits of Structural Reforms in the Transport, Energy and Telecommunications Sectors in APEC Economies (Executive Summary)
4. Update of Ease of Doing Business (EoDB) Action Plan- Progress of Phase 1 Programmes and Phase 2 Diagnostics
5. What's next for Economic Committee? Structural reform in the context of APEC Growth Strategy and ANSSR