Climate Change Risks Prompt Disaster Framework Launch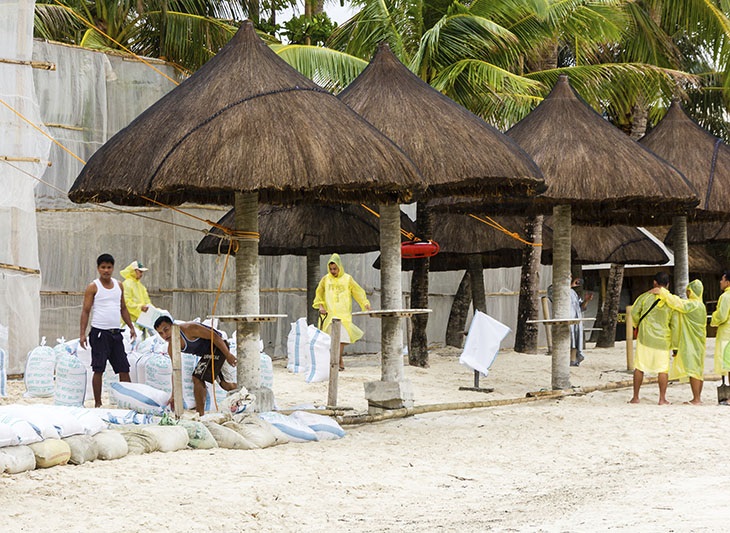 Senior disaster management officials from the 21 APEC members have introduced a new collaborative platform for strengthening the defenses of Asia-Pacific economies, the world's preeminent drivers of growth, against the 'new normal' of increasing natural disaster threats due to climate change.
The APEC Framework on Disaster Risk Reduction was finalized by officials meeting in Iloilo, in the central Philippines, against the backdrop of temperature changes in the Pacific Ocean that have resulted in El Nino phenomena and heightened exposure to disasters across the region. This includes a barrage of powerful typhoons and record flooding as well as severe drought and wildfires.
The framework will guide policy coordination within and between APEC economies to combat the rising frequency, magnitude and scope of disasters that are endangering lives and economic stability like never before. Emphasis is on the advancement of measures under four pillars: prevention and mitigation; preparedness; response; and rehabilitation and rebuilding.
"The world today is experiencing the increasing complexities of disasters brought about by natural hazards and human-induced elements," said the Philippines' National Defense Secretary and National Disaster Risk Reduction and Management Council Chair Voltaire T. Gazmin who opened the meeting.
"The prevalence of disasters in the 'new normal' manifestation has serious implications to our inter-economic relations," Secretary Gazmin explained. "This 'new normal' phenomenon causes major disruptions to trade relations, businesses and investments across the Asia-Pacific region."
APEC economies collectively account for about three billion people, half of global trade, 60 per cent of total GDP and much of the world's growth. They also experience more than 70 per cent of all natural disasters. Significantly, APEC economies incurred over USD 100 billion annually in related losses during the last decade, Secretary Gazmin reported.
"With the emerging concept of the 'new normal,' we need more holistic, proactive, multi-stakeholder and longer term interventions specifically to make our economies resilient against disasters," exhorted Secretary Gazmin. "The APEC framework on disaster risk reduction is primarily aimed to promote APEC-wide collaboration on disaster risk reduction by providing a common direction in order for the economies to be more responsive to the new realities on the serious threats and challenges posed by stronger and more frequent disasters."
Under the framework, APEC members will pursue enhanced cooperation across all areas of their policy agenda—from ensuring regional trade and investment flows, business continuity in the micro, small and medium enterprise sector, and critical infrastructure and financial resiliency, to the protection of food security, health and the environment.
The framework also calls for disaster risk reduction to be elevated as a focus in APEC and commits APEC members to formulate an action plan that will serve as an implementation, monitoring and evaluation tool for realizing common disaster resiliency goals.
This includes the identification of a set of targets contextualized for the Asia-Pacific region, taking into account conditions in APEC economies, and with emphasis on complementing rather than duplicating efforts underway through parallel international arrangements. The APEC Emergency Preparedness Working Group will serve as the central administrative body for this work.
"Elevating disaster risk reduction to the ministers level will help upscale APEC's role in providing directions, setting benchmarks and in determining future plans for the entire region in managing the 'new normal,'" Secretary Gazmin said. "We commit to empower disaster managers across the region so that they can fully respond to and effectively address the rapidly changing landscape of disaster risk reduction and neutralize the emergence of the 'new normal' disaster situations."
"The challenge for us is how we adapt to the 'new normal,'" concluded Philippine Undersecretary of Civil Defense and meeting chair Alexander P. Pama. "We have embarked on a paradigm shift through the adoption of the APEC Disaster Risk Reduction Framework. Our task now is to leverage the framework as a guide for concrete action to ensure sustained, inclusive and resilient growth."
# # #
For more:
The increasing natural disaster threat in the Asia-Pacific and collaboration between APEC members to advance community-based risk reduction are described here.
Learn how women are leading the way in disaster risk reduction in the region at this link and what good practices APEC members are advancing to support this effort here.
Steps being taken by APEC members to promote disaster preparedness among vulnerable businesses and secure regional production and supply chains are detailed here.
For further details, or to arrange possible media interviews, please contact:
David Hendrickson +65 9137 3886 at [email protected]
Michael Chapnick +65 9647 4847 at [email protected]
More on APEC meetings, events, projects and publications can be found on www.apec.org. You can also follow APEC on Twitter and join us on Facebook and LinkedIn.