Pyle to Senior Officials: APEC's Work is Urgent, Vital, Immediate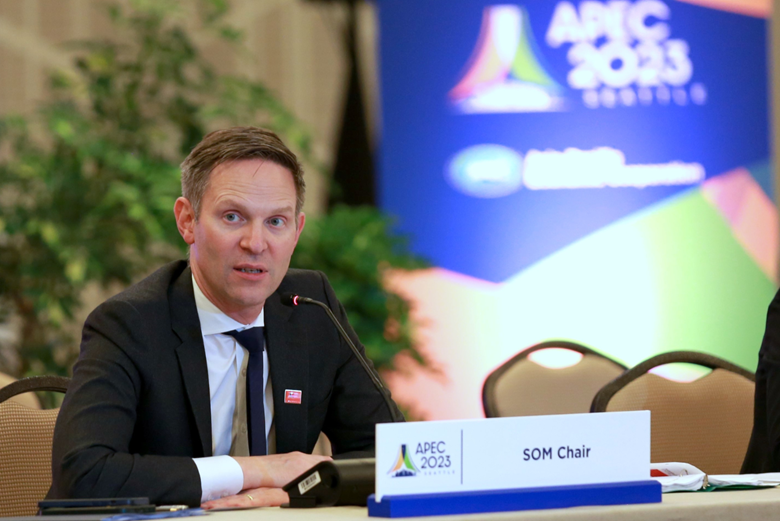 "President Bill Clinton said something at that time that still rings true now: With today's meeting, we're helping the Asia-Pacific to become a genuine community—a community of shared interests, shared goals and shared commitment to mutually beneficial cooperation," said the 2023 Chair of APEC Senior Officials Mike Pyle as he welcomed senior officials to Seattle, the site of the inaugural APEC Economic Leaders' Meeting in 1993.

APEC senior officials met on 16-17 August for the third time this year to review the outcomes and proposals that were taken forward over the past three weeks in this Emerald City on the Puget Sound. The Suquamish Tribe—meaning 'place of the clear salt water' in the Southern Lushootseed language—welcomed delegates from 21 APEC member economies, sharing their history and modern-day story of participation in trade.

The priorities underpinning the senior officials' convening in Seattle are centered around a broad array of economic issues facing the Asia-Pacific region including disaster management, food security, health, energy, small and medium-sized enterprises, and women in the economy. The deliberations and outcomes will form the foundation for the APEC Economic Leaders' Meeting that will be held in San Francisco in November.

"What we do here… what we've done for the last two senior officials' meetings will help determine how we prepare our leaders for Leaders' Week," said Pyle. "We will work to amplify our partnership in the concrete steps we've taken this year in advancing our shared agenda and addressing the interconnected challenges confronting our economies."

Addressing senior officials, Pyle underscored progress made by APEC economies on sustainability, digital economy, resilience, and inclusion undeterred by the challenges before the region.

"The United States believes in APEC's capacity to bring us together to help innovate policies that will create more opportunities for more people in the Asia-Pacific," he added, "We are committed to using our host year as stewards to invest in APEC capacity to bring us together to help innovate policies that will create more inclusivity, more resilience, more innovation to ensure that this institution is every bit as strong a few decades from now when perhaps we'll be back in Seattle remarking on the progress we've made since today."

"It rings home to me how urgent… how vital… how immediate the work of APEC is today." Pyle added as he reflected on the advances made during the year. "We've seen the news out of Hawaii—our first location for our host year—and the work obviously of the disaster management officials and the ongoing importance and essentialness of that work, I think, was brought home."

Pyle emphasized the need for improved food security, which continues to be an issue confronting many economies globally, and called on members to focus on better health outcomes and improve resilience in the face of public health threats. He also outlined the critical importance of climate change and energy transition that were at the center of discussion at the 13th APEC Energy Ministerial Meeting this week—the group's first ministerial in eight years.

On expanding the important role of small and medium enterprises and women-owned businesses in the global market across supply chains, Pyle said, "Resilience is not going to be achieved without the small and medium enterprises leading the way."

"And small and medium enterprises are not going to be able to lead the way if women-led enterprises are not at the heart of that story—that's been a consistent theme of APEC for a number of years now dating back at least to the United States' last host year in 2011," he concluded.

To wrap up the cluster meetings this week, a joint session for the High-Level Policy Dialogue on Women in the Economy Forum and Small and Medium Enterprises Ministerial Meeting on 20 August will focus on expanding the integration of women-owned businesses into global value chains, promoting women's entrepreneurship through e-commerce, and strengthening micro, small and medium enterprises' green transitions.


For further details, please contact:
Rechelle Tangcangco at [email protected]
Masyitha Baziad +65 9751 2146 at [email protected]