APEC Action Plan on Vaccination Across the Life-Course
Vaccination is one of the world's most important and cost-effective public health measures. By taking a life-course approach to immunization, which entails strategies to maximize protection of populations across age groups and life circumstances, APEC economies can better prevent infection and disease for all populations, fortify themselves against unforeseen challenges, improve economic and social inclusion, and enable economic growth. Nevertheless, despite the compelling case for investing in immunization, there remains insufficient investment in this component of health systems.
The present moment provides a critical opportunity to galvanize decision-makers and cohere the Asia-Pacific region's approach to developing resilient and sustainable life-course immunization programs. Developed by the APEC Life Sciences Innovation Forum (LSIF) Vaccines Task Force and the APEC Health Working Group (HWG), the APEC Action Plan on Vaccination Across the Life-Course is a comprehensive strategy for enhancing the resilience and sustainability of immunization programs in APEC member economies through the 2021-2030 decade. Over a set of key pillars and policy targets, the action plan puts forth a vision that by 2030, all 21 APEC member economies will have implemented resilient and sustainable life-course immunization programs to protect the health and wellbeing of all populations. This work builds previous international cooperation on vaccination within APEC as well as the World Health Organization (WHO), and aims to support APEC economies in achieving the WHO Immunization Agenda 2030 (IA2030).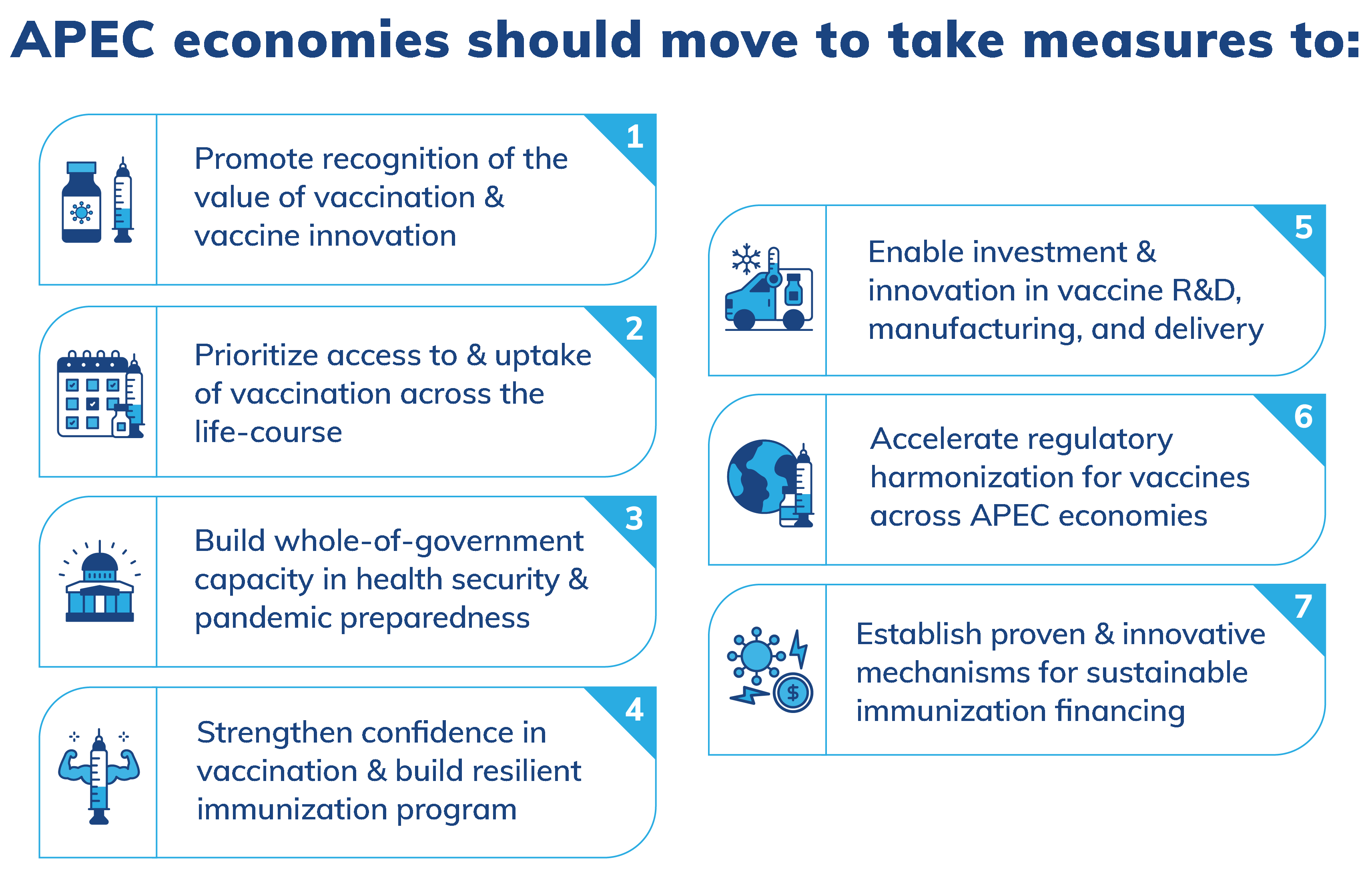 The measures that APEC economies introduce now to foster strong life-course immunization programs will help the region face the ongoing COVID-19 pandemic, in addition to improving health systems and pandemic preparedness in the longer-term. Key measures include promoting recognition of the value of vaccination and vaccine innovation; prioritizing access to and uptake of vaccination across the life-course; building whole-of-government capacity in health security and pandemic preparedness; strengthening confidence in vaccination; enabling investment and innovation; accelerating regulatory harmonization; and establishing mechanisms for sustainable immunization financing.
APEC Action Plan on Vaccination Across the Life-Course