Enhanced APEC Agenda for Structural Reform: Individual Action Plans - Updated as at August 2023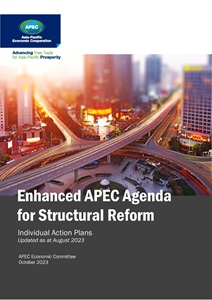 | | |
| --- | --- |
| Published Date | October 2023 |
| Type of Publication | Reports |
| Publication Under | Economic Committee (EC) |
| Accessed | 247 |
| Pages | 207 |
| Download publication | Download |
Description
The Enhanced APEC Agenda for Structural Reform (EAASR) sets out new direction for growth-focused structural reform that is designed to be inclusive, sustainable and innovation-friendly, in line with the APEC Putrajaya Vision 2040 and the Aotearoa Plan of Action. The EAASR seeks to contribute to APEC's overarching goal to promote strong, balanced, inclusive, innovative and sustainable growth, through measures in line with the following four pillars:
Creating an enabling environment for open, transparent, and competitive markets;
Boosting business recovery and resilience against future shocks;
Ensuring that all groups in society have equal access to opportunities for more inclusive, sustainable growth, and greater well-being; and
Harnessing innovation, new technology, and skills development to boost productivity and digitalization.
Under the EAASR, economies submitted individual action plans (IAPs) that outline their structural reform initiatives through to 2025. Economies were encouraged to nominate reform actions under all four pillars and across all sectors, particularly services, to ensure IAPs are suitably ambitious and comprehensive, together with quantitative and qualitative indicators to enable future monitoring and review.

This report is the collation of the IAPs submitted by APEC member economies as at August 2023. The IAPs in this compilation reflect domestic initiatives of individual APEC member economies and the content of each economy's IAP has not been endorsed by other economies. Economies are encouraged to continuously update their IAPs as living documents through to 2025. This report may be periodically refreshed to capture new or updated IAPs.