The APEC Women and the Economy Dashboard 2023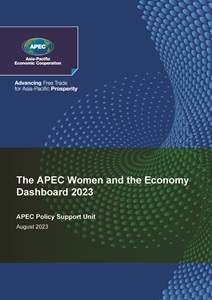 | | |
| --- | --- |
| Published Date | August 2023 |
| Type of Publication | Reports |
| Publication Under | APEC Secretariat, APEC Policy Support Unit |
| Accessed | 330 |
| Pages | 161 |
| Download publication | Download |
Description
The APEC Women and the Economy Dashboard seeks to provide a snapshot of the status of women in the region by monitoring trends over the years using a set of indicators, to measure progress, highlight data and policy gaps as well as bring attention to socio-cultural issues that impact on women's participation in the economy.
The 2023 Dashboard is composed of 90 indicators covering the period 2008-2022. This is the first edition of the Dashboard with data after the start of the pandemic, which allows comparing the conditions that women are currently facing with the situation before the start of the COVID-19 pandemic.
This report contains 22 dashboards, one for each of the 21 APEC member economies and another for the APEC region as a whole.