Summary Report of APEC Workshop on Inclusive Business: Charting the Path for Shared Prosperity through Inclusivity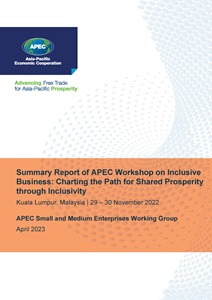 | | |
| --- | --- |
| Published Date | April 2023 |
| Type of Publication | Proceedings |
| Publication Under | Small and Medium Enterprises Working Group (SMEWG) |
| Accessed | 197 |
| Pages | 16 |
| Download publication | Download |
Description
The overall objective of the APEC Workshop on Inclusive Business: Charting the Path for Shared Prosperity through Inclusivity is to promote Inclusive Business (IB) as a sustainable business framework, which can reset the economic fundamentals and rebuild a better sustainable future post-COVID-19.
The report shall contain the summary of the two-day Workshop where it consists key takeaways highlighted by the moderators and panelists as well as advocacy and promotional activities of Inclusive Business (IB) in the region including:
• IB's potential to overcome the challenges in adapting to the new normal and shift in business perspectives.
• Empowering women socially and economically by providing more opportunities for women in rural area to be part of companies' value chain.
• Existing or ongoing efforts related/contributing to promotional and advocacy of IB by the public and private sectors in supporting/contributing to the IB ecosystem.
• Introduction of two (2) Principal IB Companies (SP-IB) appointed by SME Corp. Malaysia to implement the "Inclusive Business Value Chain Development Initiative (IB-VCDI) Pilot Project".