Unpaid Care and Domestic Work: Counting the Costs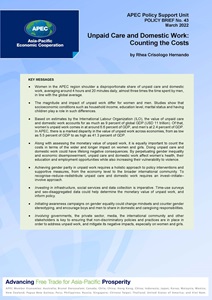 | | |
| --- | --- |
| Published Date | March 2022 |
| Type of Publication | Reports |
| Publication Under | APEC Secretariat, APEC Policy Support Unit |
| Accessed | 1006 |
| Pages | 11 |
| Download publication | Download |
Description
This policy brief seeks to provide a better understanding of the state of unpaid care and domestic work, focusing on its costs to women in particular, and the economy in general. A number of policy suggestions and other recommendations to reduce the gender gap in this area are also discussed.
Women in the APEC region spend an average of around 4 hours and 20 minutes daily doing unpaid care and domestic work, almost three times the time spent by men, in line with the global average. The magnitude and impact of unpaid work differ for women and men, with socioeconomic conditions such as household income, education level, marital status and having children playing a role in such differences. The ILO estimates the value of unpaid care and domestic work to be as much as 9 percent of global GDP (USD 11 trillion), with women's contribution at around 6.6 percent of GDP compared to men's at 2.4 percent of GDP. In APEC, there is a marked disparity in the value of unpaid work across economies, from as low as 5.5 percent of GDP to as high as 41.3 percent of GDP.
Along with assessing the monetary value of unpaid work, it is equally important to count the costs in terms of the wider and longer impact on women and girls. Doing unpaid care and domestic work could have lifelong negative consequences. By perpetuating gender inequality and economic disempowerment, unpaid care and domestic work affect women's health, their education and employment opportunities while also increasing their vulnerability to violence. Achieving gender parity in unpaid work requires a holistic approach to policy interventions and supportive measures, from the economy level to the broader international community. To recognize–reduce–redistribute unpaid care and domestic work requires an invest–initiate–involve approach: invest in infrastructure, social services and data collection; initiate awareness campaigns on gender equality; and involve all stakeholders to address unpaid work and mitigate its impact, especially on women and girls.