The Impacts and Benefits of Structural Reforms in Transport, Energy and Telecommunications Sectors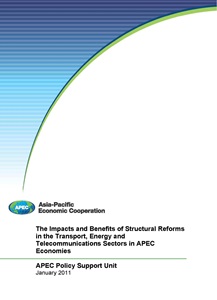 | | |
| --- | --- |
| Published Date | January 2011 |
| Type of Publication | Reports |
| Publication Under | APEC Secretariat, APEC Policy Support Unit |
| Accessed | 101934 |
| Pages | 488 |
| Download publication | Download |
Description
This report examines in detail the impacts and benefits for households and businesses from APEC members' implementation of structural economic reforms consistent with the APEC Leaders' Agenda to Implement Structural Reform (LAISR) priority areas.

The report includes 14 case studies of structural reform undertaken in the APEC region. All case studies were written by informed, on-the-spot authors resident in the economies involved. Some of the authors occupied senior roles in the reforms themselves. The report also includes econometric analysis of structural reforms and economic modelling.

The report also examines the potential for further benefits if structural reform in the APEC region is continued. It found that USD175 billion a year in additional real income (in 2004 dollars) could be generated from further reforms in the APEC region. APEC-wide, the projected gains from these structural reforms are almost twice as big as the gains from further liberalisation of merchandise trade. Yet the sectors where the structural reforms occur are less than a quarter of the size of those engaged in merchandise trade. When structural reforms lead to lower real production costs, even by half as much as the report estimates, they create a return to reform effort that is much greater than that from trade reforms.
This work is available for further use under creative commons licensing.
1. The impacts and benefits of structural reform in the transport, energy and telecommunications sectors in APEC economies
2. Modelling the benefits of structural reforms in APEC economies
3. Quantifying the impacts of structural reforms on international transport margins
4. Quantifying the impacts of structural reforms on air traffic flows in APEC economies
5. Quantifying the benefits from structural reforms in railway transport markets in APEC economies
6. Quantifying the benefits from structural reforms in electricity and gas markets in APEC economies
7. Quantifying the impacts of structural reforms in telecommunications markers in APEC economies
8. Quantifying the impacts of structural reforms in infrastructure on economic performance in APEC economies
9. Air transport in Korea and Northeast Asia
10. Rail transport in New Zealand
11. Rail transport in Chile
12. Road transport in Thailand
13. Maritime transport in Australia
14. Maritime transport in the United States
15. Electricity in Korea
16. Electricity in Russia
17. Gas in China
18. Gas in Thailand
19. Telecommunications in Chinese Taipei
20. Telecommunications in Viet Nam
21. Telecommunications in Papua New Guinea
22. Logistics in Indonesia