Progressing towards the APEC Bogor Goals Perspectives of the APEC Policy Support Unit, November 2010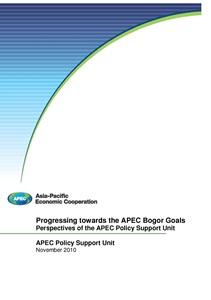 | | |
| --- | --- |
| Published Date | November 2010 |
| Type of Publication | Reports |
| Publication Under | APEC Secretariat, APEC Policy Support Unit |
| Accessed | 49738 |
| Pages | 116 |
| Download publication | Download |
Description
The year 2010 is a milestone for APEC, since it is the target year of Bogor Goals for the industrialized economies. In this sense, the PSU prepared this report to assist APEC members in conducting the assessment of the five APEC industrialized economies and eight APEC developing economies that volunteered to be part of this exercise.
This report concentrates on the progress achieved within the APEC region towards the Bogor Goals. In particular, the report takes a closer look on these industrialized and volunteering economies.
The report is based on publicly available data and uses a simple analytical narrative. It concludes that the participating members have indeed been "furthering reducing barriers to trade and investment since 1994", year when the Bogor Goals came into light. APEC as a whole has moved in the same direction, too. The data also reveals that the APEC developing economies have also made good progress in their way to their target date of 2020.
In general, the results show that progress is significant across a wide array of economic, trade, investment and social measures. Also, concerted action has occurred within the APEC region and has been an important factor for this outcome. APEC economies have outperformed the rest of the world in many aspects. Nonetheless, despite this positive outcome, more efforts need to be done, since progress has been uneven across sectors. Tariffs and other non-tariff barriers still remain and resistance to reform is stronger in certain areas.
Evidence in this report indicates that the development gap is narrowing among APEC members, as part of APEC's ultimate objectives of sustainable growth, equitable development and strengthening the Asia Pacific community.
This work is available for further use under creative commons licensing.
Highlights
Context of the assessment
Progress towards Bogor Goals
Growth and development indicators
Information reported by APEC member economies on their progress (as at 18 October 2010)
Technical notes