SME Market Access and Internationalization: Medium-term KPIs for the SMEWG Strategic Plan, June 2010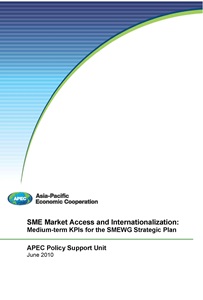 | | |
| --- | --- |
| Published Date | June 2010 |
| Type of Publication | Reports |
| Publication Under | APEC Secretariat, SOM Steering Committee on Economic and Technical Cooperation (SCE), APEC Policy Support Unit, Small and Medium Enterprises Working Group (SMEWG) |
| Accessed | 43002 |
| Pages | 151 |
| Download publication | Download |
Description
This report by the APEC Policy Support Unit (PSU) is in response to the request by the SMEWG to examine the availability of data to support the Medium-term KPIs and measurable outcomes of the Market Access and Internationalization priority area.

Highlights include:
Definitions of SMEs vary across APEC economies and are based on several different criteria. They include number of employees and maximum levels of capital, assets, or sales, which may vary according to sector.
SMEs account for over 90% of all enterprises in every APEC economy and employ more than half the workforce in most APEC economies. However, SMEs generally contribute less to GDP relative to large enterprises.
Sectors that have large proportions of SMEs, such as wholesale and retail trade, also tend to have the highest shares of total SMEs in an economy. In many APEC economies, sectors such as mining and quarrying often have the lowest proportions of SMEs and account for the lowest shares of total SMEs.
This work is available for further use under creative commons licensing.

Introduction
Overview of the SME Sector in the APEC Region
Market access and internationalization of SMEs
Analysis of medium-term key performance indicators
Conclusion and recommendataions
Appendix