APEC Officials Strengthen Sustainable and Inclusive Growth for All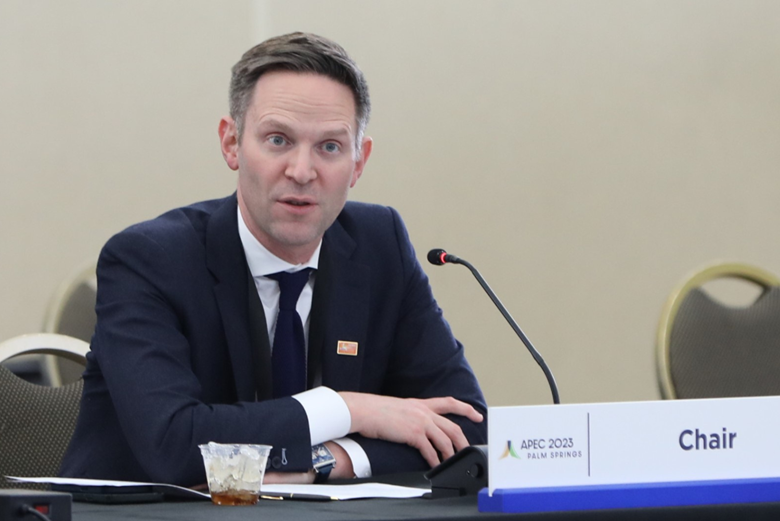 Senior officials from the 21 member economies are convening in Palm Springs, fostering cooperation to build a resilient and interconnected region that advances broad-based economic prosperity, enables an innovative environment for a sustainable future and affirms an equitable and inclusive future for all.
Meeting for the first time in 2023 in Palm Springs and guided by United States' APEC 2023 priorities of 'Creating a Sustainable Future for All', senior officials are detailing measures for the cross-cutting concepts of building resilience, strengthening environmental sustainability, and advancing inclusive policies.
Emphasis is on advancing APEC's work on green recovery and green growth, climate finance, clean energy, food security and agricultural biotechnology, food safety and combatting marine debris.
"We are hosting delegates here in Palm Springs to demonstrate APEC's strength and commitment to economic inclusion and environmental sustainability," said Mike Pyle, the 2023 Chair of APEC Senior Officials as he welcomed delegates to the meeting on Monday.
"Palm Springs offers a unique backdrop for our first Senior Officials' Meeting with a strong historic Native American presence, whose businesses and communities continue to influence the region and its economy located in the southwest desert with the horizon of high technology windmills helping to power an increasingly clean energy future," Pyle added. "Palm Springs also has strong ties to the region's Latin American economies."
Pyle added that the nearby Coachella Valley is grappling with environmental issues that include long-term drought, persistent smog and rising temperatures due to climate change which will impact its dominant industry, that of tourism. "Tackling the climate crisis, therefore, is a major priority for the United States."
"At a time when we are facing global headwinds associated with cost-of-living pressures and supply chain bottlenecks, the need for multilateral cooperation to tackle our shared economic challenges highlights our need to redouble efforts in APEC this year to strengthen sustainable and inclusive growth for all," Pyle remarked.
Senior officials heard updates from the APEC committee chairs about how trade and investment, structural reform and good regulatory practice have vital roles to play in the recovery of the global and regional economy, helping to address the cost of living, and building a more inclusive and sustainable economy.
"Through our hosting year, the United States will demonstrate its commitment to the Asia-Pacific region by highlighting the importance of multilateral engagement to the region and the support to multilateral bodies such as the WTO, as well as showcase our commitment to APEC," Pyle concluded.
The First APEC Senior Officials' Meeting will conclude in Palm Springs on Tuesday. The Second Senior Officials Meeting and Related Meetings will take place in Detroit, Michigan from 14 to 26 May.


For further details, please contact:

Masyitha Baziad +65 9751 2146 at [email protected]
Michael Chapnick +65 9647 4847 at [email protected]