APEC Rolls out Priorities for 2023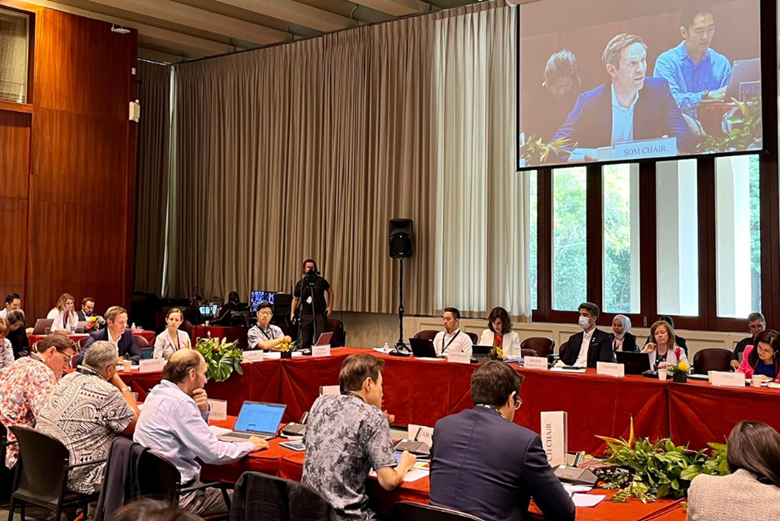 Aiming to provide tailwinds for member economies to strengthen recovery and resilience, as well as advance broad-based economic growth, the United States rolled out its theme and priorities for when it hosts APEC in 2023.
The announcement was made during an informal preparatory meeting of APEC Senior Officials in Honolulu, where the APEC Economic Leaders' Meeting was hosted in 2011.
Under the theme "Creating a Resilient and Sustainable Future for All," the United States emphasized its commitment to drive forward work on key issues such supply chain resilience, digital trade, connectivity, opportunities for small and medium-sized enterprises, climate change and environmental sustainability.
Issues around food security, health, anti-corruption, digitalization, women's economic empowerment, and supporting historically underserved and underrepresented communities will also be high on the agenda, grounded in the three priorities emphasizing being interconnected, innovative and inclusive.
"APEC is where we advance economic policies in the Asia-Pacific region to promote free, fair, and open trade and investment and advance inclusive and sustainable growth," said 2023 Chair of APEC Senior Officials' Meeting, Mike Pyle.
"The United States is excited to serve as the APEC host of 2023. In our host year we want to be ambitious and innovative in our priorities," said Pyle. "The theme and priorities reflect what we have heard from member economies and stakeholders to advance a practical economic policy agenda to benefit workers, businesses and families in all of our economies."
At the meeting convened at the historic East-West Center in Honolulu, the United States proposed several policy areas for APEC officials on which to focus in 2023. In addition to discussing how to structure the institution for results-oriented outcomes, continuous engagements with the private sector, civil society, youth, academics and entrepreneurs are seen as key to ensure that APEC 2023 addresses current needs and challenges.
"Obviously, the whole Asia-Pacific region has gone through several really challenging situations in the last few years," said Matt Murray, United States' Senior Official. "One of the things that really struck us this year in APEC is just the degree to which there's a lot of interest and a lot of coalescence of views around sustainability as a very important issue in the region, as well as inclusivity."
"We certainly want to use our host year to continue to advance work on this front, while also being able to demonstrate some of the best practices we have here in the United States on sustainability and on inclusion," Murray added.
"The three-day meeting in Honolulu provided member economies with an impression of what we can expect from the United States in the coming year," explained Dr Rebecca Sta Maria, Executive Director of the APEC Secretariat. "It's encouraging to hear how the vision for APEC 2023 aligns with our past work and initiatives, with the aim to continue progress and push for new initiatives that will further connect the region, support innovation and ensure inclusivity."
APEC officials will meet throughout the year in the United States. They will convene in Palm Springs for their first meeting in February and again in Detroit, Michigan, in May for the Ministers Responsible for Trade Meeting and other related meetings. Their final preparatory meeting will take place in Seattle in September. Finally, APEC Economic Leaders' Week will be held in San Francisco in November 2023.
For further details, please contact:

Masyitha Baziad +65 9751 2146 at [email protected]
Michael Chapnick +65 9647 4847 at [email protected]
APEC 2023 SOM Chair's Office at [email protected]