APEC Finance Ministers focus on Inclusive, Sustainable Recovery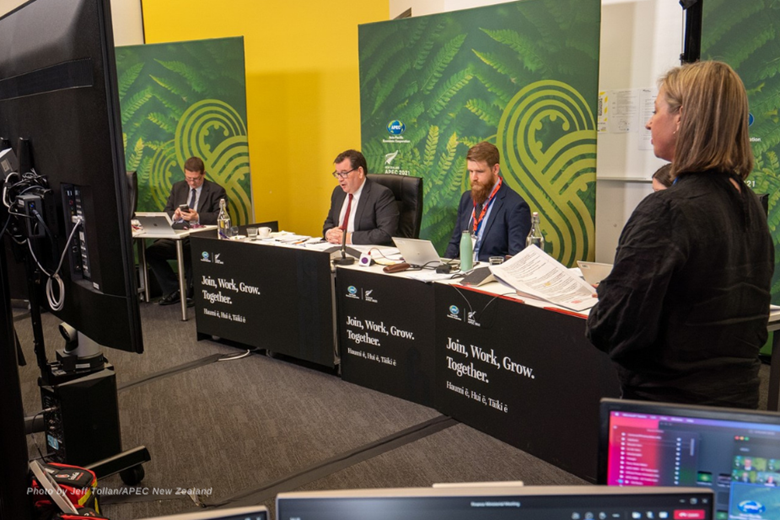 "We continue to battle the effects of the COVID-19 pandemic," said New Zealand Finance Minister and Deputy Prime Minister Grant Robertson when he opened the 2021 APEC Finance Ministers' Meeting on Friday. "The pain that it has brought on our people, our economies and our healthcare systems should not be downplayed."
APEC Finance Ministers convened virtually a week after many of them had gathered for the Annual Meetings of the Boards of Governors of the International Monetary Fund and the World Bank Group. They acknowledged their common pursuit for finding efficient tools in responding to COVID-19 to ensure member economies continue to preserve jobs and livelihoods, fund public services, and protect the most vulnerable communities.
Minister Robertson explained that although economic activity across the region has rebounded and vaccination rates are increasing, managing the complexity of APEC's economies is a significant challenge as members face plenty of headwinds, some of which can be influenced directly through individual and collective actions.
"The pandemic has caused a rapid rise in public debt and demands for new spending continue to grow as we recover," stated Minister Robertson in his opening address at the meeting. "More than ever, we need to use our resources effectively, while implementing structural reforms to lift living standards."
Fiscal policy and budget frameworks have played a key role in the ongoing response to COVID-19 and in economies' plans for the recovery and beyond. APEC Finance Ministers discussed ways to balance fiscal policy in combatting COVID-19 and enable recovery, and at the same time guarantee its long-term sustainability.
Finance ministers also deliberated on approaches to budgets and budgeting, which can help support fiscal policy deliver its objectives, as well as member economies' priorities such as environmental sustainability and well-being.
"As we work to bring the pandemic to an end, we must not lose sight of the broader challenges affecting our region, including climate change and inequality," Minister Robertson added. "Government policy can support those most in need, through redistributive fiscal policies and welfare-enhancing structural reforms in dealing with inequalities."
He called on member economies to play their part in responding to the climate challenge, spur green innovation and make economies more resilient. Noting the importance of climate change and the transition to a lower carbon future, finance ministers explored policy tools to ensure the necessary flow of capital to support this shift, including the use of fiscal funding tools, and innovative forms of funding including partnerships with the private sector.
"The public and private sectors should work together to boost trade, employment and prosperity," added Minister Robertson. "Our continued commitment to combating COVID-19 and delivering the best outcomes for our people, and our commitment to each other as part of APEC, will continue."
Ministers issued a joint statement at the conclusion of their meeting and agreed on the refreshed Cebu Action Plan strategy, which encourages economies to pursue a more sustainable financial future for the Asia-Pacific region.
The next APEC Finance Ministers' Meeting will be held in Thailand in October 2022.
###
For further details, please contact:
Cas Carter +64 21 341 509 at [email protected] (in New Zealand)
Sidah Russell +64 21 359 235 at [email protected] (in New Zealand)
Masyitha Baziad +65 9751 2146 at [email protected]
Michael Chapnick +65 9647 4847 at[email protected]