Advancing Gender Equity in Trade Takes Center Stage in APEC Joint Dialogue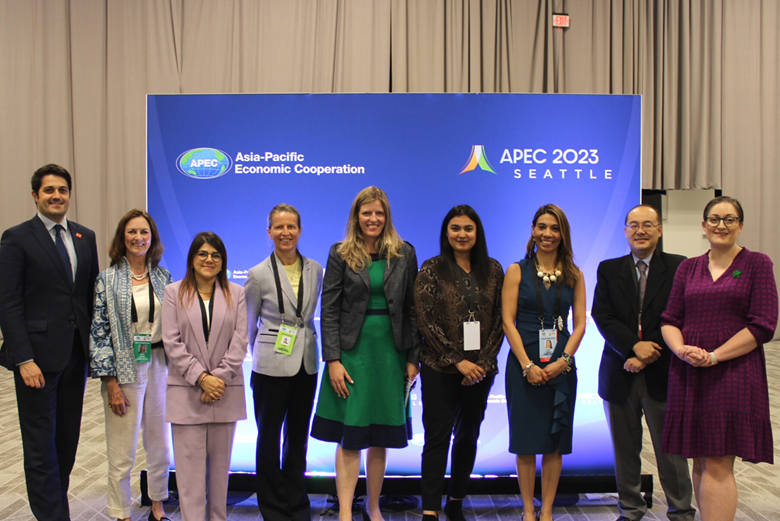 In a significant stride towards advancing gender equality and inclusivity, policymakers and trade experts gathered in Seattle to consider and devise strategies for advancing women's full economic participation through international trade. The push for forward-thinking trade policies aims to not only uplift women but also to harness the underutilized potential of their economic contributions in the Asia-Pacific region, if not worldwide.

APEC member economies, international organizations, public and private sectors echoed the urgent need to address gender disparities in trade and underscored the potential benefits of a more inclusive approach.

The joint dialogue, led by the APEC Committee on Trade and Investment (CTI) and APEC Policy Partnership for Women and the Economy (PPWE), emphasized the crucial role that gender equity plays in fostering economic growth, greater livelihoods, and sustainable development. A series of interventions by APEC officials and experts showcased the barriers women face in international trade and the innovative solutions to remove those barriers.

"Gender equity is a vital part of the trade agenda. APEC is the perfect forum to take forward tangible work on inclusive trade" said CTI Chair Blake van Velden as he welcomed delegates in the dialogue.

"There is really so much that we can do collectively," said PPWE Chair, Chantelle Stratford. "Gender equality makes economic sense and is a moral and strategic imperative. We are at an inflection point where gender equality is at risk of regressing."
"APEC has an opportunity to demonstrate leadership and play a stronger role in addressing the structural and systemic inequalities in trade," Stratford continued. "There is an opportunity for both PPWE and CTI to work together to ensure women are able to seize the benefits of global trade transformations."

"This dialogue is a critical monitoring and accountability mechanism to identify where APEC can strengthen its efforts to advance women's economic empowerment and improve the lives of women and girls."

While strides have been made in realizing and harnessing the potential of women in the trade sector, several obstacles remain on the path toward achieving true inclusivity and equality. The joint dialogue highlighted the need for targeted policy interventions, data-driven strategies, and cross-sectoral collaborations to dismantle barriers and empower women in trade.

"We have an opportunity to make genuine inroads to address the barriers to women's equality and close the gaps. It's important that we remember that there is an equality dimension to trade," said Stratford.

"Increasing women's participation in trade provides benefits for women and men… and for the economy. Yet women face diverse barriers to participating in trade and do not benefit equally from markets or trade agreements."

Experts stressed that gender-responsive trade policies not only boost economic growth but also empower women to become active contributors to their economies. Studies have shown that when women have equal access to trade opportunities, they can play a transformative role in enhancing productivity, fostering innovation, and diversifying export markets.

The dialogue further put forward successful case studies of economies that have implemented gender-inclusive trade policies. These examples underscored the positive outcomes that can be achieved when women's voices are heard, and their needs are integrated into trade-related decision-making processes.
"Trade can open up opportunities but it can also present barriers to gender equity," van Velden explained. "For example, there can be barriers and opportunities across trade agreements and arrangements, digitalization, data and research, education and training, access to capital and finance, standards, custom procedures, intellectual property, services to name a few."

"We need to have voices of women in all parts of the trade process," he concluded.

At the conclusion of the workshop, it was clear that advancing gender equity in trade is long overdue. The outcomes of the dialogue are expected to reverberate across the trade landscape in the region, creating a more inclusive and prosperous economy for all. Members of the CTI and PPWE agreed to host annual dialogues to discuss these opportunities further.
For further details, please contact:
Rechelle Tangcangco at [email protected]
Masyitha Baziad +65 9751 2146 at [email protected]
Michael Chapnick +65 9647 4847 at [email protected]