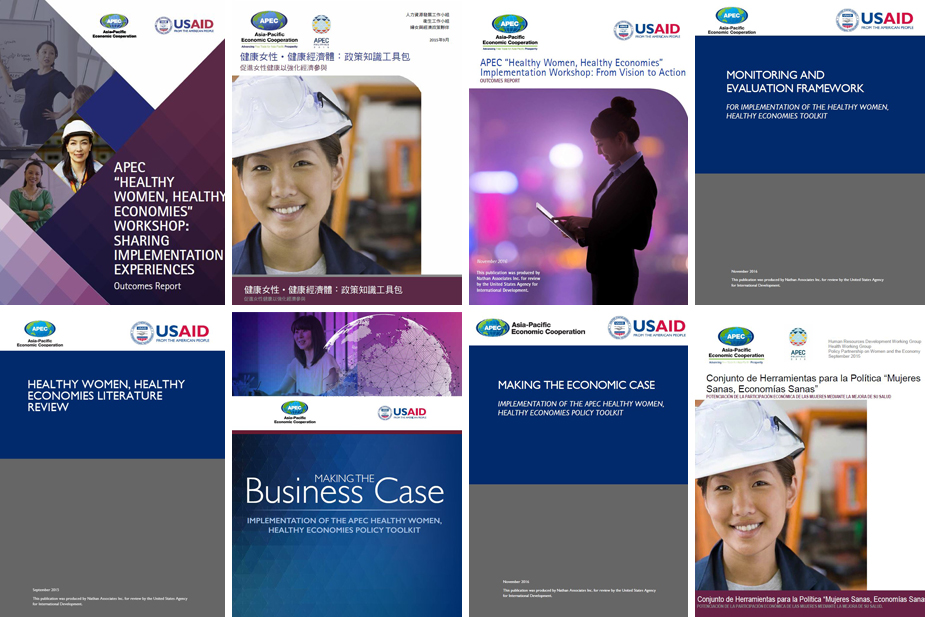 POLICY TOOLKIT
In August 2015, an Experts Group came together in Manila to form a Policy Toolkit to support APEC government officials, policymakers, civil society and the private sector seeking to improve female economic participation through better health, cognizant that there is no one size fits all approach. The Policy Toolkit represents a menu of options that economies may pursue in part or as a whole on key issues on which they want to focus within the "Healthy Women, Healthy Economies" objective.

The Policy Toolkit classifies recommendations into five areas: workplace health and safety; health access and awareness; sexual and reproductive health; gender-based violence; and work life balance.

Development of the Policy Toolkit was informed by a literature review and was co-chaired by the Philippines (Department of Health, Philippine Commission on Women, and Department of Labor & Employment) and Merck. The drafting process of the Policy Toolkit was done on a public-private partnership basis with input from an Experts Group.

The initiative was initially proposed by the United States (Department of Labor, Department of Health and Human Services, Department of State, USAID). It is supported by the co-sponsoring economies of Australia, Indonesia, Japan, Thailand, Chinese Taipei, and Viet Nam. Financial support is also provided by USAID's US – APEC Technical Assistance to Advance Regional Integration (US-ATAARI) and APEC funds.
The Healthy Women, Healthy Economies Toolkit is now in five languages--English, Japanese, Traditional Chinese, Spanish, and Portuguese.
SME GUIDEBOOK
The HWHE Guidebook for SMEs provides both small- and medium-size enterprises and policy makers with relevant and tailored actions, building on the five pillars in the original policy toolkit adapted specifically for SMEs. Through this guidebook, SMEs have an opportunity to understand how health-related programs and policies fit into the context of their businesses, enabling them to take actions that affect their employees, recruit higher caliber staff, increase employee retention, and address critical employee needs. The guidebook can also inform governments on how to better structure programs related to HWHE so that SMEs can benefit.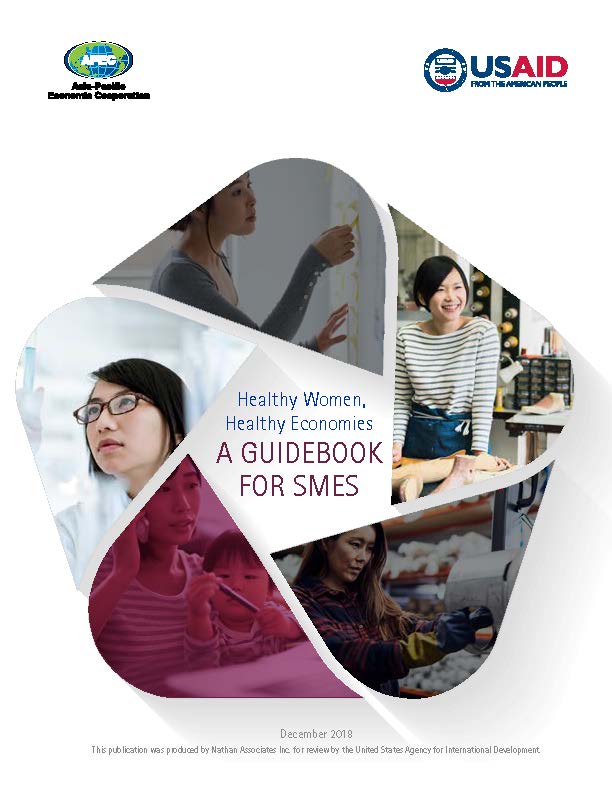 LITERATURE REVIEW
The Policy Toolkit was supported by a literature review which compiled existing evidence on the linkage between the health of women and girls and their ability to enter, remain, and rise in the economy. The Policy Toolkit compiled reports and studies from international, governmental, civil society and research organizations; papers published in academic journals; and brought together experiences from different APEC economies.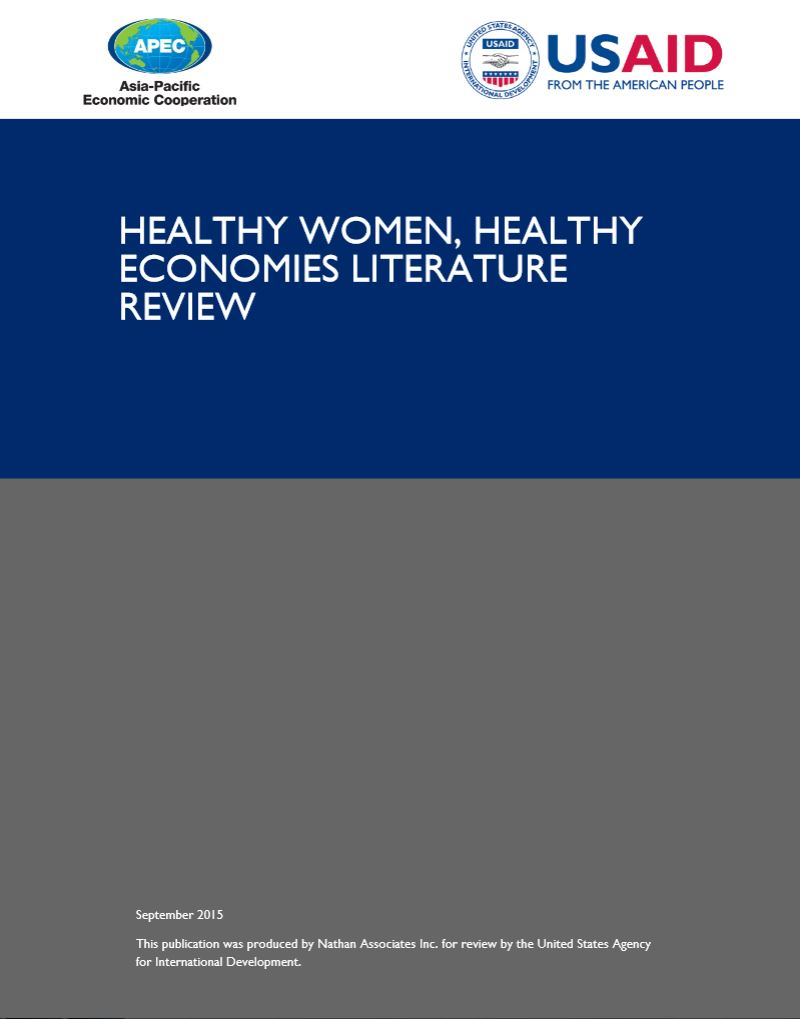 ECONOMIC AND BUSINESS CASES FOR Healthy Women, Healthy Economies

How can governments and businesses use the data to convince their decision makers to implement health-related new programs or reforms? The cases were shared at the 2016 "Implementation Workshop: From Vision to Action" where data was shared to support governments and businesses to enhance women's economic participation by improving women's health.
MONITORING & EVALUATION FRAMEWORK
M&E also helps managers and decision-makers identify whether measures are having the intended impact. The indicators in the framework are intended for both private and public sector stakeholders. For private sector managers, data collection will help show impact on the bottom line. For government officials, data will contribute to demonstrating economic and social benefits to society, thus explaining why special attention to barriers to women's economic participation is justified among competing priorities.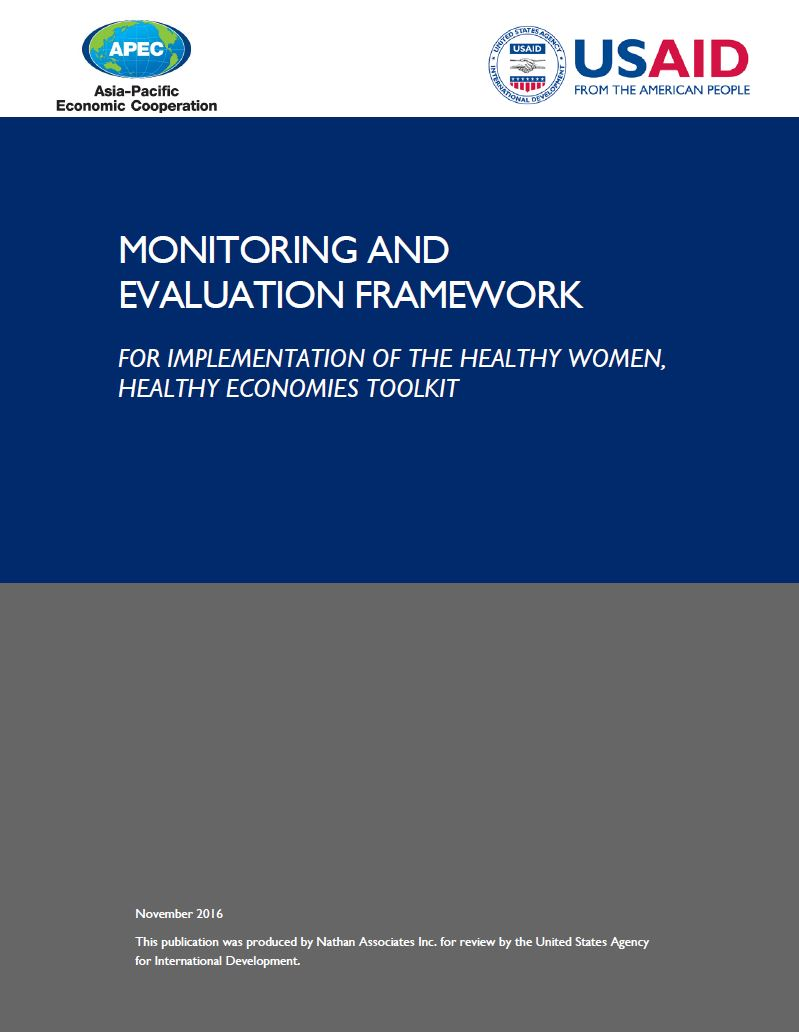 OUTCOME REPORT AND CASE STUDIES
What does it look like to put policies into action? See our Outcome Report for HWHE workshops where HWHE brought together women and men from governments, businesses, and organizations from across the Asia-Pacific together to move towards the shared vision of improving women's health and well-being to expand their economic participation and achieve a more inclusive workforce. The Report also includes cases studies that were shared at the workshop each year.