Last page update: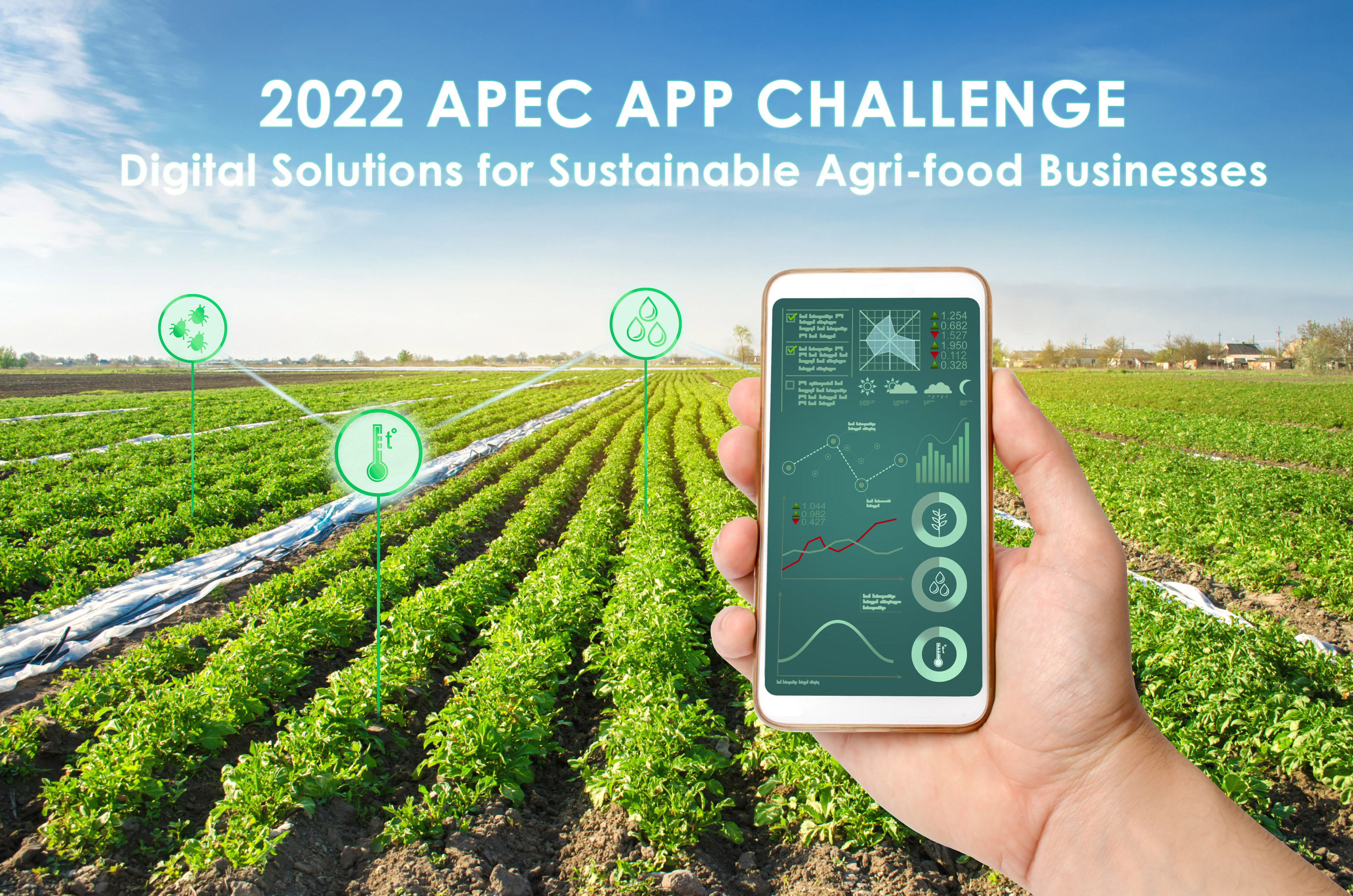 Application deadline extended
April 17, 23:59 (Bangkok)
and complete this Google Form.
ABOUT
How can APEC's software developers contribute to a greener economy?
In support of the 2022 APEC theme: "Open. Connect. Balance."—which aims to promote long-term growth that is resilient, inclusive, balanced and sustainable—the 2022 APEC App Challenge will promote growth among APEC's eco-friendly small and micro-agricultural farms and potential entrepreneurs of sustainable agri-food businesses. With smarter farming techniques or connecting farmers and entrepreneurs horizontally and vertically in the supply chain, farmers will be able to grow their business while also contributing to the vision for a bio-circular-green economy.
This is the first year the APEC App Challenge will address issues impacting sustainable agri-food businesses. Thailand is leading the way on this issue, and qualified participants are invited to join this process and bring your best ideas to Bangkok in May of this year.
---
CHALLENGE
Building an online tool that helps farmers and potential entrepreneurs transform their businesses and lead them towards green, inclusive and sustainable growth
Build an online tool, platform, mobile site or app to help APEC farmers and potential entrepreneurs access knowledge on bio-circular-green production techniques, connect with more market opportunities in the bio-circular-green economy, and take the first steps to access local and export markets for products that embody this vision for a green economy.
Solutions should aim to support producers or potential entrepreneurs of agricultural products selected from the following categories: foods that have a potentially positive effect on health beyond basic nutrition, such as yogurt and/or enriched foods; plant-based protein or plant-based meat; foods that have distinctive nutritional needs; or organic foods.
Teams will be encouraged to develop their own ideas and creative solutions to the challenge with an emphasis on creative, gender-sensitive solutions. The team with the most compelling application will be encouraged to continue development of their solution, which will be unveiled during APEC Economic Leaders' Week in November 2022.
---

PROCESS
Eligible teams must be citizens and/or residents of APEC economies. Teams must consist of two individuals, and team members may not be replaced after selection as finalists. All finalists are required to be present in Thailand between 19 and 22 May for the APEC App Challenge. The Asia Foundation will cover travel and hospitality expenses.
Finalists will retain full ownership of the products they create during the App Challenge. However, under the terms of the challenge, APEC will have specified usage and branding rights.
Participants do not need to define or build any part of their intended solution at the time of application. However, applicants will be evaluated based on their technical competence and background.
Detailed rules and requirements are posted here:
Registration. Individuals interested in participating in this challenge should form teams of two and submit an application to The Asia Foundation with their CVs and links to past works. Reviewers may contact applicants for an interview.
Selection. A select number of the most qualified teams will be chosen as finalists, after which will begin a period of preparation and research ahead of the App Challenge. Our evaluation rubric equally weighs: 1) technical competence; 2) entrepreneurial drive; and 3) communication skills.
Ideation. Before the App Challenge begins, finalist teams will be expected to define the specific "pain point(s)" their solution will address and their overall product vision. The vision should be justifiable based on existing data or the finalists' own interactions and discussions with prospective users. Finalists will receive support throughout this "ideation" phase from The Asia Foundation team.
Coding the solution. Finalists will travel to Thailand with all travel, lodging and incidental expenses paid for by The Asia Foundation. During the 24-hour App Challenge event, finalist teams will work to complete their ideas.
Pitches. Finalist teams will demonstrate their newly completed products for a panel of judges and an audience that will include APEC policymakers up to the ministerial level, as well as entrepreneurs and development actors from around the region. Pitches will be made on May 20, and winners will be announced by May 22.

---
FREQUENTLY ASKED QUESTIONS
How long will the event in Thailand be?
The event is anticipated to last two full days, including orientation and pitching. A more detailed schedule will be shared prior to the event.
What precautions are being made due to COVID-19?
This will be the first on-site APEC App Challenge after the beginning of the pandemic, and the organization is making all efforts to maximize the participants' safety. Participants should comply with the requirements set to exit and re-enter their economies, and the requirements to enter Thailand (we encourage participants to visit the website of the Ministry of Foreign Affairs, Kingdom of Thailand). The organization will provide tests before and during the events. Insurance and vaccination will be mandatory.
Are flights and accommodation covered?
Yes, The Asia Foundation will provide round trip tickets between your city and Bangkok, transfers from the airport to the event venue, and accommodation during the event.
Is there any technology restriction?
No, you can build with any technology that you're familiar with. However, submissions that can rapidly deploy and scale up will be given greater consideration. For this reason, products that effectively integrate with or are built on top of popular e-commerce platforms and tools may be preferred over products that attempt to "reinvent the wheel."
Does my entry have to be a new tool?
Yes, you must build the tool (app, software, or website) starting from the time you are confirmed as participants in this APEC App Challenge, not before. You may build the tool on top of an existing, general platform or API, provided that your submission to the App Challenge provides novel and significantly different functionality than what is provided by the basic platform or API.
Are teams restricted to two members only?
You can receive help from more than two persons while you are developing the app, but only two persons from each team can attend our final event. Others can support you remotely, but only these two teammates will be publicly listed as participants in the challenge and/or receive prize packages.
Is this event restricted to developers and designers only?
If you wish, you may receive help from designers, marketers, or others while building your app. However, while coding the solution in Thailand you will be finalizing the app, not building the idea, and so we suggest you only bring developers or designers who can actually work on finishing the app.
Do pitches have to be in English?
Yes, all pitches to the judges must be made in English.
---
AWARDS & PRIZES
Participants will demonstrate their work before a panel of expert judges who will select a first, second, and third prize winner. The top three teams will receive cash prizes of:
USD 4,000 for the first-place team
USD 3,000 for the second-place team
USD 2,000 for the third-place team
The first-prize winners will be recognized at an APEC event alongside senior leadership from the government of Thailand and the APEC Secretariat. An official award ceremony may take place at the APEC Ministers Responsible for Trade (MRT) meeting, attended by economic leaders and international press corps.
All finalists will receive an all-expenses-paid trip to Thailand for the APEC App Challenge event. Other fun and interesting prizes will be announced closer to the date of the event.
---
PARTNERS
---
CONTACT
Questions may be sent to