Managing Risks in Global Value Chains: Strengthening Resilience in the APEC Region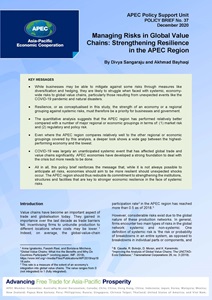 | | |
| --- | --- |
| Published Date | December 2020 |
| Type of Publication | Reports |
| Publication Under | APEC Secretariat, APEC Policy Support Unit |
| Accessed | 4707 |
| Pages | 19 |
| Download publication | Download |
Description
This policy brief provides an analysis of APEC's value chain strength in comparison to other regional or economic groupings as well as in relation to the COVID-19 pandemic. The key messages are:
While businesses may be able to mitigate against some risks through measures like diversification and hedging, they are likely to struggle when faced with systemic, economy-wide risks to global value chains, particularly those resulting from unexpected events like the COVID-19 pandemic and natural disasters.
Resilience, or as conceptualised in this study, the strength of an economy or a regional grouping against systemic risks, must therefore be a priority for businesses and government.
The quantitative analysis suggests that the APEC region has performed relatively better compared with a number of major regional or economic groupings in terms of: (1) market risk and (2) regulatory and policy risk.
Even where the APEC region compares relatively well to the other regional or economic groupings covered by this analysis, a deeper look shows a wide gap between the highest-performing economy and the lowest.
COVID-19 was largely an unanticipated systemic event that has affected global trade and value chains significantly. APEC economies have developed a strong foundation to deal with the crisis but more needs to be done.
All in all, this policy brief reinforces the message that, while it is not always possible to anticipate all risks, economies should aim to be more resilient should unexpected shocks occur. The APEC region should thus redouble its commitment to strengthening the institutions, structures and facilities that are key to stronger economic resilience in the face of systemic risks.