Study of APEC Economies' Sanitary and Phytosanitary (SPS) Notifications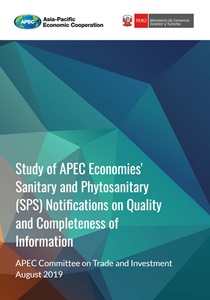 | | |
| --- | --- |
| Published Date | August 2019 |
| Type of Publication | Reports |
| Publication Under | Committee on Trade and Investment (CTI) |
| Accessed | 6084 |
| Pages | 75 |
| Download publication | Download |
Description
Non-Tariff Measures (NTMs), when applied unjustifiably can act as Non-Tariff Barriers (NTBs), can cause time delays and increase costs, and can hinder the development of supply chains. The implementation processes and the impacts related to NTMs are, in most cases, unclear and unpredictable.

In this context, this study represents the first part of Peru's initiative Proposal on Promoting Transparency Through the Improvement of Sanitary and Phytosanitary Notifications. Its general objective is to evaluate the quality and completeness of the information provided by APEC economies in WTO SPS notifications.

This study is divided in five sections. The first one is oriented to identify the general problem. In the second section, the methodology used for the analysis. The third section presents the results of the evaluation of notifications. Private sector perceptions on WTO SPS notifications are analyzed, in the fourth section, and finally the conclusions are presented in the last section.