Peer Review Assessment of Public Consultation as Used by Malaysia to Improve Regulation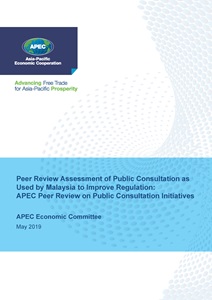 | | |
| --- | --- |
| Published Date | June 2019 |
| Type of Publication | Reports |
| Publication Under | Economic Committee (EC) |
| Accessed | 3025 |
| Pages | 36 |
| Download publication | Download |
Description
This report presents an assessment of Malaysia's Public Consultation (PC) initiatives when developing new regulations or amending existing regulations, including not only the written regulation but also how it is administered. Malaysia initiated this project in June 2017 (the first time of its kind in APEC) and volunteered to be the first APEC economy to be assessed for its PC initiatives.

This in-depth analysis of Malaysia's PC practices was conducted in parallel with the development of a Compendium of Public Consultation Initiatives of Volunteer APEC Member Economies. The assessment was conducted by Ms. Sue Holmes, an Australian expert, appointed by APEC. This in-depth assessment of Malaysia and the survey and discussions were structured around the four key dimensions proposed by the OECD in 2015: (i) methodology; (ii) systematic adoption; (iii) transparency; and (iv) oversight and quality control.

The findings and the in-depth assessment of Malaysia's PC practices can now serve as a guide for other APEC economies which choose to do their own in-depth analyses of their current PC framework and practices in order to identify gaps in the framework and implementation of their Public Consultation (PC).