Study on Single Window Systems' International Interoperability: Key Issues for Its Implementation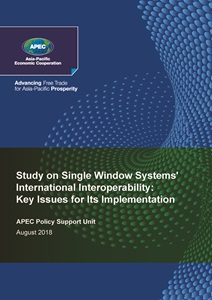 | | |
| --- | --- |
| Published Date | August 2018 |
| Type of Publication | Reports |
| Publication Under | APEC Secretariat, APEC Policy Support Unit |
| Accessed | 17920 |
| Pages | 79 |
| Download publication | Download |
Description
This paper discusses the general framework of Single Window System International Interoperability (SWSII) by introducing common concepts and the ten SWSII principles, the latter being uniquely formulated for this particular study.

With only a handful Regional Single Window (RSW) implementations globally, it reviews ASEAN, the Pacific Alliance and RADDEx by outlining common themes and translating them into lessons learned. It also showcases the single window journeys of three economies namely Australia, Indonesia and Peru. These economies are at different stages of their SWS and SWSII initiative, but yet demonstrate the benefits of effective, efficient and reduced cost of trade across the milieu.

Lastly, it provides a summary of the survey conducted among APEC economies by polling and refreshing data points from the 2014 APEC Survey on Single Windows and Recommendation No. 36 as its basis. Insights from the survey showed that economies are at various stages of SWS implementation and that SWSII solutions must be architected to inculcate a climate of trust through consensus, agreement, security, privacy, confidentiality, harmonization and standardization.