Inaugural Healthy Women Health Economies Prize Announces Winning Research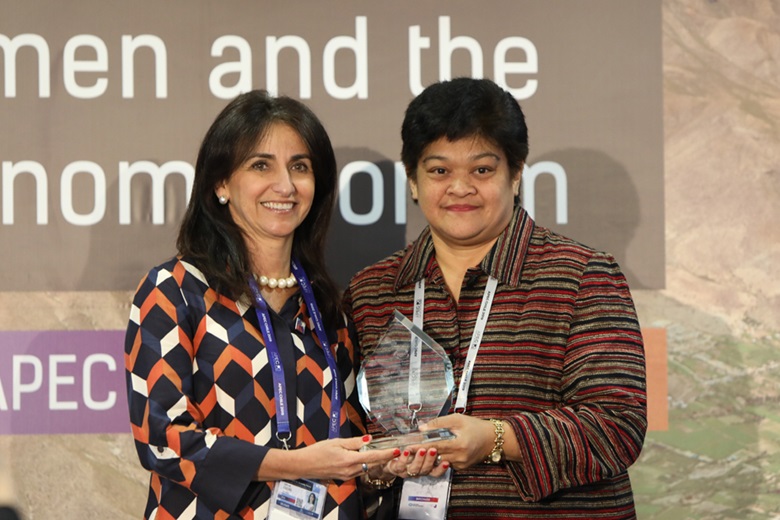 A comprehensive study on the health needs of Filipino migrant workers has won the inaugural APEC Healthy Women Healthy Economies award. The award was launched this year by APEC host economy Chile to raise awareness and promote the health of women in the Asia-Pacific.
"Winning this is very meaningful to me and to my economy. It is a very important way to recognize the research on overseas Filipino workers," said Dr Veronica Ramirez, Assistant Professor at the University of Asia and the Pacific in the Philippines and author of the winning study. Because overseas Filipino workers make enormous contributions to both the Philippines and to their host economies, "we need policies (on how) we can keep them healthy," she added.
The award ceremony followed a presentation by the three finalists at the APEC Women and the Economy Forum, taking place from 30 September to 5 October in La Serena, Chile.
The work of the prize finalists reflect the diversity of challenges facing women in the Asia-Pacific. The difficulties of juggling work and childcare were highlighted by the research of Paula Poblete from Chile, while the study of Dr Hong Jiang from China's Fudan University advocated for childbirth procedures that enable women to recover with less pain and trauma.
Women make up half of the region's workforce yet often lack adequate healthcare compared to men. For example, the Healthy Women Healthy Economies Policy toolkit reports that twice as many women in the region who suffer heart attacks die within a year, compared to men. Poor health can limit women's opportunities to thrive.
Judges chose Dr Ramirez's research partly because it highlighted the role of migrant workers, who are often integral to many APEC economies. Carolina Cuevas, Chair of the APEC Policy Partnership for Women and the Economy, or PPWE, who chaired the 2019 Prize Committee, commends all the finalists for their contributions.
"The diversity we see in the finalists is a great representation of the diversity in our APEC economies. Far from being an impediment, these differences often allow us to look at problems from different perspectives," said Cuevas, who also serves as Undersecretary for Chile's Ministry of Women and Gender Equity. "This in turn helps us to solve issues more efficiently. We all have something to learn from these research papers."
Undersecretary Cuevas reminded the audience that economies and societies benefit when women are healthy and participating fully in the workforce. When female participation in the labor force is optimal, the GDP of economies expand – by 5 percent for the United States and by 9 percent for Japan, according to the International Monetary Fund. Recognizing that women are critical for achieving inclusive growth, host economy Chile has elevated women's economic empowerment as a key priority for APEC.
The Healthy Women Healthy Economies Prize, supported by leading science and technology company Merck, sought research that uses sex-disaggregated data to help decision-makers develop more evidence-based policies related to women's health.
"Data that shows how policies impact men and women differently can help usher in reforms that improve women's health and ultimately their economic empowerment," said Randall Bradford, Head of Human Resources Merck Healthcare. "Better health for women, families, and communities improve the way we do business, and consequently, the regional economy."
The winning entry receives USD 20,000 and the two runners-up receive USD 5,000 each.
Since its inception in 2014, the APEC Healthy Women, Healthy Economies initiative has improved women's health through public-private partnerships. One key outcome has been the cross-sector collaboration in creating the Healthy Women, Healthy Economies Policy Toolkit – a compendium of the issues, actions, and implementing elements for improving women's health across five areas. The areas are: workplace health and safety; health awareness and access; sexual and reproductive health; gender-based violence; and work/life balance.
For more information on the work of the finalists and on applying for the 2020 Prize, please visit the APEC Healthy Women Healthy Economies website.
# # #
For further details, please contact:
Dini Sari Djalal +65 9137 3886 at [email protected]
Michael Chapnick +65 9647 4847 at [email protected]
More on APEC meetings, events, projects and publications can be found on www.apec.org. You can also follow APEC on Twitter and join us on Facebook, LinkedIn.