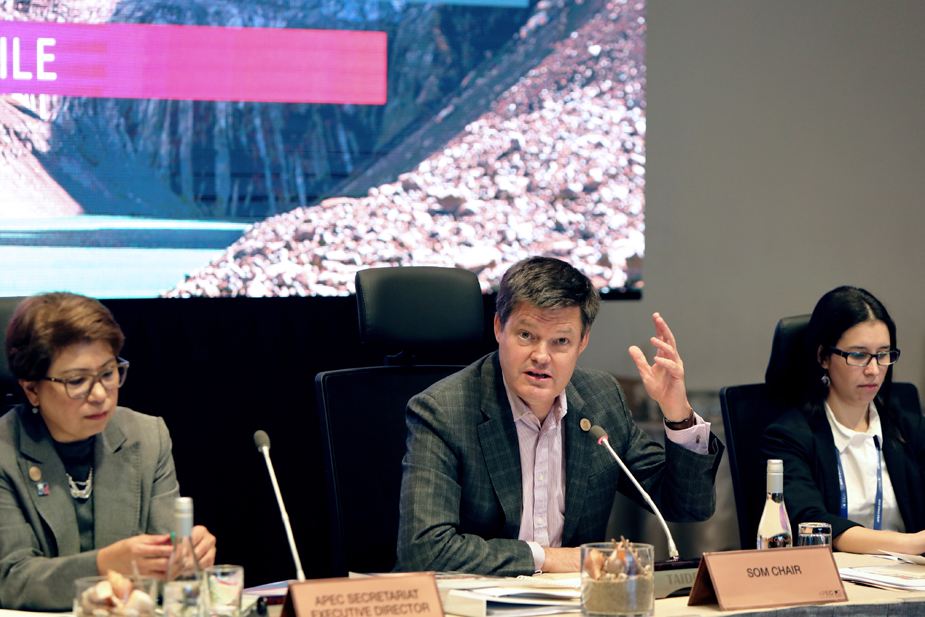 APEC Takes Steps to Bolster Trade
Vina del Mar, Chile, 16 May 2019
Senior Officials of the Asia Pacific Economic Cooperation (APEC) reaffirmed the forum's commitment to strengthening collaboration towards stronger trade and economic growth in the Asia Pacific region.
Convening days before the APEC Ministers Responsible for Trade Meeting, to take place also in Vina del Mar, officials are addressing the moderating growth of the global economy and global trade, as well as potential steps that the forum can take to bolster trade and other potential drivers of growth. For decades, trade has been the driving force for the region's economic expansion.
Chile, host economy of APEC 2019, has set four priorities for the year's agenda of policy discussion. The priorities to be discussed by the senior officials are: next-generation regional integration, or Integration 4.0, building regulatory frameworks for a 'digital society', empowering women entrepreneurs and small businesses, and ensuring sustainable growth.
"We are making good progress toward resolving outstanding challenges facing the multilateral trading system and the World Trade Organization," said Dr Rebecca Sta Maria, Executive Director of the APEC Secretariat. "Members have been encouraged to exhibit flexible engagement."
APEC is a non-binding, collaborative and consensus-based forum that inspires frank discussion and an incubation of ideas that members subsequently take to a more formal setting. Such an enabling forum is needed in this time of rapid change, say officials.
"APEC has stood as a beacon of free and open trade and investment since its inception. Trade has brought APEC economies together and brought them prosperity. We are confident that this fruitful dynamic will continue," said Sta Maria.
During the meetings, officials as well as private sector partners from the APEC Advisory Business Council (ABAC) reiterated their support for the multilateral trading system and the forum's continued efforts to address key issues, particularly related to digital trade.
In the lead-up to the Senior Officials' Meeting, trade and sectoral officials joined academics and private sector partners in a multi-stakeholder dialogue to discuss the challenges facing APEC and the opportunities for the forum after 2020, the region's aspirational target year for realizing free and open trade and investment. Takeaways from the dialogue are expected to inform the development of APEC's vision for the next thirty years.
Senior officials will also take part as observers and judges in the APEC App Challenge, a competition for software developers to create an app that can help women entrepreneurs build networks as well as secure investment and mentorship opportunities.
For more:
The complete APEC SOM2 and Ministers Responsible for Trade meetings schedule in Vina del Mar from 3 May to 18 May can be viewed here.
# # #
For further details, please contact:
Dini Sari Djalal (in Vina del Mar) +65 9137 3886 at [email protected]
Michael Chapnick +65 9647 4847 at [email protected]
More on APEC meetings, events, projects and publications can be found on www.apec.org. You can also follow APEC on Twitter and join us on Facebook, LinkedIn