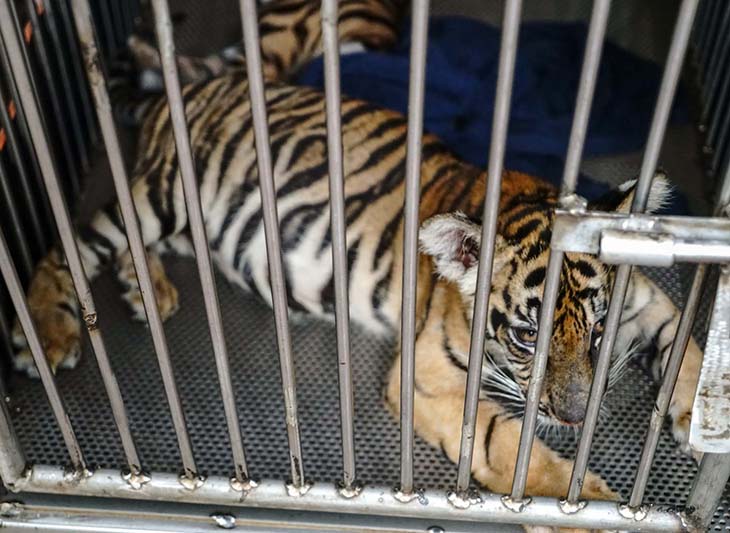 APEC Cracks Down on Illegal Wildlife Trafficking
Cebu, Philippines, 28 August 2015
Anti-corruption authorities, customs bureaus and law enforcement agencies from the 21 APEC members are ramping up their collaborative efforts to combat illegal wildlife trafficking in the Asia-Pacific, coming against the backdrop of breaking global developments that have helped to serve as a rallying point for greater policy action.
An American dentist's recent trophy killing of Cecil, a famed research lion lured off a protected game reserve in Zimbabwe, and the destruction of some 2.2 tons of confiscated elephant ivory this week by the Thai government were among the cases examined by officials meeting in Cebu. Emphasis was on identifying supply chain weaknesses in the illicit trade of wildlife and wildlife products, and building public and private sector capacity to capitalize on them.
"Illegal wildlife trafficking is taking many species to the brink of extinction and is both supported by and an enabler of corruption and organized crime," explained David Luna," Coordinator of the APEC Anti-Corruption and Transparency Pathfinder, which oversees the development of APEC member cooperation to fight illicit trade. "Wildlife crime is generally a low risk and high return proposition for perpetrators which continues to escalate to new and disturbing heights."
"Cracking down on illicit wildlife trade and supply chains is not just a moral imperative," noted Luna, who is also Senior Director at the United States State Department's Office of Anti-Crime Programs. "These webs of criminality and corruption imperil the security and stability of markets, economies and our communities. APEC members are deepening information sharing and policy innovation needed to disrupt and dismantle trafficking pipelines and mitigate shared threats."
The illegal wildlife trade globally siphons up to USD23 billion annually. The rich biodiversity of the Asia-Pacific and increased accumulation of wealth in the region's emerging markets have made it a magnet for the poaching, routing and sale of illegal wildlife and wildlife products—ranging from pangolin scales, rhino horns and leopard and tiger pelts, to exotic birds and orangutans delivered as pets or animal park attractions.
Strengthening customs and border security practices is among the countermeasures being advanced by officials. This includes technical training undertaken here to narrow gaps in wildlife inspection and identification, the targeting of suspicious persons, searches and seizures, evidence handling and investigative techniques. Steps were also taken to boost risk analysis and the recruitment of informants and other sources of information from the police, wildlife and park agencies, customs brokers, airlines and hotel and ground transportation companies.
"A big challenge for custom bureaus is preventing the entry of illegal wildlife and wildlife parts while ensuring checks do not stifle the legitimate flow of people and goods across borders," noted Agaton Uvero, Chair of the APEC Sub-Committee on Customs Procedures, which drives related member initiatives. "Joint efforts to empower agents with the right tools and knowhow has the potential to make a significant difference in their ability to screen and fight trafficking activity," added Uvero, who is also Deputy Commissioner of the Philippine Bureau of Customs.
The governance of permit and concession issuers and senior ministry officials, public-private sector engagement on compliance and risk issues, and consumer awareness were areas flagged as requiring greater coordinated action during discussions here between officials, conservation watchdogs and industry groups. Additional proposals included assessments of government losses and gains according to governance levels, risk analyses based on a new integrity checklist and the incorporation of third party monitoring and data in policy development.
"Illegal wildlife trade has not traditionally been high on the agenda for governments in Asia but there are some signs of a turnaround," concluded Dr Scott Roberton, Asia Regional Coordinator at the Wildlife Conservation Society. "The key will be building on this momentum before it is too late."
Suggested ideas for moving forward will be reviewed by APEC officials to decide the next step.
# # #
For more:
View photos from the APEC Pathfinder Dialogue II on Fighting Corruption and Illicit Trade here.
For further details, or to arrange possible media interviews, please contact:
David Hendrickson +65 9137 3886 at [email protected]
Michael Chapnick +65 9647 4847 at [email protected]
More on APEC meetings, events, projects and publications can be found on www.apec.org. You can also follow APEC on Twitter and join us on Facebook and LinkedIn.