APEC Addresses Barriers for Women in Customs Administrations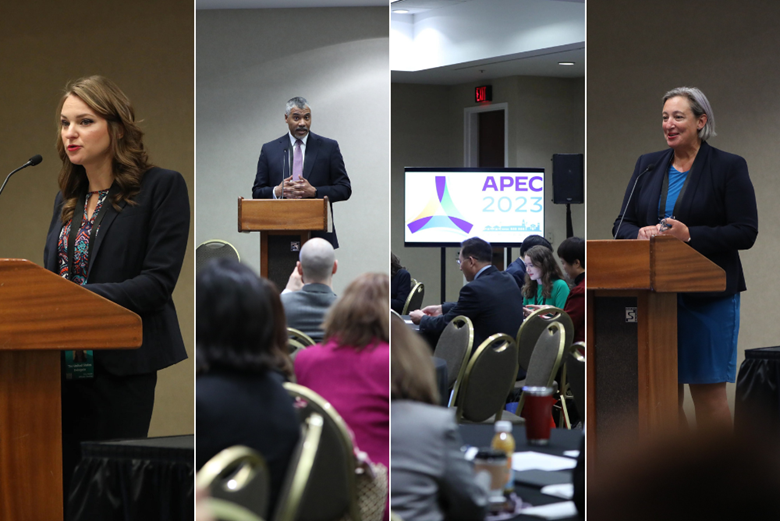 APEC through its Sub-Committee on Customs Procedures solidifies its commitment to advance gender equality and advance women's economic empowerment in the region by addressing barriers for women in customs administrations.
"Supporting inclusion in women in customs and trade is a key priority for the Sub-Committee on Customs Procedures," Kristie McKinney, Chair of the group said in her remarks at Advancing Gender Equality in APEC Customs Administrations workshop in Palm Springs last week.
"We need to take steps to address the gender equality challenge directly," McKinney added. "This workshop highlighted the areas that we're lacking and brought together member economies to discuss approaches to women's economic empowerment, explore current efforts to promote gender mainstreaming in customs administrations and identifying best practices and lessons learned for effective gender mainstreaming and inclusion."
In 2019, APEC Ministers reiterated their commitment in ensuring greater integration and empowerment of women in the Asia Pacific region through the endorsement of the La Serena Roadmap for Women and Inclusive Growth.
The roadmap seeks to encourage actions in areas that contribute to strengthening women's labour participation, improving women's leadership in all levels of decision making, supporting women's education, training and skills development, as well as collecting sex-disaggregated data and improving analysis.
According to a recent survey presented at the workshop, women make up 34 percent of customs administrations senior leaders and around 35 percent of frontline operational roles. However, gender pay gap data ranges from 1 percent in favor of women to 16 percent in favor of men.
The survey also found that there is lack of sex-disaggregated data for many relevant areas for gender mainstreaming such as data for calculating pay gaps as well as pay grades.
Around ten APEC economies presented their measures to support gender equality in their respective organizations. Members also heard views from the World Customs Organization and the Oceania Customs Organizations.
"The goal is to create a foundation for future work in this sector by identifying the systemic barriers faced by women within customs and informing the responses to address these challenges," explained Shisla Macleod from New Zealand's Customs Service who oversees this APEC-funded project.
"Measurement will be key to achieving gender equality in APEC customs administrations. At present there is no standard set of metrics across APEC customs administrations to understand the current state of gender mainstreaming and to measure progress," Macleod added.
"Data gaps, especially the dearth of sex-disaggregated data, need to be addressed to allow effective and well-targeted policy interventions."
In addition to data collection, strengthening inter-institutional cooperation within APEC through sharing of best practices and exploring joint initiatives are deemed crucial in advancing gender mainstreaming across the board.
"The survey results on gender mainstreaming in customs administration shows that there is still a lot of work to do in the APEC region across customs administrations," said Carlos Kuriyama, Director of the APEC Policy Support Unit when he addressed the participants at the workshop.
"In most APEC economies, the percentage of women in customs frontlines or in leadership positions is clearly lower than the percentages of men in similar roles, and many APEC economies have not implemented policies to ensure equal opportunities, guide women into leadership roles or provide measures to prevent any type of abuse," he added.
The APEC Policy Support Unit produces the APEC Women and the Economy Dashboard, which is updated every two years. This dashboard provides a snapshot of the levels of economic and social empowerment that women have achieved in the APEC region.
"Customs administrations across APEC economies play an important role in the economy and in development and, as such, can make an important contribution to APEC's goals for gender equality and women's empowerment," Kuriyama concluded.
For further details, please contact:
Masyitha Baziad +65 9751 2146 at [email protected]
Michael Chapnick +65 9647 4847 at [email protected]