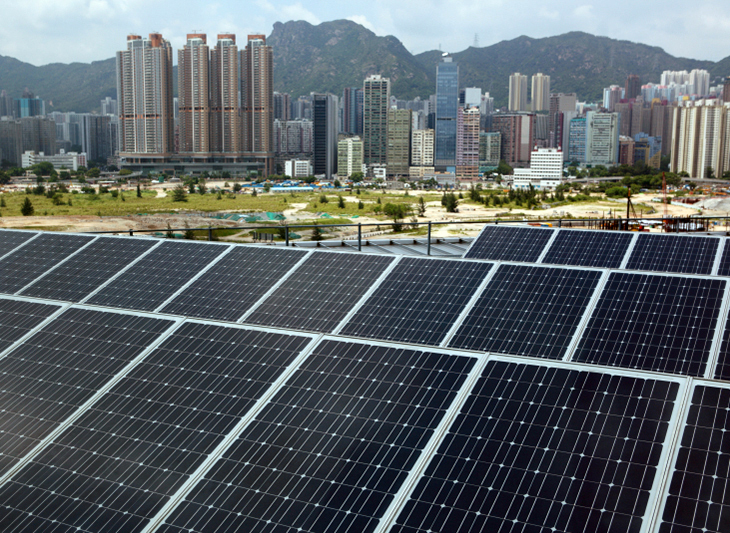 APEC Breaks Ground on Sustainable City Development
Gyeongju, Korea, 16 July 2015
Energy officials from
APEC economies
are laying a foundation for more sustainable cities in the Asia-Pacific, intent on mitigating the environmental impact of rapid urbanization and the escalating threat it poses to energy security and economic growth in the world's most populous region.
Technical support for the proliferation of solar-powered, energy efficient buildings and high efficiency lighting, improved vehicle fuel efficiency labeling and consumer information, and easier green energy financing were among the efforts advanced by officials during a week of meetings in the coastal city of Gyeongju, 370km southeast of Seoul.
"Supply and demand swings of late do not change the energy calculus in the bigger picture," said Dr Phyllis Genther Yoshida, Chair of the APEC Energy Working Group, which oversees APEC member collaboration within the sector. "Demand for power will continue to rise over the coming decades, fueled by urbanization, and put smart energy production and use to the test."
"Widening access to clean, low cost energy supplies is vital to the sustainability of fast-growing cities in the Asia-Pacific and their capacity to power growth and improved living standards," explained Dr Yoshida, who is also United States Deputy Assistant Secretary of Energy. "Access to energy supplies must also be integrated with increased energy efficiency. Coordinated action that is timely, far-reaching and ambitious is central to APEC's agenda."
Urban areas account for up to 80 per cent of energy consumption and 75 per cent of carbon emissions in Asia, according to the Asian Development Bank. About 120,000 people migrate to the region's cities daily, the United Nations adds.
Officials are working together to develop, test and deploy new technologies and approaches for doubling renewable energy use in APEC economies by 2030—it currently accounts for about ten per cent of their energy mix. They are also pursuing a 45 per cent reduction in energy intensity – facilitated by improved energy efficiency – by 2035 and reductions in carbon emissions.
Focus is on promoting next generation transport, building and grid development as well as green industries, jobs and public consumption under a multi-year APEC Energy Smart Communities Initiative. This includes facilitating the introduction of more efficient and resilient energy infrastructure, greater integration of renewable energy sources, efforts to accommodate large-scale use of plug-in electric vehicles, and the adoption of energy-saving high insulation windows and heat deflecting building materials, among other measures.
Officials are also working with the private sector to create training and certification programs for designers and installers of solar photovoltaic rooftop systems. It comes as APEC members angle to cut their tariffs to five per cent or less on 54 environmental goods such as solar panels, wind turbines and air pollution control equipment by year's end to enhance their accessibility.
"There are a lot of new innovations being developed to improve energy production, conservation and environmental protection but there has to be the right support infrastructure in place to accommodate them," noted Dr Yoshida. "The more measures are piloted and proven to work, the more inclined governments, businesses and the public will be to embrace them."
APEC Low Carbon Model Towns are serving as a real world testing ground. A feasibility study of new measures in San Borja, Peru, among the most recent program entrants, indicates that it could exceed a targeted 15 per cent reduction in carbon emissions by 2021 and help duplicate the results across 42 municipalities within Lima Province—home to nearly 10 million people.
Tianjin, China; Samui, Thailand; Da Nang, Viet Nam; and Bitung, Indonesia round out the list of existing participants. Expansion of the scheme will be considered by APEC Energy Ministers when they meet on 12-14 October in Cebu, the Philippines to advance member economies' energy goals.
# # #
For more:
The Asia-Pacific's need for 21st century energy solutions is described by Thailand's Energy Minister at this link.
Public and private sector entities are encouraged to submit energy smart case submissions as part of the 2015 APEC Energy Smart Community Initiative Best Practice Awards: link.
More information on APEC member energy initiatives can be found on www.ewg.apec.org as well as at this link.
For further details, or to arrange possible media interviews with APEC officials, please contact:
David Hendrickson +65 9137 3886 at [email protected]
Michael Chapnick +65 9647 4847 at [email protected]
More on APEC meetings, events, projects and publications can be found on
www.apec.org
. You can also follow APEC on
Twitter
and join us on
Facebook
and
LinkedIn
.