APEC Calls for Heightened Action to Build Disaster Resilient Communities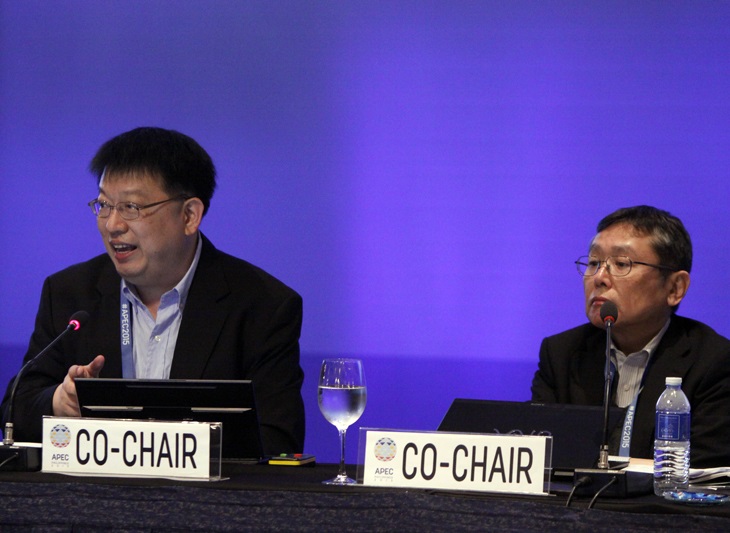 Boracay, the Philippines, 15 May 2015 – In the wake of recent disasters in the Asia-Pacific, APEC officials call for greater commitment and a science-based approach to build safe and disaster resilient communities during a two-day APEC Emergency Preparedness Working Group meeting in Boracay.
While the Asia-Pacific economy accounts for over 50 per cent of global GDP, the region also shoulders 70 per cent of the world's disasters. Economic impacts resulting from natural catastrophes increasingly go beyond borders due to complex networks of suppliers that span the entire global economy.
"The recent earthquake in Nepal further reinforces our view that disaster management is no longer an individual government's job or a particular sector's affair," said Undersecretary Alexander P. Pama, Executive Director of the Philippine Disaster Risk Reduction and Management Council.
"It also underscores the growing need for inter-economic cooperation to sustain economic growth amidst the presence of these hazards, not only in the Asia Pacific region but the entire globe. This entails the adoption of a more comprehensive and integrated approach to disaster risk reduction and management," explained Pama.
The APEC Emergency Preparedness Working Group is working towards building a more holistic response to disaster recovery and resilience across APEC member economies.
"Inter-economy coordination is imperative for confronting disasters," affirmed Dr Li Wei-Sen, Co-Chair of the APEC Emergency Preparedness Working Group.
"The next step for APEC is to elevate and integrate disaster risk reduction and management across all government agencies from transportation to education in member economies. This heightened action will help improve our collective ability to help businesses and communities recover from the shocks of earthquakes, typhoons and other natural disasters," added Li.
As part of this new strategy, APEC is also focusing on strengthening the role of science and technology in assessing the potential risks to help prevent, mitigate and reduce the impacts of natural disasters.
"APEC is implementing a more science-based approach to disaster risk reduction by improving the capacity of APEC economies to utilize innovative technologies from prediction to emergency response," said Kiyoshi Natori, Co-Chair of the Emergency Preparedness Working Group.
"Leveraging science and technology will help governments, small businesses and communities to better prepare and recover from natural catastrophes, ultimately boosting resilience of global supply chains and livelihoods," added Natori.
APEC is providing science-based capacity building for members on how to utilize hazard mapping and disaster management to better understand and respond to potential risks to global supply chains. The multi-year initiative is led by the United States and centers on promoting APEC's Seven Principles of Supply Chain Resilience. For example, mapping of potential flood hazards using state-of-the-art GIS mapping technologies can help economies devise early warning and response systems, bolstering supply chain resilience and mitigating the impacts of flooding to the public and private sectors.
"This year's goals are to improve the resilience of supply chains in APEC economies by providing tools to be used or adapted for modelling and mapping disaster-related risks to the supply chain," explained Emily Fischer, Foreign Affairs Officer at the U.S. Department of State.
In a recent capacity building workshop in Peru, four different modelling systems for mapping earthquakes, floods, volcanoes and other risks were introduced in an interactive session to transportation and emergency management professionals from thirteen APEC member economies. In October, the project will train and work with local stakeholders in the Philippines on developing an individual action plan for supply chain resilience. Over the next five years, the initiative will assist one developing APEC economy each year in creating its own supply chain resilience action plan.
For more information on the APEC Emergency Preparedness Working Group's work on preparing small and medium enterprises for disasters, click here.
For an in-depth interview with Dr Li Wei-Sen, Co-Chair of the APEC Emergency Preparedness Working Group, click here.
# # #
For further details, or to arrange possible media interviews, please contact:
Jennifer Juo +65 9721 8660 at [email protected]
Michael Chapnick +65 9647 4847 at [email protected]
More on APEC meetings, events, projects and publications can be found on www.apec.org. You can also follow APEC on Twitter and join us on Facebook and LinkedIn.