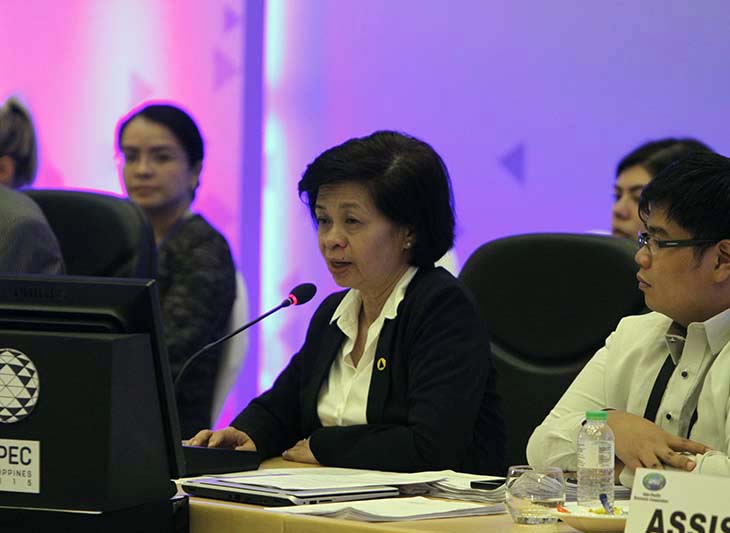 APEC Senior Officials Lay Groundwork for New Era of Growth
Clark, Pampanga, Philippines, 06 February 2015
Senior Officials from the 21 APEC member economies have commenced a pivotal two-day meeting to lay the foundation for building more 'inclusive economies' across the Asia-Pacific that strengthen trade and investment while ensuring the benefits are felt by as many people and businesses as possible.
The proceedings cap off the opening of the Philippines' host year as APEC Chair in 2015 and a new initiative to narrow inequalities and foster new growth. Actions in focus are based on measures and recommendations put forward by some 1,700 officials and technical experts from more than 20 technical working groups over the last two weeks in Clark and nearby Subic as well as input generated by Asia-Pacific business leaders who met in Hong Kong, China.
"We are laying the groundwork for a new era of economic development and growth in the Asia-Pacific," said Ambassador Laura Q. Del Rosario, Philippine Undersecretary of Foreign Affairs and 2015 Chair of the APEC Senior Officials' Meeting. "Breakthroughs in regional cooperation achieved by APEC in China are reflected in our efforts to maximize growth based on greater interconnectedness between economies and the people and businesses that underpin them."
Senior Officials are launching a new two-year collective strategic study on issues related to the development of a Free Trade Area of the Asia-Pacific, as endorsed by APEC Leaders in Beijing. This includes the establishment of a new task force led by China and the United States to shape the content of the study and formulation of terms of reference to establish parameters for a possible FTAAP.
Measures are also being introduced to expedite implementation of the Trade Facilitation Agreement through early notification to the WTO of its acceptance by APEC economies and further position them to meet a year-end target in APEC to reduce tariffs to five per cent or less on 54 environmental goods with a new roadmap for compliance. Meeting this goal will further address climate change challenges while paving the way for comparable global negotiations now underway and the possibility of similar tariff-reducing measures in other product categories and sectors.
"It is critical that we take economic integration and the reduction of trade and investment barriers to the next level and a key aspect of that is acting on sustainability needs," explained Ambassador Del Rosario.
"Our agenda is about boosting growth that doesn't just benefit big multinational companies and the top one per cent," she added. "We are intent on reducing business costs and inefficiencies to open up new opportunities for startups and small firms to take advantage of deepening cross-border trade and supply chain linkages."
Achieving the year-end goals of universal broadband access in APEC economies, a ten per cent improvement in supply chain performance, from 2009 levels, and a 25 per cent improvement in the ease of doing business in the region – based on starting a business, dealing with permits, getting credit, trading across borders and enforcing contracts, and also from 2009 levels – are related points of emphasis.
"As trade and demographic-driven growth advantages in the Asia-Pacific have fallen off, the need to widen focus onto other areas to get growth back up has come to the surface and that is a productivity story," explained Dr Alan Bollard, APEC Secretariat Executive Director. "To get trade and productivity up, you need to deal with complex behind-the-border challenges like governance, stability, structural reform. Right now, we're reviewing quite a lot of that and trying to get it to happen."
"Getting through the middle income trap and building more inclusive economies is about changing sectoral compositions and within that, it's also about things like resilience," he continued. "It comes back to issues like human capital, institutional design as well as sectoral growth and these are all things that fit well into APEC's 2015 priorities."
Senior Officials are introducing a new APEC services action plan to liberalize this multi-trillion dollar dimension of the region's economy and drive job creation across a wider range of sectors. They are also exploring new opportunities to improve the mobility of people around the region, building on the success of the APEC Business Travel Card, to open up new cross-border study and career training opportunities, and pinpointing new ways to strengthen the resilience of economies to the effects of natural disasters, pandemics and terrorist threats.
# # #
For further details, or to arrange possible media interviews with APEC officials, please contact:
David Hendrickson +65 9137 3886 at [email protected]
Michael Chapnick +65 9647 4847 at [email protected]
More on APEC meetings, events, projects and publications can be found on www.apec.org. You can also follow APEC on Twitter and Sina Weibo and join us on Facebook and LinkedIn.