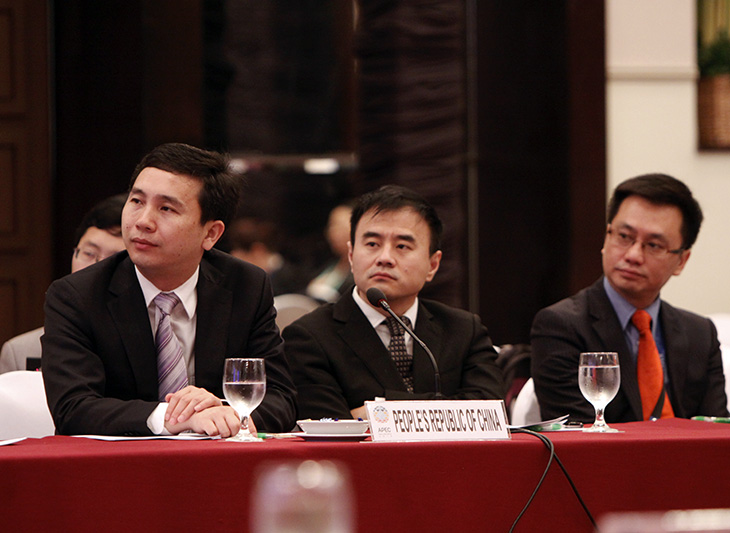 APEC Phasing in Landmark Anti-Corruption Network
Clark, Pampanga, Philippines, 02 February 2015
Anti-corruption and law enforcement officials from the 21 APEC member economies are moving forward with implementation of a groundbreaking new channel for exchanging sensitive case information, marking a critical next step in joint efforts to crack down on perpetrators that operate across borders, and to foster fairer, more robust and sustainable economic growth and development in the Asia-Pacific.
Smoothing out the operational contours of the APEC Anti-Corruption Authorities and Law Enforcement Agencies Network, known as ACT-NET, and positioning member economies to maximize its potential benefits, was at the top of the agenda during three days of technical meetings in Clark. They were convened as part of a new cross-cutting 'inclusive economies' initiative being launched here by APEC through this week, guided by 2015 Chair, the Philippines.
"ACT-NET is a manifestation of deepening region-wide cooperation to fight corruption and bribery, but implementation is still in its early stages," said Conchita Carpio Morales, the Philippines' Ombudsman and new Chair of the APEC Anti-Corruption and Transparency Working Group from which the network originated. "As more data is collected and procedural and strategic issues addressed, opportunities to leverage this new tool in practice will open up."
"There is strong support for ACT-NET adoption across APEC's membership and work towards this objective is now underway," Morales added. "Over the next half year, we will begin to see how coordination between anti-corruption and law enforcement bodies in the region takes shape and have a clearer sense of what it means for the application of the network out in the field."
ACT-NET was inaugurated in Beijing in August, led by China, Indonesia and the United States, and endorsed by APEC Leaders there in November. Its opening included the establishment of a preliminary secretariat in Beijing tasked with centrally administering case information shared under the network, the first of its kind among member economies, and provided a one-year mandate that will be reviewed during the next ACT-NET focal point meeting in August in Cebu.
Building the technical capacity of anti-corruption regimes to use new information flows effectively is a parallel focus, with attention to experience and best practice exchange in anti-corruption infrastructure, legal procedures and investigative techniques. ACT-NET focal points –managers of the network from each APEC member – met in Beijing in late December as part of this effort to drive greater collaboration on international fugitive repatriation and asset recovery.
"The challenges in front of us are gargantuan but there is cause for optimism as we band together to stamp out illegal activities and grant the people of the Asia-Pacific region the full measure of a robust economy," Morales exhorted. "We are driven by a recognition of the importance of good governance to boosting trade and investment, job creation, wages and services delivery. Support from the region's leadership reflects the urgency of our task."
Corruption costs economies globally more than USD2.6 trillion a year, or five per cent of total gross domestic product, the World Bank reports. It is also estimated to raise the cost of doing business by more than ten per cent.
"There is no silver bullet for eliminating the scourge of corruption and business bribery but a united front that extends to those at the front line of this campaign can go a long way," Morales concluded. "As ACT-NET gets up and running, it stands to put us in a much better place to ease the burden of fraud on our societies and open the door to economic integration whose benefits are felt by more people across the Asia-Pacific region."
For more:
Downloadable high resolution photos from the APEC Anti-Corruption and Transparency Working Group meetings in Clark can be viewed here.
Additional information on APEC cooperation to strengthen anti-corruption and transparency can be found at this link.
APEC economies' anti-corruption directives are outlined in the Beijing Declaration on Fighting Corruption adopted by Ministers in November.
The entire First APEC Senior Officials' Meeting (SOM1) and Related Meetings schedule in Clark and Subic can be found here.
# # #
For further details, or to arrange possible media interviews with APEC officials, please contact:
David Hendrickson +65 9137 3886 at [email protected]
Michael Chapnick +65 9647 4847 at [email protected]
More on APEC meetings, events, projects and publications can be found on www.apec.org. You can also follow APEC on Twitter and Sina Weibo and join us on Facebook and LinkedIn.